Airbus-built Sentinel-5 Precursor Satellite Ready for Launch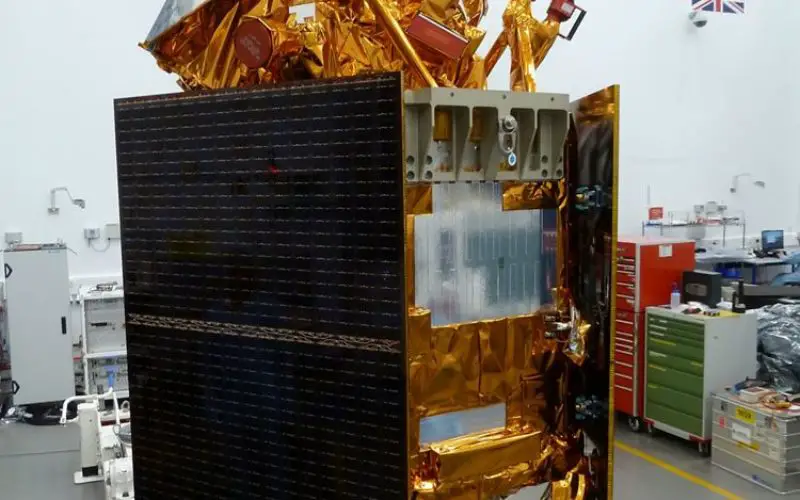 Stevenage 20/07/2017 – Europe's pollution monitoring satellite Sentinel-5 Precursor is ready to leave Airbus' Stevenage site for launch on a Rokot rocket from Plesetsk Cosmodrome, Russia.Sentinel-5 Precursor is part of the global monitoring programme "Copernicus", a joint European Commission–ESA undertaking which aims to acquire continuous and accurate Earth observation data and provide services to improve the management of the environment, understand and mitigate the effects of climate change and ensure civil security.
Sentinel-5 Precursor will provide essential atmospheric chemistry data to the Copernicus programme before the Sentinel-5 instrument becomes operational in 2021 on the MetOp Second Generation satellite.
Airbus was prime for Sentinel-5 Precursor, with three sites involved in development and manufacturing of the satellites and its components: Stevenage (UK – prime), Toulouse (France) and Friedrichshafen (Germany).
Colin Paynter, Managing Director of Airbus Defence and Space in the UK said: "For Sentinel-5 Precursor we used the commercially successful AstroBus platform, enabling us to meet challenging delivery and cost efficiency targets. This mission will give Europe new way to measure global pollution levels in much greater detail."
Sentinel-5 Precursor features the TROPOMI (TROPOspheric Monitoring Instrument) instrument, developed by Airbus DS Netherlands for the European Space Agency (ESA) and the Netherlands Space Office. TROPOMI will measure ozone, nitrogen dioxide, sulphur dioxide, methane and other atmospheric pollutants at a higher resolution than previous instruments. Having more accurate atmospheric data will enable improved climate models and pollutant tracking and forecasting. The MetOp Second Generation spacecraft will feature a different Sentinel 5 instrument.
UK Business Secretary Greg Clark said: "The UK-built Sentinel-5 Precursor satellite and the success of the Copernicus Programme demonstrates what we can achieve through collaboration with our European partners and the UK's vital role in the programme thanks to our Earth observation expertise.
"We've been clear that we want our companies and universities to continue participating in key EU space programmes, and through our Industrial Strategy and ongoing investment in the UK space sector, we are ensuring we have the infrastructure and skills in place to support our ambition to capture 10% of the global space market by 2030."
Josef Aschbacher, Director of Earth Observation Programmes at ESA said: "Sentinel-5 Precursor will be the sixth Sentinel satellite launched as part of the Copernicus space component. It will monitor atmospheric chemistry, an important parameter for air quality and climate change studies. The contribution of the TROPOMI instrument by The Netherlands has been crucial for this ESA mission."
Sentinel-5 Precursor is due for launch in September 2017.
About Airbus
Airbus is a global leader in aeronautics, space and related services. In 2016, it generated revenues of € 67 billion and employed a workforce of around 134,000. Airbus offers the most comprehensive range of passenger airliners from 100 to more than 600 seats. Airbus is also a European leader providing tanker, combat, transport and mission aircraft, as well as Europe's number one space enterprise and the world's second largest space business. In helicopters, Airbus provides the most efficient civil and military rotorcraft solutions worldwide.