Create Photogrammetric Point Cloud Using Global Mapper Pixels-to-Points Tool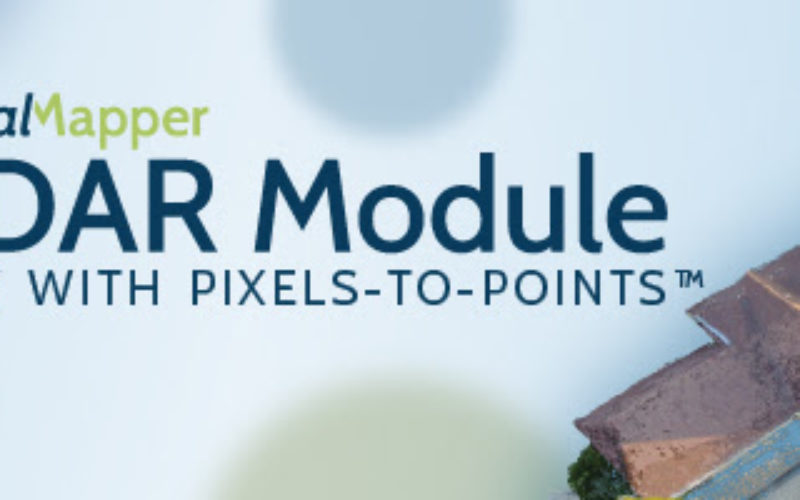 Global Mapper LiDAR Module v.19 Now Available with Pixels-to-Points™ Tool for Photogrammetric Point Cloud Creation
November 29, 2017 – Blue Marble Geographics is pleased to announce the release of version 19 of the Global Mapper LiDAR Module. This comprehensive point cloud processing tool introduces a powerful new function for creating a 3D point cloud from an array of overlapping images. Ideally suited for Unmanned Aerial Vehicle (UAV) operators, this Pixels-to-Points tool effectively transforms simple drone-collected images into a 3D representation of a project area and provides the raw material for the Module's expansive classification, DEM creation, and feature extraction capabilities.
Click here to download version 19 of Global Mapper
Introduced in version 15, the Global Mapper LiDAR Module is an optional add-on to the software providing numerous advanced point cloud management and analysis tools, including automatic classification and feature extraction; cross-sectional viewing and point editing; significantly faster terrain surface generation; and much more.
The major functional addition to the version 19 release of the Module is the new Pixels-to-Points tool. This powerful utility, currently available as a beta release, transforms overlapping aerial images, such as those collected by UAVs, into a high-density point cloud. Employing the principles of photogrammetry in which measurements are derived from photographs, the Pixels-to-Points tool analyzes the relationship between recognizable objects in adjacent images to determine the three-dimensional coordinates of points representing the corresponding surface. As a by-product of the point cloud generation capability, the Pixels-to-Points tool also offers the option of creating an orthorectified image, which effectively stitches the images together and adjusts them to reflect the inherent three-dimensional coordinates.
Additional enhancements in version 19 of the LiDAR Module include improvements to the ground point detection process, especially in areas where large buildings are present; a new geographic point sorting option to speed up rendering and analysis; support for reading and writing LAZ (LasZip) files with the LAS 1.4 fields; a new option to grid a point cloud containing RGB values into an image layer; and an upgraded noise point detection and classification tool.
For a complete list of new features and enhancements visit: www.bluemarblegeo.com/products/global-mapper-lidar.php
Current users of Global Mapper 19, or those wishing to activate a two-week trial, can download the latest build including the new LiDAR Module functionality from here: www.bluemarblegeo.com/products/global-mapper.php
A free two-week trial of the LiDAR Module can be activated from the Module/Extension License Manager in the software.