Bluesky uses Leica CityMapper to capture major UK cities in 3D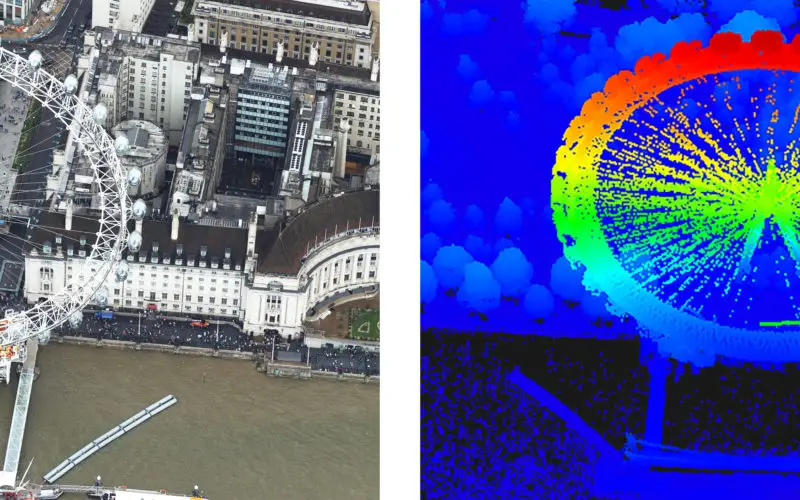 Heerbrugg, Switzerland, 21 November 2018 – Leica Geosystems, part of Hexagon, announced today the Leica CityMapper, the world's first hybrid airborne sensor combining vertical and oblique aerial imagery together with 3D laser scanning, was used by Bluesky, a leading aerial survey company in the United Kingdom (UK), to capture major cities throughout the region.
Using the CityMapper, Bluesky was able to capture parts of London, Manchester and Birmingham as well as Brighton, Bristol, Cambridge, Norwich, Nottingham and Oxford. Bluesky intends to increase its coverage by capturing additional towns and cities across the UK and Ireland in 2019. It is the first time this technology has been used commercially in the UK to this level. The captured city data is currently available from Bluesky and Hexagon in its constituent components of vertical orthorectified aerial imagery, oblique photographs and LiDAR point cloud data. Plans are in place to also include the imagery in the HxGN Content Program in the near future.
"The combination of multiple survey grade cameras and LiDAR enables, for the first time, the simultaneous capture of data for the automatic creation of highly accurate and detailed citywide 3D models, with one sensor," said Rachel Tidmarsh, Bluesky Managing Director. "Whilst 3D models have been around for a number of years, they have either been prohibitively expensive for use across larger areas or of insufficient detail or accuracy. Using the CityMapper sensor, we can achieve efficient, and therefore cost effective, capture of highly detailed and accurate data making widespread use of 3D models a reality." 
More data, better decisions
CityMapper includes a traditional vertical camera as well as survey-grade oblique cameras. Specially designed for 3D city modelling and urban mapping, the sensor also includes high performance LiDAR technology to accurately collect elevation data even into the shadows, which are common in urban environments and make photo-based data collection difficult. The CityMapper sensor also collects colour infrared data, which can be used to aid greenspace mapping and vegetation studies.
Applications of the new Bluesky 3D models are expected to include urban planning, line of sight analysis, new development visualisations, environmental modelling as well as potentially 3D fly throughs and virtual reality experiences. Early adopters of the data include architects, planning consultants and other map publishers.
"The CityMapper was designed for just this type of use – capturing the many layers of urban environments," said Ron Roth, Geosystems' Geospatial Content Solutions product manager of Airborne Topographic LiDAR. "We are excited to see the high-quality data Bluesky has been able to produce with  CityMapper, and we are sure many customers will benefit from this capture."  
For more information about Bluesky, please visit www.bluesky-world.com. 
For more information about the Leica CityMapper, please visit: https://leica-geosystems.com/products/airborne-systems/leica-citymapper
Bluesky is the leading aerial survey company in the UK providing a range of survey, geographic and CAD data, including aerial photography, mapping and LiDAR.  Our continuous investment in cutting edge technology enables us to offer the most accurate, current and highest resolution datasets available. Customer focussed and committed to innovation our products and services are constantly evolving to meet the needs of a broad range of market sectors in the 21st century. These include 3D building models, National Tree Map™, topographic mapping, thermal surveys and a range of specialist data analysis. In addition to this we are Ordnance Survey partners.
Leica Geosystems – when it has to be right 
Revolutionising the world of measurement and survey for nearly 200 years, Leica Geosystems, part of Hexagon, creates complete solutions for professionals across the planet. Known for premium products and innovative solution development, professionals in a diverse mix of industries, such as aerospace and defence, safety and security, construction, and manufacturing, trust Leica Geosystems for all their geospatial needs. With precise and accurate instruments, sophisticated software, and trusted services, Leica Geosystems delivers value every day to those shaping the future of our world.
Hexagon is a global leader in digital solutions that create Autonomous Connected Ecosystems (ACE). Hexagon (Nasdaq Stockholm: HEXA B) has approximately 20,000 employees in 50 countries and net sales of approximately 3.5bn EUR.
Learn more at hexagon.com and follow us @HexagonAB.
---
Contact:
Communications Team
Leica Geosystems AG
CH-9435 Heerbrugg
Switzerland
Tel: +41 71 727 3534
media@leica-geosystems.com