California's Gateway Cities Launch Sophisticated GIS Planning Web Tool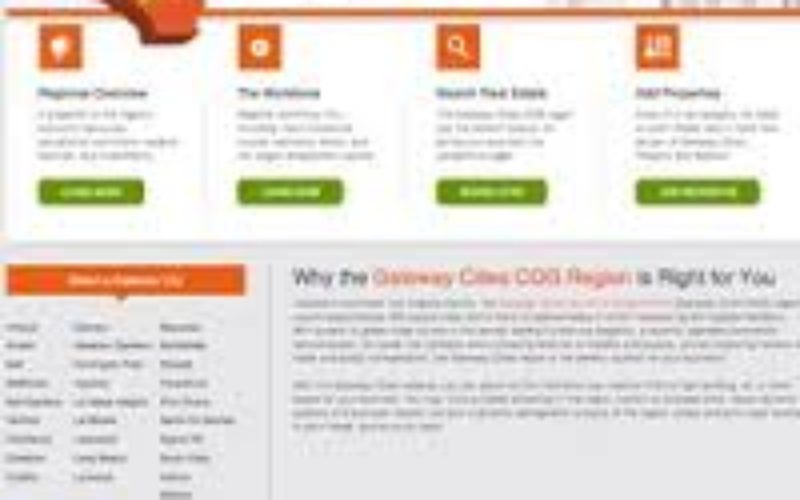 The 28 municipalities in the Gateway Cities Council of Governments in southeastern Los Angeles County have teamed up to launch a groundbreaking new website, GatewayCOGSiteProspector.org, to attract businesses and jobs.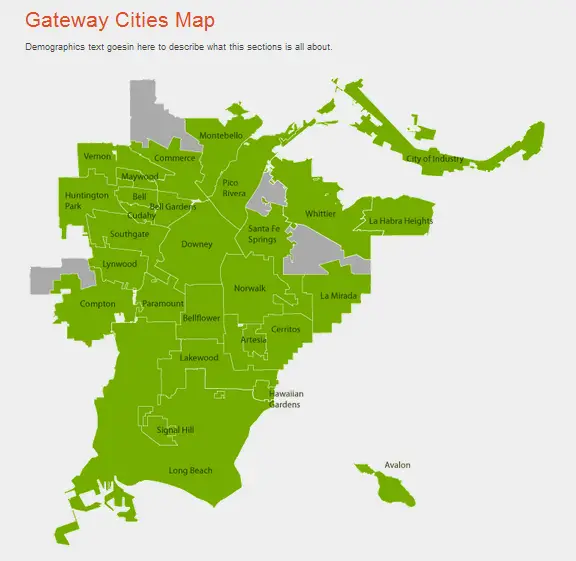 Using Geographic Information System (GIS) mapping software, the new website provides immediate access to in-depth information that previously took weeks to research. Now, dynamic real estate, demographic, and industry breakdowns are available free and instantly for all cities and counties in the Gateway Cities COG region.
"Our new web tool is far more than a database of available sites and buildings; it also provides dynamic mapping capabilities, including the ability to view geographic 'layers' of information and to see localized demographic and business information at any location in the region," said Richard Powers, executive director of the Gateway Cities COG.
According to Tony Lima, president of the Gateway Cities COG Board of Directors, the website "gathers economic, planning, infrastructure, geographic, and demographic information often sought by businesses that are looking to relocate or expand, and transforms this data into a 'one-stop-shop' business portal on the web."
GatewayCOGSiteProspector.org allows visitors to: 
    Search for available buildings and sites using specific criteria including type, size and location.

    Display properties on an interactive heat map that can display layers of information on points of interest, transportation links, demographics and more.

    Explore existing businesses in the Gateway Cities by general and specific industry classifications, size and performance.

    Find locations the Gateway Cities that match specific demographic, labor force, transportation and geographic profiles.

    Easily save property, demographic, community and business reports.

    View, create and print custom maps; develop custom demographic radius reports.
"Current market research shows over 97% of initial site selection screening is currently done online, so it's critical that the Gateway COG is making this information available in real-time online," said Anatalio Ubalde, CEO of GIS Planning, the GIS Planning the company that created the website. "The new website provides immediate access to important information that businesses need in order to make wise investment decisions."
About the Gateway Cities Council of Governments 
The Gateway Cities Council of Governments is a joint powers authority created in 1996 and comprised of the 28 cities in southeast Los Angeles County, the Port of Long Beach, and the County of Los Angeles. The Gateway Cities COG focuses on projects aimed at improving four important regional issues: (1) transportation, (2) air quality, (3) economic development, and (4) housing. The Gateway Cities COG also provides recommendations and solutions to regional problems by implementing and administering area-wide programs, adopted by consensus of its members, to promote the interest of residents of the region.
About GIS Planning Inc. 
GIS Planning is the world leader in online economic development solutions. Over 13,000 U.S. cities in 42 states are served by GIS Planning's Geographic Information System (GIS) Software, which provides real estate, demographic and industry data to help site selection professionals. GIS Planning invented ZoomProspector.com, a free website that enables companies to identify the best locations to start-up, expand, or relocate, and SizeUp, a free tool to help businesses grow. GIS Planning has been on the Inc. 5000 list for the past five years.
Source: PRWeb