CleanSeaNet:Near Real Time Service to Protect Sea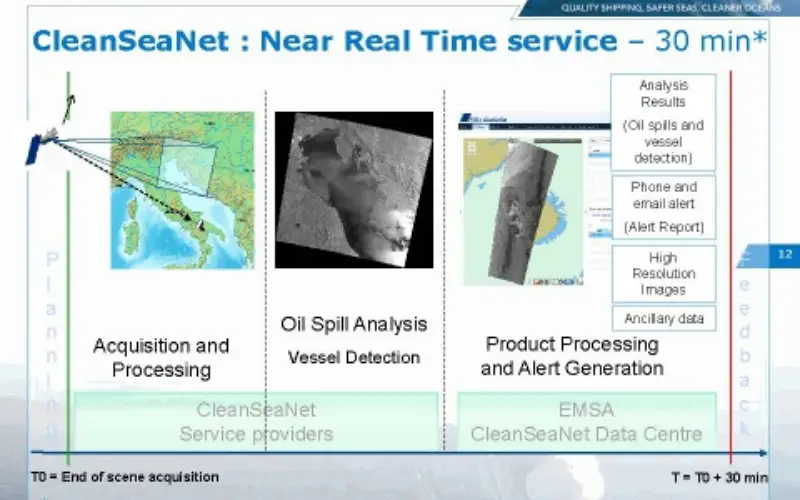 In a wake to protect our sea, to safeguard marine habitat, serious risks of ecological damage and socio-economic losses, the European Maritime Safety Agency (EMSA) has started a satellite-based pan-European oil spill and vessel monitoring service CleanSeaNet in the year of 2007.
The input data for CleanSeaNet are images captured by Synthetic Aperture Radar (SAR) satellites. The images are analyzed and the result provides a near real time oil spill pollution alerts (and related data) to national authorities.
Choosing the SAR as the input to CleanSeaNet has advantages over the optical remote sensing satellites. SAR imagery is an  effective tool for detection of oil spills at sea from ships, and from offshore oil platforms, its versatility to all weather conditions and capability to operate day or night.
The CleanSeaNet near real-time service (described in the picture below) is divided into three main steps: Acquisition and Processing of images, Oil Spill Analysis and Vessel Detection (thanks to the CleanSeaNet service providers), and finally Product Processing and Alert Generation (through EMSA CleanSeaNet Data Centre).
The service is available in twenty-seven coastal states, including all European Member States situated along the coastline, as well as Turkey, Iceland, Norway and Montenegro, and the information can be generated within thirty minutes of the satellite acquiring the images of the sea surface. 
Between the start of the service in 2007 and April 2012, CleanSeaNet used three polar orbiting SAR satellites: Envisat, Radarsat-1 and Radarsat-2. Since May 2012, Envisat images have not been available as the mission ended. In March 2013, Radarsat-1 experienced a technical problem, and in the following May, it was confirmed that the satellite was no longer operational. Currently the service relies on Radarsat-2, and occasionally COSMO-SkyMed (which are part of Copernicus Contributing Missions) for the delivery of more than 2,500 images every year.
Leendert Bal, Head of the Operations Department at EMSA commented that:
"Based on EMSA's positive experience with the use of the Envisat satellite for CleanSeaNet, the Agency is now waiting for the successful launch and commissioning of Sentinel-1. We hope that Sentinel-1 will also prove to be a valuable source of Synthetic Aperture Radar satellite images for near real-time operational monitoring of European seas for oil spills and vessel detection".
With Sentinel-1, Copernicus will have a positive impact on CleanSeaNet as the satellite image licences will be provided free-of-charge. This will contribute to the protection of our seas and therefore, our planet.
Source: Copernicus