SLOPE3D: Advanced Slope Stability Analysis Tool for Safer Engineering Design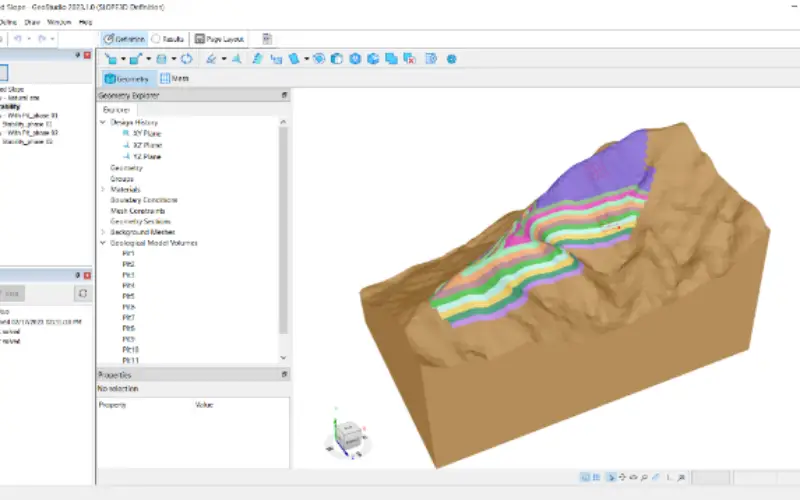 The Bentley Subsurface Company has unveiled SLOPE3D, a state-of-the-art tool for analyzing slope stability that enables geotechnical engineers and engineering geologists to design safer slopes. SLOPE3D is an upgraded version of GeoStudio's reliable 2D SLOPE/W product and offers an intuitive limit equilibrium solution for assessing slope stability with SLOPE3D for various mining and civil projects, including hillslopes, open pit mines, dams, and levees, among other engineered structures.
With its advanced features, SLOPE3D provides an efficient and reliable solution for slope stability analysis, ensuring the safety and success of engineering projects.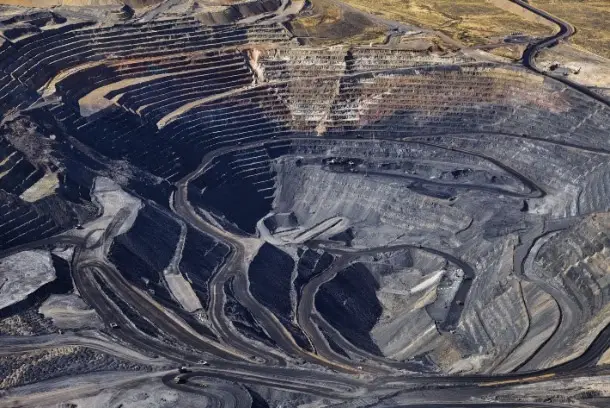 GeoStudio's interface, with the addition of SLOPE3D for slope stability analysis, is both powerful and user-friendly, providing a unique modeling and analysis experience for geotechnical engineers and engineering geologists. With the ability to add multiple 3D geometries and analyses to a single project and solve them simultaneously, users can improve efficiency and compare results by including SLOPE3D analyses in their existing 2D stability projects.
Moreover, SLOPE3D seamlessly connects with Seequent's Leapfrog geological modeling software via Seequent Central, allowing for the integration of slope stability analysis with geological modeling.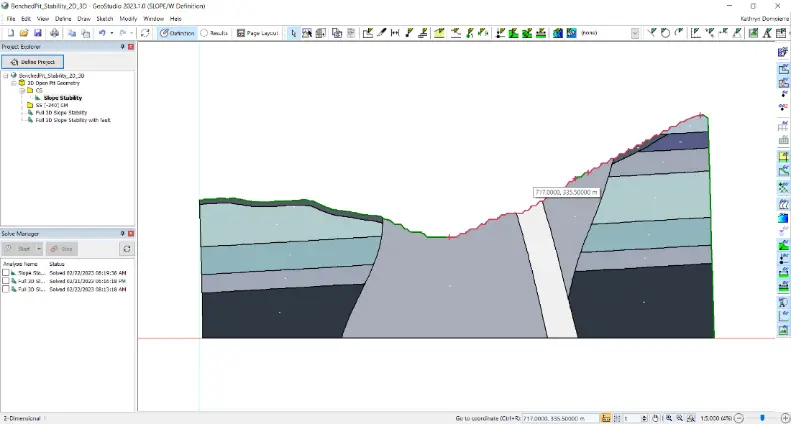 By integrating with GeoStudio's SEEP3D, SLOPE3D also streamlines the workflow and simplifies data management, improving project accuracy and outcomes. This enhanced software offers a comprehensive solution for slope stability analysis and geological modeling, ensuring the safety and success of engineering projects.
SLOPE3D combines the most up-to-date research on 3D slope analysis techniques with the capabilities in SLOPE/W, a trusted tool for assessing 2D slope stability for over 30 years, providing a practical approach for capturing slope failure mechanisms for simple to complex geotechnical models.

Chris Kelln, Director, Technical Solutions for GeoStudio
Other use cases descriptions, for use with stock photography
Tailings dams: SLOPE3D allows stability assessment throughout the construction and operation of tailings storage facilities to help mitigate the risk of failure, particularly when lateral confinement is not present – for example, at the corner of tailings facilities.
Embankments and dams: The stability of the geotechnical structure and subsurface can be analyzed using SLOPE3D to assist geotechnical engineers and engineering geologists to design safe, dependable embankments, levees, and dams, particularly when the geometry, geology and/or groundwater flow system present challenging 3D situations.
Natural slopes: The potential failure of natural slopes – for example, alongside highways, rail lines, and other infrastructure – can be evaluated using SLOPE3D.
SLOPE3D can be purchased now from Seequent. See the new SLOPE3D product page for more information, release announcement video, and a free trial. SLOPE3D is part of the GeoStudio 2023 release.
---
Also Read –
Microwave Radar Monitors Sliding Slopes