ESA Sentinel App Season Update!
A new update of the ESA Sentinel App is coming up! The latest changes have brought us the acquisition plans and swath animations for Sentinel-1A, Sentinel-1B and Sentinel-2A, a powerful visualization of Sentinel product availability on the geographic and temporal dimensions, the highlights of the Sentinel-1 mission achievements and even a more complete picture of the satellite surroundings in the 3D model section, with the Earth, the Moon, the Sun and the stars now visible.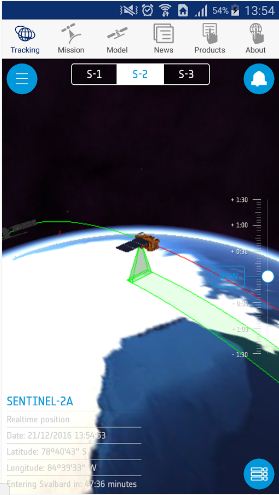 The Sentinel App is a gateway to knowing the Sentinel satellites. It lets users track the satellites in real-time, discover their key elements, read the latest news and learn more about their products.
Users can, among other things, explore detailed 3D models of the satellites, see the last and next time they have been and will be over the user's location, move the satellites to the time of the last data transmission and smoothly move them back to their current location on the 3D globe. Notifications can also be set to be warned when the satellites are flying by.
On 25 December 2016, ESA has launched a very special update that introduces the details of the inside of the Sentinel-1, Sentinel-2, and Sentinel-3 units.
You can download ESA Sentinel App, it is available for iOS on the App Store and for Android on Google Play.