Euro Engineering, Italy Raises Research Value by Using SuperGIS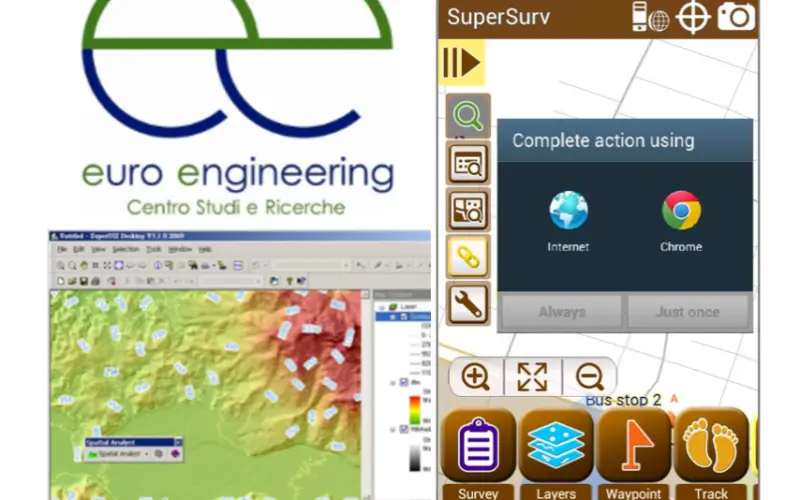 Supergeo, the leading GIS software and solution provider, announces that Centro Studi e Ricerche Euro Engineering – Soc. Coop. a r.l. (Euro Engineering) raises their research quality by using SuperGIS Desktop and GIS data collecting app, SuperSurv for android.
As the European leader in knowledge-intensive industries, the research team has its outstanding performances and extraordinary dedications in diverse fields, such as disaster prevention, environmental protection, pollution control, urban planning and engineering design.
With the powerful functions, SuperGIS Desktop is able to assist the research center on spatial analyzing the best value of land-use and help urban planning to reach completion; meanwhile, combine environmental protection to set up overall security plan base on land sensitive areas analysis.
SuperSurv for Android is capable of documenting the changes of land-use in real-time through smart devices. The center can seize the latest information easily and applies to academic research in different fields.
As Supergeo's value-added reseller in Italy, Euro Engineering is aim to provide SuperGIS solutions to more researchers and professionals in Italy, with cooperation with experienced SuperGIS partner, Helix s.r.l. This May, Supergeo will showcase in the Geospatial World Forum 2015 in Lisbon, Portugal to exchange the latest spatial technology with global GIS professionals.
Download the free trials of SuperGIS series products
http://www.supergeotek.com/download_6.aspx
See you in Portugal! Geospatial World Forum 2015
http://www.supergeotek.com/news.aspx?Type=Upcoming&ID=1452
Watering the Future – Join no-cost webinar to understand the GIS applied in environmental management.
http://www.supergeotek.com/support_ComingWebinars.aspx?Type=Upcoming&ID=1468
#  #  #
About Supergeo
Supergeo Technologies Inc. is a leading global provider of GIS software and solutions. Since the establishment, Supergeo has been dedicated to providing state-of-the-art geospatial technologies and comprehensive services for customers around the world. It is our vision to help users utilize geospatial technologies to create a better world.
Supergeo software and applications have been spread over the world to be the backbone of the world's mapping and spatial analysis. Supergeo is the professional GIS vendor, providing GIS-related users with complete GIS solutions for desktop, mobile, server, and Internet platforms.
Marketing Contact:
Patty Chen
Supergeo Technologies Inc.
5F, No. 71, Sec. 1, Zhouzi St., Taipei, 114, TAIWAN
TEL:+886-2-2659 1899
Website: http://www.supergeotek.com
Email: patty@supergeotek.com