GfK Publishes New Map Edition for Brazil and Mexico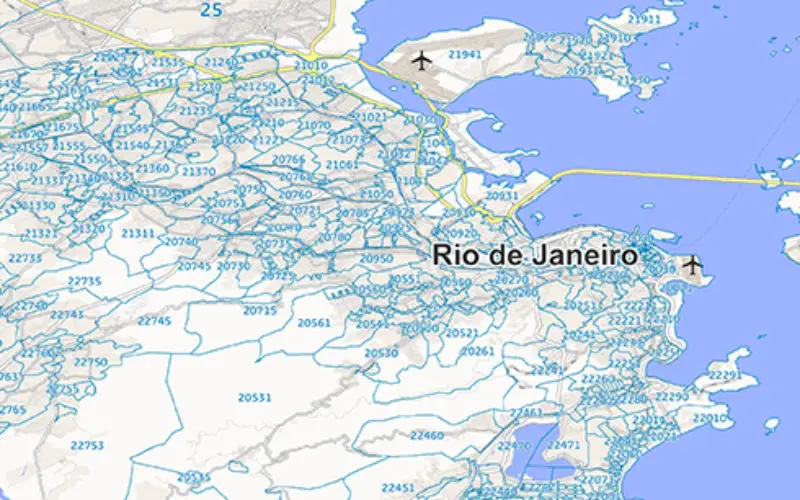 Brazil and Mexico: current geodata for business and risk analyzes
GfK publishes new map edition for Brazil and Mexico. To administrative The digital maps and postal areas form the basis for analysis with local reference, also known as geo marketing, in companies in all industries.
GfK has its digital maps for Brazil and Mexico updated to reflect the latest status and expanded to include many details. Thus are comprehensive maps of the 2-digit postcode areas and the 5-digit postcode areas in the major cities for both countries. In addition to postal units, the cards also provide all administrative levels from, from federal states to municipalities.
Klaus Dittmann, head of cartography at GfK Geomarketing region, commented: "Brazil is one of the highly dynamic BRIC countries and is an important international market in both the trade and the consumer goods sector, as well as in the financial and reinsurance industry. For Mexico, there is a very high demand. Our new maps for Brazil and Mexico provide companies in all industries a reliable basis for regional planning of business projects and for the evaluation of risks. "
A recent map base is crucial for regional market analysis and planning in companies in all industries.Because ZIP codes are usually the basis for the locations of all address-related information of a company.About the zip code of a corporate branch has changed, would with old maps Basics revenues this branch mapped incorrectly when working or disappear altogether if the old zip code was disbanded.
In the reinsurance industry digital maps with precise boundaries are important to assess exactly accumulation risks from natural hazards such as storms, earthquakes or floods can.
The GfK market research company is the official supplier of the CRESTA zones for uniform international analysis in the reinsurance industry and the provider of the world's largest collection of administrative and postcode maps. In addition to digital maps GfK also offers global data to regional market and audience potential for, such as the GfK Purchasing Power and data on population by age group. These are important landmarks for companies in many industries to assess regional opportunities and risks.
Innovations
For Brazil are updated map of all administrative areas of 27 states, 137 and 558 micro-meso regions and 5,570 municipalities.
The postal areas are available in two levels of detail: the 98 two-digit postcode areas, as well as a special layer that reflects the 3,543 five-digit postcode areas in São Paulo and Rio de Janeiro and in rural areas, the 2-digit.
For Mexico are as administrative maps before the the 32 states and 2,457 municipalities. On postal level the 96 two-digit postcode areas are available and a special card with more than 3,000 five-digit regions in the three largest cities Mexico City, Guadalajara and Monterrey. The map is coverage by mapping the 2-digit postcode areas in rural areas.
In both countries editions are an important topographic Additional Information for insurance companies cards contain rivers and waters. In addition, the maps show Brazil and Mexico also highways, major roads, airports and city points that exist divided by eight inhabitants size classes.
Availability
The around 20 maps for Brazil and Mexico are in all standard formats, including * .shp (ESRI), .tab (MapInfo), .lay ago (RegioGraph) or Oracle Spatial. All maps are vector-based and therefore flexible and workable zoomable. All territorial units are comprehensively mapped and in themselves and with neighboring regions seamless and consistent fit all other cards from GfK.
For more information on regional GfK market data, see http://www.gfk-geomarketing.de/landkarten. Graphics in print resolution can be found here.
About GfK
GfK stands for reliable and relevant market and consumer information. By helping the market research company to its customers to make the right decisions. GfK has many years of experience in the collection and evaluation of data. Around 13,000 experts combine global knowledge with analysis of local markets in more than 100 countries. Using innovative technologies and scientific method makes large amounts of data from GfK intelligent information. . This makes it possible to customers of GfK, to increase their competitiveness and to enrich the lives of consumers more information, please visit www.gfk.com/deFollow us on Twitter: www.twitter.com/gfk_de V.iSdP GfK GeoMarketing GmbH Public Relations Cornelia Lichtner Werner-von-Siemens-Str. 9 Building 6508 76646 Bruchsal T + 49 7251 9295 100cornelia.lichtner@gfk.com