Give Away! 3 WingtraOne Drones for Projects that would contribute to the Good of the World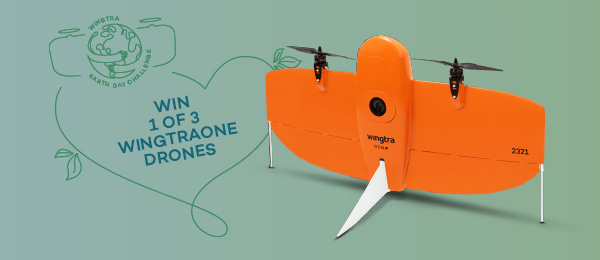 If you are someone inspired to complete a project that would contribute to the good of the world, here is your chance to win a WingtraOne GEN II drone. Wingtra has announced the Wingtra Earth Day Challenge, an environmental/humanitarian project in which they will give away three WingtraOne GEN II drones to projects that will benefit the world.
Wingtra is a major VTOL drone manufacturer for mapping, surveying, and mining professionals. Wingtra has worked with more than 70 of the world's largest equipment dealers and has been selling mapping drones globally since its launch in early 2017.
Eligibility for Wingtra Earth Day Challenge
You work for a non-profit, a university, a research centre, or a government body.
Your drone application directly benefits the planet Earth and its inhabitants, and it falls into one of the following categories: environmental, climate change monitoring, disaster management, community development, animal monitoring, and so on.
You have a clear idea of how you'll use your WingtraOne GEN II and can explain it in detail.
You agree to share videos, imageries, and outputs (ortho maps, point clouds, and so on) with Wingtra for communication purposes, as well as to be interviewed about your WingtraOne GEN II experience.
You can convince us that you and your WingtraOne GEN II will be able to help our planet in some way.
If you don't fit exactly into the above requirements but still believe your application is worthy of consideration, make a case, and if it is believable, it may be taken into consideration.
Scrutiny and Results
An internal Wingtra committee will choose nine nominees from all applicants and announce them on social media. As a participant, you will receive an email informing you whether or not you advanced to the final round.
On Earth Day 2022, will announce the give-away of three WingtraOne GEN II drones for teams aiming to do good.
To stay connected and visible across social media, use the hashtags #WingtraEarthDayChallenge and #DronesForGood.
TimeLine
Also Read – UAV Technology to Map Large Areas For The Purpose Of Land Titling