Google Crisis Tool for the Jammu and Kashmir Floods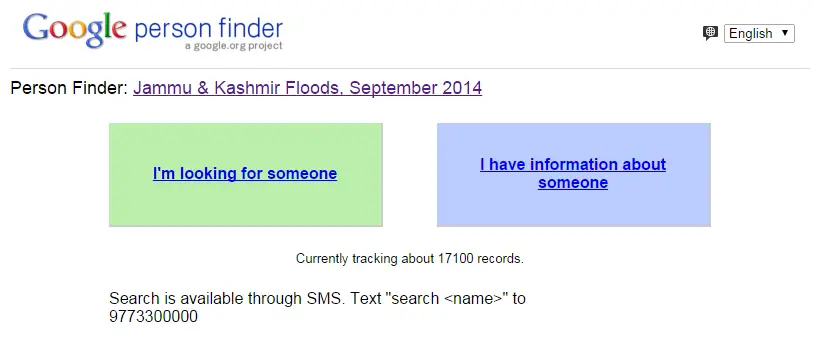 In recent blog by Google India, Google has come up with a crisis tool to support the people who are affected by recent Jammu & Kashmir flood.
The blog says:
The state of Jammu and Kashmir is facing its worst floods in 60 years. Given that the flood has uprooted communication modes making the area almost inaccessible, we have launched several tools, to help gather and relay information about people affected by the devastation.
The crisis tool – Google Person Finder is a web application that allows user to search of their family members, friends and also allows to post details of persons affected by the flood. The program also lets press agencies, non-governmental agencies and others contribute to the database and receive updates by using the Person Finder API based on the PFIF open standard. Google Person Finder is open source software meaning that any developer can create their own instance of Google Person Finder after a disaster. Person Finder runs on the Google App Engine platform, and it has been launched in over 40 languages. We do our best to make sure it's available in the most commonly spoken languages in disaster prone countries.
Google engineers built Google Person Finder in response to the January 2010 Haiti earthquake in order to help those affected by the earthquake connect with their loved ones.
All data entered into Google Person Finder is available to the public and searchable and accessible by anyone. Google does not review or verify the accuracy of the data. The standard Google Terms of Service apply to all users of Google Person Finder.
Visit Google Person Finder: Jammu & Kashmir Floods, September 2014
Source: Google India