Masters Course in Environmental Sciences, Policy and Management (MESPOM)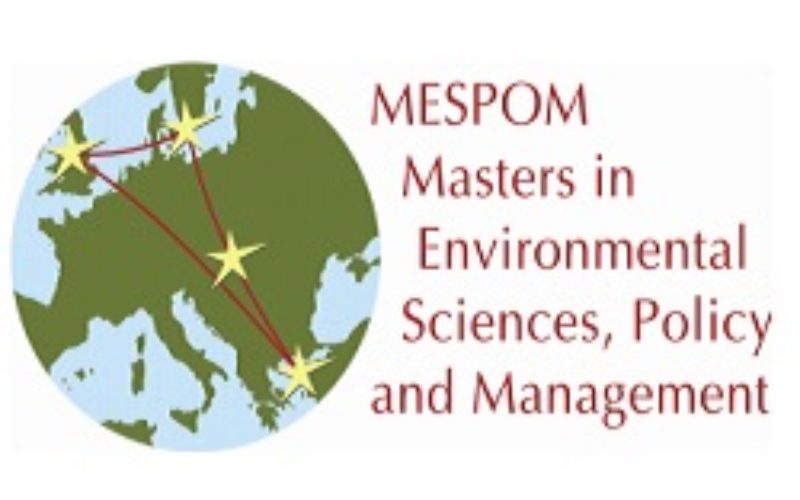 Erasmus Mundus Masters Course in Environmental Sciences, Policy and Management (MESPOM)
Call for Applications 2015-2017
The MESPOM Consortium of six universities – Lund University (Sweden), the University of Manchester (UK), Central European University (Hungary), the University of the Aegean (Greece), the Monterey Institute for International Studies (the graduate school of the Middlebury College) (USA), and the University of Saskatchewan (Canada) – is inviting applications for the Erasmus Mundus Masters Course in Environmental Sciences, Policy and Management (MESPOM) for studies in 2015-2017.
Overview:
MESPOM educates international environmental professionals and prepares future interdisciplinary researchers. We foster the ability to link advanced scientific knowledge to effective policy and management responses.
The MESPOM Consortium combines Nordic, Mediterranean, Western and Central European as many decades of combined experience in delivering interdisciplinary environmental Masters courses creating a solid platform for a high quality, integrated and globally relevant Masters Course. Since launching MESPOM in 2005, the partner Universities have perfected highly integrated and complementary curriculum based on their complementary core competencies (CEU – in environmental policy; Lund University – in industrial environmental strategies; the University of Manchester – in pollution control; and the University of the Aegean – in ecosystems management).
Career Opportunities:
MESPOM alumni now work on environmental challenges in the UN, government, academia, industry and the non-profit sector worldwide. Many have chosen to return to their home countries whereas others stayed in Europe, particularly for pursuing PhD degrees. The careers of the MESPOM graduates are traced at www.mespom.eu/career.
Entry Requirements:
MESPOM invites applications from candidates from all countries. Successful applicants must ave a good first degree (a Bachelor or analogue) in a subject related to environmental sciences, policy and management, such as Earth and natural sciences, engineering, management or economics. Candidates with other first degrees are also considered if they show commitment to environmental issues, usually through work experience. All candidates should demonstrate proficiency in English. Admission is based on the academic and intellectual excellence of applicants as well as on their motivation and prior experience.
Admission to MESPOM is highly competitive. A successful applicant has typically graduated with excellent grades from a good university and has some experience of voluntary or professional environmental work. She or he understands global environmental challenges and has a clear commitment to contribute to their resolution.
CEU organizes the application procedure on behalf of the MESPOM Consortium.  All candidates applying for financial aid should submit on-line applications and provide necessary documents by February 1, 2015 and all other candidates by June 1, 2015 to be admitted to the study period from September 2015 – June 2017.
How to Apply  visit MESPOM Web site (www.mespom.eu/how_to_apply).
Contact and Additional Information:
Additional information is available on www.mespom.eu or by writing to the MESPOM Consortium Coordinator (coordinator@mespom.eu).
Interested candidates are encouraged to use the Facebook group 'Study at MESPOM' (www.facebook.com/groups/study.at.mespom/) to find answers to their questions about the programme.
MESPOM is also present on facebook: www.facebook.com/Mespom.
Read more about MESPOM