NEW RIEGL High-Speed Mobile Mapping Turnkey Systems Launched at ILMF 2016!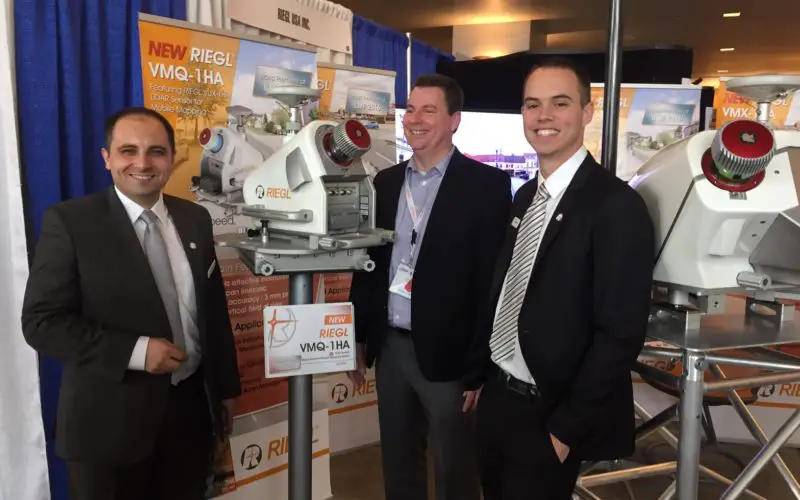 Introducing the latest advancements in RIEGL LiDAR Technology for mobile applications:
NEW RIEGL High-Speed Mobile Mapping Turnkey Systems Launched at ILMF 2016!
On February 22 at ILMF 2016 in Denver, RIEGL launched two new High-Speed Mobile Mapping Turnkey Systems featuring this high-performance VUX-1HA kinematic LiDAR sensor!
RIEGL is proud to announce the first launch customers in the United States for these systems, David Evans and Associates, a renowned surveying firm based in Portland, Oregon and Surveying Solutions, Inc. (SSI), a professional surveying firm based in Michigan.
"When looking for a 2nd mobile laser scanning system to supplement our surveying and geomatics arsenal, David Evans and Associates, Inc. chose the RIEGL VMQ-1HA to assist with our client's requirements on transportation, water, land development and energy projects. We were very impressed with the small size of RIEGL's VMQ and the extraordinary data resolution that can be achieved from the VUX1-HA laser and we know that our clients will be impressed as well." said Marcus Reedy, PLS Director of Surveying and Geomatics with David Evans and Associates.
The new VMQ-1HA High-Speed Single Scanner Mobile Mapping System, with one VUX-1HA scanner integrated, is an economically priced, lightweight system for the growing mobile mapping market. Fully integrated into the measuring head of the system, the sensor enables acquisition of dense point cloud patterns, even with single passes at typical traffic speeds. The usage of the system's swivel plate enables the measuring head to be set to different predefined mounting angles, which enables the generation of different point cloud patterns meeting diverse project requirements. The optional integration of up to four cameras allows simultaneous acquisition of imagery to complement the captured LiDAR data.
"Surveying Solutions, Inc. (SSI) is excited to announce the purchase of our second VMX Mobile LiDAR system. SSI's acquisition of the new RIEGL VMX-1HA will aid in the expansion of SSI's robust mapping portfolio. This acquisition allows SSI to continue to stay in the forefront on the mobile mapping market. The VMX dual scan head system provides, in our experience, the most accurate and complete data collection package on the market which allows SSI to provide accurate and reliable information to its clients. SSI has had an outstanding relationship with RIEGL since the purchase of our first VMX mobile system in 2011 and has pushed the limits of their equipment and software. Since then, RIEGL has responded with the VMX-1HA which is capable of over 2 million points per second, making it the premier Mobile LiDAR system on the market today. SSI is proud to add this system to its mobile mapping operations." said Andrew Semenchuk, President of Surveying Solutions, Inc.
The new VMX-1HA High-Speed, High-Performance Dual Scanner Mobile Mapping System, with two VUX-1HA scanners integrated, provides dense, accurate, and feature-rich data, even at high driving speeds. With up to 2 million measurements and 500 scan lines per second, the fully integrated turnkey solution is ideally suited for challenging projects and engineering-grade surveying applications.
In addition to the sensors, the roof-carrier mounted measuring head integrates a very high-performance INS/GNSS Applanix unit. All components of the system are housed under an aerodynamically shaped protective cover. An optional camera platform ensures user-friendly mounting and setup of up to six digital cameras providing precise time-stamped images. The compact control unit and RIEGL's proven software suite ensures a seamless workflow for mobile data acquisition, processing and adjustment.
About RIEGL:
RIEGL Laser Measurement Systems is a performance leader in research, development and production of terrestrial, industrial, mobile, bathymetric, airborne and UAS-based laser scanning systems. RIEGL's innovative hard- and software provides powerful solutions for most application fields in surveying.
Worldwide sales, training, support and services are delivered from RIEGL's Austrian headquarters and its offices in Vienna, Salzburg, and Styria, main offices in the USA, Japan, and in China, and by a worldwide network of representatives covering Europe, North and South America, Asia, Australia and Africa.
For more information, visit www.riegl.com .
About RIEGL USA:
RIEGL USA, located in Orlando, Florida, serves as the North American center of sales, training, and support for RIEGL Laser Measurement Systems.
For more information, visit www.rieglusa.com