Copernicus: A Tool for Monitoring Europe's Ecologically Sensitive River Banks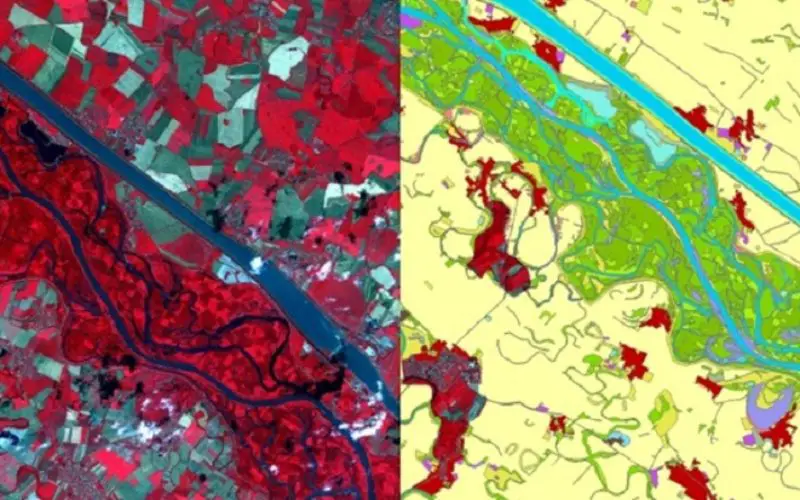 Riparian zones are fragile, yet environmentally important areas, and carry out a range of "ecosystem services", such as filtering water, supporting wildlife and stabilising river banks. Within the Copernicus programme, a stream of activities dedicated to mapping and monitoring riparian zones lend support to a range of EU policies aiming to protect and sustain these valuable ecological features.
Riparian zones are defined as transitional environments between terrestrial and freshwater ecosystems. These zones extend from the edge of a river to the periphery of ecosystems that are no longer influenced by the river course. The size of riparian zones is variable: they can be quite narrow at the source of a river or stream and therefore closely integrated with the riparian forest. On the opposite extreme, wide rivers with large floodplains may have an extensive riparian zone comprising numerous complex ecosystems. Riparian zones are found in all European regions and include a diverse array of habitat types.
The environmental importance of these zones is explained by Ana Sousa, project manager for Copernicus at the European Environment Agency (EEA). "Riparian zones have a key ecological role in transitioning from terrestrial to freshwater ecosystems. They also provide a multitude of services for human well-being since they encompass highly valuable habitats, provide wildlife support, perform a contaminant filtering function, carry out sediment entrapment, help to stabilise river banks, reduce flood hazards and capture carbon, amongst other things. On top of that, they help to improve the connectivity of the landscape, for example by acting as dispersal corridors, thus providing a clear link to Target 2 of the EU Biodiversity Strategy to 2020, which aims to maintain and restore ecosystems and their services."
Riparian zones are, however, fragile due to their exposure to man-made and natural events which cause the degradation of their biodiversity: "They are subject to frequent natural disturbances such as floods and droughts," confirms Sousa. "They are also exposed to strong anthropogenic pressures which translate to land conversion due to sealing, industrial and housing developments, agricultural expansion, channel rectifications, hydro-electric dams and reservoirs. In addition, these zones are subject to the effects of climate change, in the form of precipitation change and increased flood risk, for example."
Methodology for Mapping Riparian Zones
There are many methods for delineating riparian zones, which differ depending on the goal (existing or potential zones, mapping typical riparian vegetation or merely accounting for topography) or on the riparian function that is being monitored.
The availability of new European datasets such as the HR Layers, HR and VHR satellite data for 2012, the update of CLC 2012, EU-HYDRO, EU-DEM (all of those supported by Copernicus funds) and other existing datasets such as the Harmonised Soil Data Base and the Pan-EU Flood Hazard Map allows for a more complete and accurate delineation of riparian zones.
EU Policy Approach
Due to the key ecological role of these habitats, their fragility and the ecosystem services they provide to society, the European policy perspective on riparian zones involves carrying out extensive assessment and mapping of riparian coverage in Europe and linking this information with other policy areas. This perspective is currently underpinned by the objectives of several legal acts and initiatives in the environmental domain, such as:
Satellite Imagery and Modelling: Copernicus Comes into Play
The delination and mapping of riparian zones is being carried out under the auspices of the Copernicus programme. Within the Copernicus Land Monitoring service, the coordination of the Pan-European and local component was delegated to the EEA, which has extensive experience in similar activities i.e. Corine Land Cover and the GMES Land Fast Track precursor.
Under the local component, the EEA is currently managing a contract, the objective of which is to use satellite imagery to map land use and land cover in very high resolution, covering a buffer area around European rivers of more than 500 000 km2. In addition, riparian zones that surround the rivers will be modelled. Service contracts have been put in place to develop this activity. The first of these, which has almost run its course, will map 22 000 km2 and is also designed to fine-tune the methodology in order to produce the best possible results with the resources and within the time available.
"Detailed and harmonised information on riparian zones is missing across the EU so this fills a gap that Copernicus had not yet addressed, i.e. biodiversity," states Sousa. "It also reflects an increasing awareness of the ecological and economic importance of riparian zones through its focus on ecosystem services."
This detailed land cover and land use information will also complement the Pan-European component (Corine Land Cover and the High Resolution Layers on land cover characteristics) and is undertaken in parallel with the other service of the local component (Urban Atlas). It will use Very High Resolution imagery collected between 2011 and 2013 in combination with other available datasets, such as high resolution and medium resolution images.
This local Component of the Copernicus Land Monitoring service will provide a basis for habitat and biodiversity monitoring that is designed to support and deliver usable information for the Mapping and Assessment of Ecosystems (MAES) Services initiative and the Green Infrastructure and Restoration objectives in accordance with Target 2 ("Maintain and restore ecosystems and their services") of the EU Biodiversity Strategy to 2020. "This will be done by mapping features that are crucial for ecosystem conditions and the delivery of ecosystem services, while allowing for land cover change detection to take place in future exercises, suitable for the EEA land accounts," explains Sousa.
Future exercises, repeated in policy-relevant intervals, will be carried out in order to analyse changes in land use and its influence on land cover, which is a major factor in the distribution and functioning of ecosystems and in the delivery of ecosystem services.
In addition to mapping riparian zones, the EEA contract also makes links to biodiversity. Green linear elements, which are important vectors of biodiversity, are covered, while information on the fragmentation of habitats with the potential for restoration is provided. Finally, a link is made to protection against hazards and Green Infrastructure, amongst other factors.
Ultimately, the aim of this activity is to help to protect these valuable, yet fragile habitats, a goal which is supported by the mapping activities carried out under the Copernicus programme.