ISRO: Haze Removal Algorithm Developed for Cartosat Images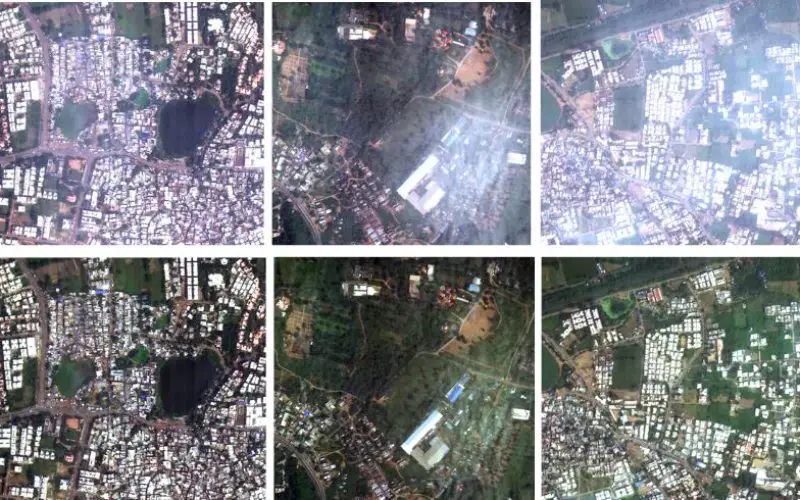 ISRO – High-resolution optical imaging Earth Observation Satellite (EOS) systems such as CARTOSAT provide multi-spectral remote sensing data in the visible and near-infrared (VNIR) wavelengths of the order of sub-meter to few-meters. These datasets can be used in a variety of applications, particularly associated with precise mapping, monitoring and change detection of earth's surface, if top of the atmosphere (TOA) measurements can be properly compensated for atmospheric absorption and scattering effects. Existing physics based atmospheric correction (AC) algorithms for multi/hyperspectral remote sensing data over land involves simultaneous use of visible and short-wave infrared (SWIR) channels to derive aerosol information. Hence, such algorithms cannot be used for AC of data acquired by VNIR sensors to derive "surface reflectance".
Towards this, Space Applications Centre, Ahmedabad has developed a new algorithm for AC of high-resolution VNIR remote sensing data in which aerosol information is retrieved from sensor measurements in VNIR channels and by selecting appropriate aerosol optical properties from a set of defined aerosol models. The algorithm uses lookup tables generated with vector radiative transfer calculations. Derived aerosol information and pre-computed lookup tables are employed to derive surface reflectance.  Good quality surface reflectances have been obtained when this algorithm was applied on Cartosat-2 Series Satellite data. It is found that this algorithm significantly removes the haze from the images, making surface features distinctly visible, and hence more useable for qualitative as well as quantitative analysis and further applications.
Following figures illustrate the drastically improved quality of the images after applying the AC algorithms, where the contribution of light due to molecular scattering and scattering from thick layer of aerosol to the sensor measurement at the top the of the atmosphere is removed:
Parts of Ahmedabad as viewed from Cartosat-2 Series Satellite on 03/11/2016

 Cartosat-2 Series Satellite View of Ahmedabad, Satellite Area on 03/11/2016
Cartosat-2 Series Satellite View of Delhi Encompassing IGI Airport on 01/11/2016
Cartosat-2 Series Satellite View of Krasnensky District, Belgorod Oblast, Russia on 01/07/2017
Cartosat-2 Series Satellite View of Jhang District in the Punjab Province of Pakistan on 01/07/2017
Source: ISRO