Selection of Consultant for Geographic Information System(GIS) Mapping and Survey for Village Abadi in Noida
New Okhla Industrial Development Authority (hereinafter referred to as "NOIDA" or "the Authority") intends to hire consultancy services for Geographic Information System Mapping and Survey of the abadi villages in Noida.
In this regard, the Authority now invites the interested applicant to submit their proposals as per provisions of this Request for Proposal Document (TOR Document).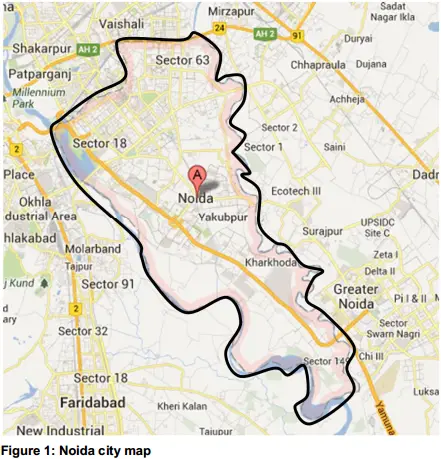 The consultant shall carry out the GIS mapping of the abadi villages of Noida by satellite imagery, ground verification and surveys. The scope shall include mapping of the details on GIS platform of the existing topography, structures and buildings, infrastructure and demographics of Village abadi of Noida.
The Applicant should fulfil the following minimum technical and financial criteria:
Sole proprietorship, registered partnership firm, public limited company, private limited company. The firms 

and companies should be registered in India. 

The Applicant should have successfully completed consultancy work of similar nature during last 5 years in carrying out Urban/Rural level GIS mapping, social assessments and surveys and ground 

versification

.
Three similar completed consultancy works of minimum area of 600 hectares each OR
Two similar completed consultancy works of minimum area of 900 hectares each OR
One similar completed consultancy work of minimum area of 1200 hectares
Adequate manpower with requisite experience and qualification as per the TOR.

The average annual turnover of the Applicant from similar services during past 3 years should be INR 50 

lakh.
The terms and conditions along with eligibility and evaluation criteria have been detailed in the tender document. The interested applicant can obtain the RFPs from Vijaya Bank, Sector – 6, Noida during the sale period of tender, upon a written request accompanied by a demand draft of Rs. 5,000 plus VAT (Rupees Five thousand only) in favour of New
Okhla Industrial Development Authority, payable at New Delhi/ Noida.
Key Dates

Issuance of bid documents
On all working days from 06.01. 2014 to 20.01.2014 during working hours
Pre-bid meeting
On 24.01.2014 at 1100 hours

Last date of submission of bids

On or before 31.01.2014 upto 1500 hours

Opening of technical bids
On 31.01.2014 at 1530 hours
Opening of financial bids
To be communicated later
Any query regarding, contact below
DCEO(R)
Noida Authority – Sector 6, Noida, Uttar Pradesh- 201301
Website- www.noidaauthorityonline.com