Sentera Integrates High-Precision AGX710 Sensor with Dji Matrice 200 Series Industrial Drones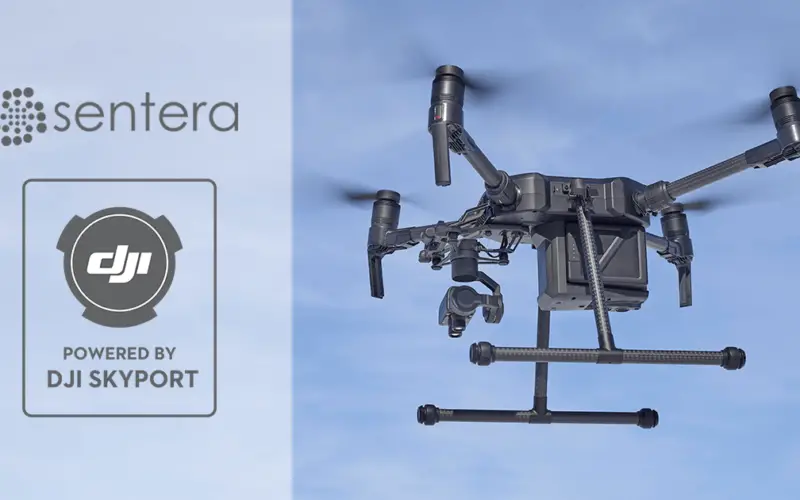 Seamless Digital Solutions, From Field to Action
March 28, 2018 – Sentera today announced the immediate availability of the Sentera AGX710 gimbaled precision agriculture sensor with plug-and-play integration for DJI's industry-leading Matrice 200 Series industrial drones. The Sentera AGX710 sensor delivers exceptional crop health insights and enables ag professionals to develop high-precision spectral index measurements and run deep learning algorithms on acquired data.
Data from the sensor imports directly into the Sentera FieldAgent™ Platform, where advanced insights help detect disease, pest, and other pressures, identify deficiencies, and assess nutrition status. FieldAgent's mobile app offers complete flight planning and execution support for the new solutions. Full integration with DJI's transmission system delivers live-streaming video and still image download capabilities, and complete gimbal and camera control is available directly from the drone's remote controller. In short, it's never been easier or simpler to access real-time crop health information and take prescriptive action.
"We are excited to deliver such an elegant, high-accuracy product to the market," said Eric Taipale, CEO of Sentera. "Our customers love DJI drones, and DJI's new payload developer tools allow us to make it unbelievably easy to add Sentera sensing to an M200 Series platform, and incredibly simple for our customers to gather actionable data from the field."
Advancing Agriculture
The deep integration between the AGX710 and DJI drones comes from DJI's newly released Payload Software Development Kit (SDK) and accompanying DJI Skyport adapter. Sentera and DJI collaborated to develop the Payload SDK and AGX710 in parallel, ensuring both were optimized for the benefit of the agriculture industry.
"We are proud to have the Sentera team bring their innovative agriculture sensor to our Matrice 200 Series drones," said Jan Gasparic, Head of Enterprise Partnerships at DJI. "Working together with payload developers like Sentera makes it easier than ever to use DJI drones for specialized applications in the commercial drone industry, giving customers in agriculture, energy, and public safety more access to the tools they need to get the job done."
Crop Scouting Backbone
The Sentera AGX710 attaches to any supported DJI enterprise drone in seconds. Based on Sentera's proven sensor technology, the AGX710 delivers a variety of standard products including high-resolution RGB, normalized difference vegetative index (NDVI), normalized difference red-edge (NDRE), nearly a dozen other specialized index products.
In addition, Sentera analytics around stand and emergence, variability, biomass, nutrition, pest, weed, and disease status are compatible with AGX710 imagery.
"Our customers produce dozens of different index products, and use automated analysis tools across so many different applications in agriculture, forestry, and environmental protection. On the Matrice 200 model, customers can snap-in and fly. On the Matrice 210, with two gimbals, we can fly alongside a thermal imager, or future payloads," said Taipale. "The DJI Payload SDK architecture has really hit the mark for enterprise customers."
Sentera's gimbal stabilizes the sensor for optimal positioning during image capture, and allows for the same automated and manual positioning capabilities that users have come to expect from DJI equipment.
Part Evolution, Part Revolution
On-field data products have become more sophisticated, but drone operations have become easier to learn and use. Sentera's FieldAgent platform handles the entire pipeline, providing a complete crop-scouting solution right out of the box. Via FieldAgent, AGX710 customers immediately enjoy broad data compatibility with virtually all major digital agriculture platforms.
Sentera AGX710 Pricing And Availability
The Sentera AGX710 gimbaled sensor retails for $4,299 and is available for order now, with shipping beginning in April. The sensor is bundled with one year of   of  FieldAgent  software access.
Learn more about the AGX710 Sensor by contacting a dealer near you, or visiting Sentera's website.
---
About Sentera
Sentera is a leading supplier of integrated remote sensing, analytics, and IoT solutions to the agriculture industry. Sentera makes it easy for users to integrate in-field real-time data with many digital ag platforms. Sentera's equipment has flown tens of millions of acres all over the world, and the company manages terabytes of new data for its customers every year.
Media contact information: Sarah Ritzen, sarah.ritzen@sentera.com