Partnership Announced by SI Imaging Services with GHGSat for Methane Emissions Monitoring
SI Imaging Services (SIIS) has embarked on a collaborative partnership with GHGSat, a Canadian satellite company specializing in greenhouse gas monitoring from space. Effective June 16th, 2021, SI Imaging Services is acting as GHGSat's first reseller within South Korea and East Asia. The partnership's main objective is to provide remote-sensing data of methane emissions in South Korea.  
Methane (CH4), one of the seven greenhouse gases is found to have a significant impact on climate change. Over 20 years, it is 84 times more powerful in trapping heat than carbon dioxide (CO2) contributing to around 30% of global warming.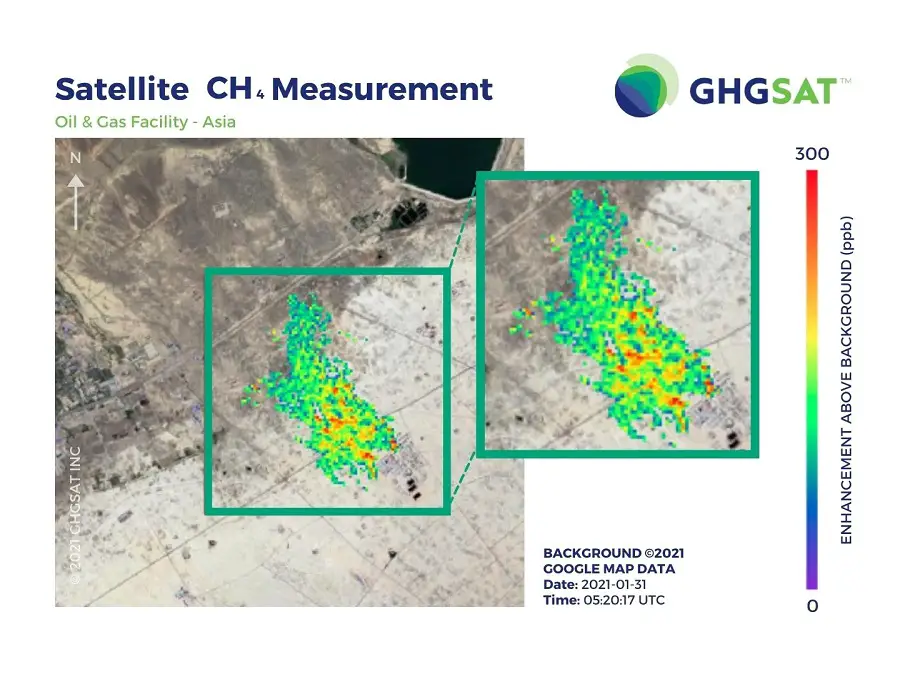 GHGSat is the first, and currently only firm to launch satellites into orbit capable of high resolution, low threshold greenhouse gas (currently methane) detection and measurements around the world every day. In 2020, its proprietary satellite sensor was mounted to an aircraft for airborne operations providing even greater detail and time-efficient collection of measurements. These proprietary data, once collected, are integrated with GHGSat's analytics to provide deeper insight and more accurate predictions of emission risk and hotspot detection.
In comparison to existing greenhouse gas observing satellites worldwide, GHGSat's satellites provide 100 times higher spatial resolution at 10's of meters pixel size and the smallest detection thresholds of approximately 100kg/hour. GHGSat is differentiated for its technology in pinpointing the exact source of methane emissions at the facility level such as compressor stations, well pads, and pipelines in the Oil and Gas sector.
Jean-Francois Gauthier, Vice President of Sales and Marketing at GHGSat: "GHGSat is delighted to partner with SIIS to bring accurate insight on methane emissions to South Korea and East Asia. Their expertise and leadership in Earth observation perfectly complement the unique data generated by our satellites. The solutions we will offer together will bring new awareness on emissions in the region and identify clear opportunities for reductions."
SIIS expects that GHGSat's emission monitoring service will help government agencies and enterprises in East Asia track their carbon footprint and take necessary actions to reduce it or prevent gas leaks. To begin with domestic ESG objectives, the data will be used for the Korean Ministry of Environment, landfill management organization in the metropolitan area, LPG storage, LNG gas terminals of KOGAS and POSCO, and hydroelectric power plants.
SIIS
SIIS provides satellite imagery of Korean Multi-Purpose Satellite (KOMPSAT) No. 2, No. 3, No. 3A, and No. 5. SIIS contributes to the remote sensing and earth observation industries with ultra-high-resolution optical images and SAR images through more than 150 resellers worldwide. Satellite imagery is used in remote sensing fields such as mapping, agriculture, and disaster observation. www.si-imaging.com
GHGSat
GHGSAT is a leader in high-resolution greenhouse gas monitoring from space, providing actionable emission data to businesses, governments, and regulators worldwide. With proprietary remote-sensing capabilities and patented technology, GHGSat can monitor individual facilities, offering greater data accuracy, and facilitating timely strategic decision-making insights. www.ghgsat.com
Also Read
Machine Learning Helps SEGES to Detect 26K Slurry Tanks over Denmark to Assess Ammonia Emission