Solv3D Releases New Features Within SiteVisit360 Geospatial Collaboration Platform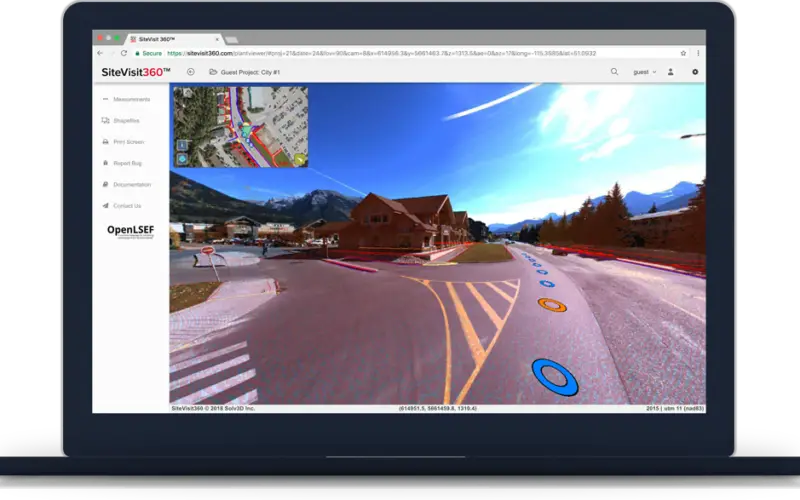 CALGARY – September 6, 2018 – Solv3D, a leading provider of 3D processing, geospatial data visualization and collaboration tools announced that a number of new features were currently released within SiteVisit360™, further enhancing the client's experience and making it an even more efficient and effective tool in enabling visualization and collaboration of geospatial data across the enterprise.
The first of the features included in this release are "Annotations", which enables users to make free-hand markups directly on top of the imagery and point cloud data within the scene view.  Users can save, share, collaborate with and export the annotations.  This will assist in being able to more easily and visually communicate requirements, changes, actions, etc.
The key feature of this release is the ability for Clients to host their own data. This allows clients who have existing infrastructure in place or require that the data remain within a certain physical location or geography, to align with any privacy or security requirements. This is also a more cost-effective model for the customer, as there is no redundant hosting and management expense associated in using our platform.
The third feature was developed in an effort to broaden the sharing ability across the entire organization or with third parties, who only require visibility of the data, without all of the standard functionality of the application.  The Viewer license, allows for this type of use, at a very low cost.
"We're excited to get these features released out to our users.", states Solv3D chief technical officer, Kevin Miller. "These latest additions are the result of customer feedback and show that Solv3D is readily able to adapt to our clients' needs. As industry leaders, we will continue to anticipate future requests to stay ahead, as well as work with our customers to build a revolutionary product that meets their requirements."
For more information, please visit the Solv3D website at http://solv3d.com
About Us
Solv3D creates tools that enable people to effectively use large 3D point clouds and immersive imagery within their existing workflows. Using the 3DPointLogic™ toolkit, individuals can easily turn massive point clouds into manageable data sets. With the SiteVisit360™ collaborative platform, companies can merge 3D point cloud data, imagery and other georeferenced assets, resulting in a virtual project environment, allowing them to more effectively leverage the value of their datasets for estimation, planning, design, and decision-making.