SuperGIS Desktop Assists SME in USA in Conducting Restoration Projects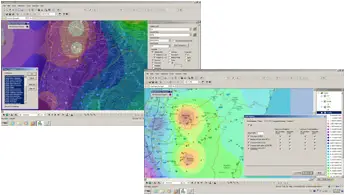 Supergeo Technologies, the global leading GIS software and solution provider, announces that SuperGIS Desktop 3.2 supports Bitterroot Technical Associates, USA, to guide restoration programs for environmental management.
SuperGIS Desktop 3.2 is the professional GIS software which is developed to meet geospatial data editing, processing, analysis and management needs. It has been applied to diverse domains by hundreds of central and local governments, academic institutes, and small to large enterprises around the world.
Located in Montana, USA, Bitterroot Technical Associates is a SME (small and medium enterprise) having deep GIS project experience. The company successfully utilized SuperGIS Desktop to guide restoration programs for environmental management on state and federal lands, especially for riparian areas. Under the scheme, rare and endangered plants and wildlife could be well observed for further protection and policy making.
"SuperGIS Desktop is well developed and I'm very impressed as to the depth of its capabilities. Also, I've never had an answer so specific and exceptional in a help response, that left a lasting impression." mentioned by Bitterroot Technical Associates.
The powerful functions, affordable price and friendly support provide worldwide SMEs with efficient GIS tools to elevate their spatial work value. Besides, for further application, SuperGIS Biodiversity Analyst Extension is capable of biodiversity indices of richness, evenness and diversity. It is a unique solution for restoration and environmental projects.
Similarly, SuperGIS solutions were utilized in the Middle East to build an enterprise GIS database for Sabah Al-Ahmad Nature Reserved in order for the remediation actions recovering from military fortification in Kuwait.
See the success story – Natural Reserve Remediation in Kuwait: http://www.supergeotek.com/Library_2_201405.aspx
Download Free Trial of SuperGIS Desktop with Analyst Extensions: http://www.supergeotek.com/download_6_desktop.aspx
#  #  #
About Supergeo
Supergeo Technologies Inc. is a leading global provider of GIS software and solutions. Since the establishment, Supergeo has been dedicated to providing state-of-the-art geospatial technologies and comprehensive services for customers around the world. It is our vision to help users utilize geospatial technologies to create a better world.
Supergeo software and applications have been spread over the world to be the backbone of the world's mapping and spatial analysis. Supergeo is the professional GIS vendor, providing GIS-related users with complete GIS solutions for desktop, mobile, server, and Internet platforms.
Marketing Contact:
Patty Chen
Supergeo Technologies Inc.
5F, No. 71, Sec. 1, Zhouzi St., Taipei, 114, TAIWAN
TEL:+886-2-2659 1899
Website: http://www.supergeotek.com
Email: patty@supergeotek.com