Terra Drone And LG U+ Put UTM System Into Commercial Use For The First Time In South Korea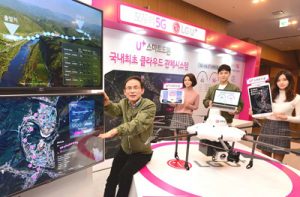 November 27, 2017 – Terra Drone Co., Ltd., the leading Japanese commercial drone service company, has commercialized UTM(Unmanned Traffic Management)system for the first time in Korea collaborating with LG U+, a South Korean cellular carrier owned by LG Corporation.
On November 21st, 2017, LG U+ CEO Kwon Young-Soo announced that LG U+ began "U+ Smart Drone UTM System," which enables a drone to fly safely for disaster monitoring and logistic transport in BVLOS (beyond visual line of sight) and at night.
LG U + is one of Korea's three major telecommunication companies and has just made a  full-scale entry into the commercial drone business to lead the 5G era. Besides, they demonstrated an autonomous drone of taking off in a remote location carrying out duties at the destination and returning to control center on its own.
Features
Confirm the position of a drone through the UTM system in BVLOS
Connect to the UTM system via various portable devices such as PC / tablet/mobile
World's first real-time viewing of FHD high-quality images taken by Drone through IPTV
Remotely fly a drone at a distance of hundred kilometers.
With U+ Smart Drone UTM System, weather information such as humidity, wind direction, wind speed can be checked at any time.
Also, it shows the radio-field intensity and set the flight route to the area where the radio-field strength is high.
As one of the features of U + Smart Drone UTM System, drones autonomously stop flying when it recognizes other drones, aircraft, and birds. In an emergency, drones utilize the parachute equipped to land in a safe area.
The world's first function is added, which is data taken by a drone can be seen with IPTV in real time with high definition video of full HD level. In the 5 G era, it is possible to transfer data 10 times faster than LTE so that beautiful high-quality images transmitted by a drone can be gained in real time without any delay.
Contact Information
Terra Drone Co., Ltd.,
Email: info.en@terra-drone.co.jp
Website: http://www.terra-drone.net
Source: Terra Drone Co., Ltd.