The Mangalyaan – India's Journey to Mars
Submitted by:
The Mangalyaan mission or Mars Orbiter Mission (MOM) is a planned Mars orbiter to be launched in November 2013 by the Indian Space Research Organisation (ISRO). The mission is a "technology demonstrator" project aiming to develop the technologies required for design, planning, management and operations of an interplanetary mission.
The Mangalyaan Mars probe will lift off from ISRO's launch site at Sriharikota, Andhra Pradesh, using a Polar Satellite Launch Vehicle (PSLV) rocket in November 2013, this will be India's first mission to Mars.
On 3 August 2012,  the government of India approved the project, after the Indian Space Research Organisation completed 125 crore (US$19 million) of required studies for the Mangalyaan orbiter. The total project cost may be up to 454 crore (US$69 million).
The space agency is planning a November 2013 launch. Launch opportunities for a fuel-saving Hohmann transfer orbit occur about every 26 months. The next windows of opportunity are in 2016 and 2018. If successful, ISRO would become the fourth space agency to reach Mars, after Roscosmos, NASA, and ESA.
On 5 August 2013 ISRO started the assembly of the PSLV-XL designated C-25. 
Director of the ISRO Satellite Centre (ISAC) here S.K. Shivakumar said at a news conference on Wednesday , 11 Sep. 2013, that the spacecraft and its support elements were completed within a year — a very short period — of its approval.
"Things are in final shape. All tests for achieving this and everything that's required have been done. The ground station network is upgraded and the reception centre reconfigured. We are pretty confident that the PSLV takes this satellite to the right orbit."
Programme Director M. Annadurai and Project Director S. Arunan said the spacecraft would be shipped to Sriharikota's Satish Dhawan Space Centre on September 27, a day after the pre-shipment review and a national committee review on September 19.
Mr. Arunan said non-readiness of the larger GSLV had forced India to use a light-lift, low-cost rocket such as the liquid-engine-powered PSLV for propulsion.
As a result, the spacecraft will take over 20 days to get on to the path to Mars and require six orbit boosts whereas other Mars missions take just a day.
As communication with the spacecraft takes 20 minutes each way, it has many components of in-built autonomy to correct itself. The ISRO has developed its own navigation software.
Asked if this costly "me-too" mission would not merely be a duplication of other Mars probes, Dr. Shivakumar said the new instruments were technological gains and India would also benefit from its own experience and perspectives on Mars.
"All the instruments are indigenous and have been built at our centres in Ahmedabad, Bangalore and Thiruvananthapuram. The colour camera will take pictures of earth and moon when passing over the lunar planet on the way, and finally of Mars from its orbit," the space agency's programme director M. Annadurai said. 
 "The Mars orbiter is in the final stages of testing for launch between Oct 21 and Nov 19 on board a rocket with five scientific instruments to conduct various experiments after a nine-month voyage to the red planet," Indian Space Research Organisation (ISRO) satellite centre director S.K. Shivkumar told reporters here.
Objectives  @ MOM
On Independence Day last year, in his speech to the country, the Prime Minister had formally announced that "Our spaceship will go near Mars and collect important scientific information. This spaceship to Mars will be a huge step for us in the area of science and technology."
The main objective of this first Indian mission to Mars is to develop the technologies required for design, planning, management and operations of an interplanetary mission, comprising the following major tasks:
Orbit manoeuvres to transfer the probe from Earth-centered orbit to

 

heliocentric trajectory

 

and final capture into Martian orbit.

Development of force models and algorithms for orbit and

 

attitude

 

computations and analyses.

Navigation in all phases.

Maintain the probe in all phases of the mission meeting power, communications, thermal and payload operation requirements.

Incorporate autonomous features to handle contingency situations.

Detection of methane on Mars using the methane sensor, for detection of life on the planet.
Orbit
The Spacecraft will be placed into a highly elliptical orbit of MOM will have an elliptical orbit of 375 km x 80,000 km.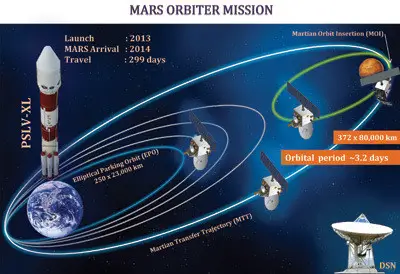 Launch and Transfer
ISRO initially planned to use the GSLV to launch a 500 kg Mars orbiter, but scaled down its plans because of two back to back failures of the launcher in 2010.
The space agency would use its Polar Satellite Launch Vehicle rocket. The November 2013 launch will place Mangalyaan into Earth orbit, then six engine firings will raise that orbit to one with an apogee of 215,000 km and a perigee of 600 km, in a time period of 20 to 25 days. A final firing will send Mangalyaan onto an interplanetary trajectory. Mars orbit insertion is planned for September 2014 and would allow the spacecraft to enter a highly elliptical orbit of 375 km x 80,000 km around Mars.
Weight and Fuel
The spacecraft's dry mass is planned to be 500 kg, and it will carry 850 kg of propellant and oxidizer. The main engine uses the bipropellant combination monomethylhydrazine and dinitrogen tetroxide for orbit insertion and other maneuvers.
Payload
ISRO has started integration of the five scientific instruments at the spacecraft checkout room at ISRO Satellite Centre, Bangalore. The 15 kg (33 lb) scientific payload consists of five instruments:
1. Methane Sensor For Mars (MSM)
Observations over the last decade suggest that methane clouds form briefly over Mars during the summer months. 
Release of methane has been observed to occur from discrete surface locations on Mars, although the exact location and mechanism of release is still unknown. 
The presence of methane on Mars indicates the planet is still alive, in either a biologic or geologic sense, according to NASA and university scientists.
Dr. Michael Mumma of NASA's Goddard Space Flight Center in Greenbelt, Md. says: 
"Methane is quickly destroyed in the Martian atmosphere in a variety of ways, so our discovery of substantial plumes of methane in the northern hemisphere of Mars in 2003 indicates some ongoing process is releasing the gas. 
"At northern mid-summer, methane is released at a rate comparable to that of the massive hydrocarbon seep at Coal Oil Point in Santa Barbara, Calif."
NASA scientists are hard at work modelling the methane cycle on Mars and the agency is keen to study in detail the methane cycle of the martian atmosphere using an orbiter, but ISRO might actually beat NASA to it if ISRO's Mars Orbiter is able to make the November 2013 launch window.
2. Mars Color Camera (MCC)
3. Mars Exospheric Neutral Composition Analyzer (MENCA)
MENCA, weighing 4 kg, would provide the first ever insitu measurement of the neutral composition (in the mass range of 1 to 300 amu, with 1 amu resolution) and density distribution of the Martian exosphere (atmosphere ~ 500 km and beyond from the Martian surface). 
The quadrapole mass spectrometer based MENCA payload is developed by SPL jointly with AVN and AERO Entities.
4. TIR Spectrometer (TIS)
5. Lyman-Alpha Photometer (LAP)
Tracking
National Aeronautical and Space Administration (NASA) would provide support to the ground-segment operations from the Deep Space Network. About the same time the Indian spacecraft takes off, NASA too will send up its MAVEN (Mars Atmosphere and Volatile Evolution Mission) mission to Mars. But the two will work independently, Dr. Shivakumar said.
"MAVEN is scheduled to leave on November 18 and reach the red planet two days ahead of ours, by September 22 next year. MOM will have an elliptical orbit of 375 km x 80,000 km; MAVEN will take a very close look at its subject from about 50-75 km."
MOM Power Supply
The Mars Orbiter will have a single solar array with three panels of 1400 x 1800 mm capable of generating 750 watts of power in Martian orbit.
It will also be equipped with a 36 AH Lithium-ion battery for power storage.
Source:
IANS,
Wikipedia,
NDTV, The Hindu, Indian Space projects