Satellite-Based Crop Health Monitoring System to Help Farmers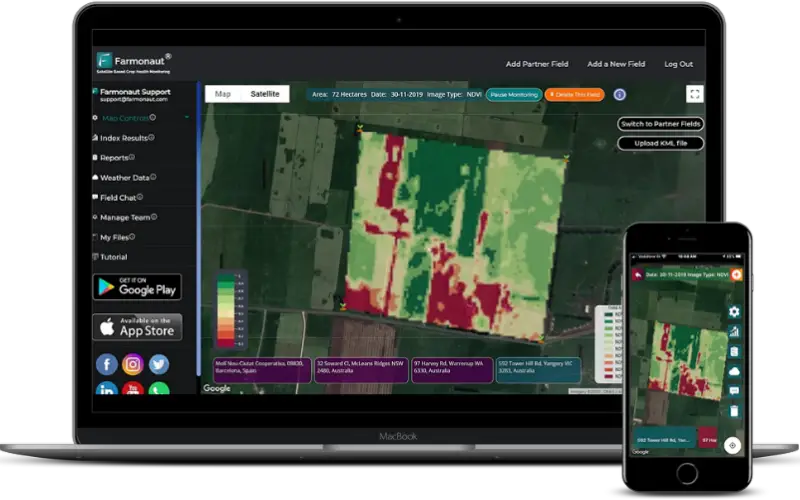 Farmonaut started in 2018 with a vision to bridge the technological gap between farmers and strives to bring state-of-the-art technologies in the hands of every farmer. One of such technologies which Farmonaut has brought in the reach of farmers (be it a small scale farmer or a large scale farmer), is the ability to monitor their agriculture fields for crop health and water stress through satellites. Once the field is selected, farmers can access their field data through any platform of their choice (Android, iOS, or the website).
Apart from the Satellite-Based Crop Health Monitoring System, Farmonaut provides the following features for use to its farmers too (currently available on the android app).
Farmers' Social Network
Voice-Text Based Plant Issue Identification
Govt. Approved Farming Database
Farmonaut currently has more than 10,000 users (as per August 2020) using several of the provided technologies.
Why We Need Remote Sensing In Agriculture?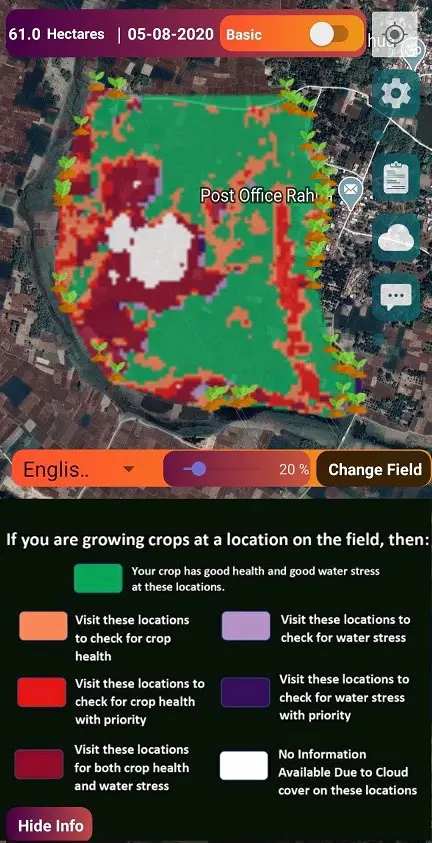 In India, thousands of tonnes of crop gets destroyed every year because farmers are unable to pre-identify impending problems with their crops. In most cases, it becomes too late for the farmer to take any preventive action once they identify the issues. On an average an Indian farmer spends between Rs. 41500 (550 USD) to Rs. 332000 (4300 USD) per year on each hectare of arable land. By using remote sensing results provided by Farmonaut, a farmer can save around 30% on chemical consumption per year. Farmonaut identifies those areas of land where the crop growth is not normal. Farmer can apply fertilizers, chemicals, insecticides, pesticides, plant growth regulators etc. only in those areas where the crop growth is not normal.
By using satellite data provided by us, farmers can:
1. Reduce Chemical/Fertilizer consumption by applying them only in the locations where crop health is not good.
2. Reduce Labour costs by directing the labours only in those field areas where crop health is critical.
3. Reduce irrigation water wastage by applying proper irrigation only in those locations where plant water stress is low.
4. Increase overall yield.
Satellite Indices Provided By Farmonaut
NDVI: It measures the status of plant health based on how plants reflect light at certain frequencies.
NDRE: NDRE gives better insight into the crop's health in their later stage of growth.
EVI: EVI is designed to enhance the vegetation signal with improved sensitivity in high biomass regions and improved vegetation monitoring through a de-coupling of the canopy background signal and a reduction in atmosphere influences.
VARI: VARI is minimally resistant to atmospheric effects, allowing vegetation to be estimated in a wide variety of environments.
NDWI: NDWI index can help us control irrigation, significantly improving agriculture, especially in areas where meeting the need for water is difficult.
Prominent Users
Viswamatha Farms has been using Farmonaut's Satellite-Based Crop Health Monitoring System since September 2019. In parallel to the natural farming practices, Viswamatha farms have also been referring to the satellite data provided by Farmonaut, to take field-level actions and minimize the efforts even further.
One of the pioneers of natural farming in India.
Owns and cultivates pulses, spices, groundnut, vegetables, and fruits in 26 ha land.
Received SAKSHI EXCELLENCE AWARD in FARMING in 2017 for their contributions to natural farming.
Viswamatha Farms harvested their major crop Red Gram in the month of February 2020.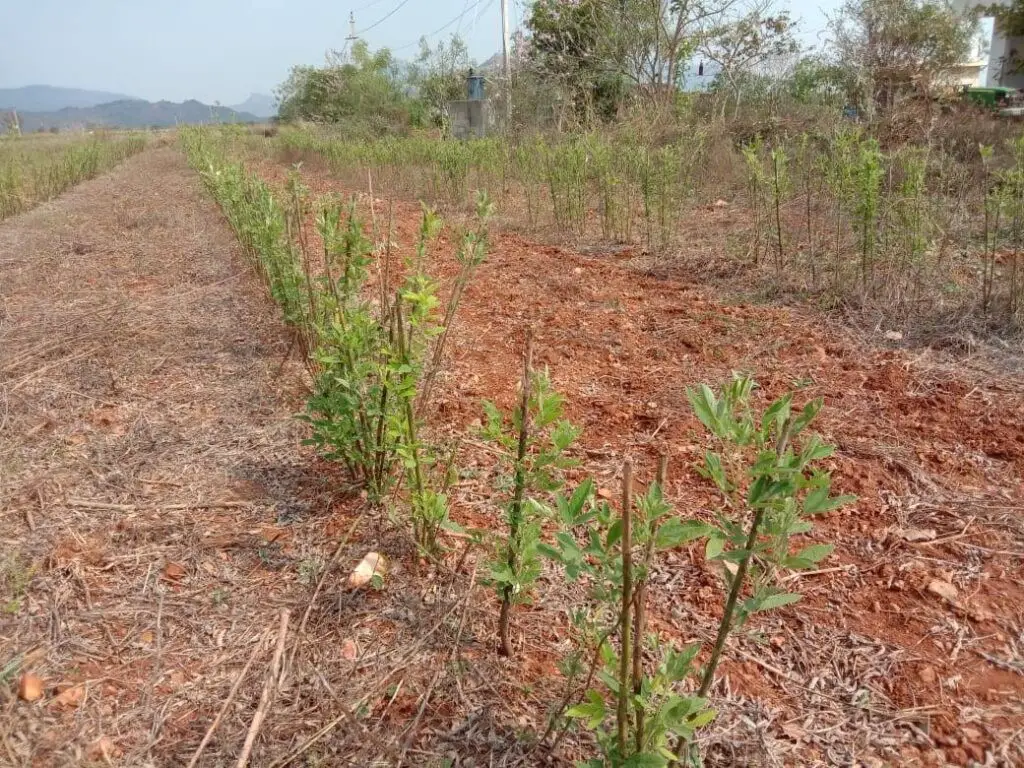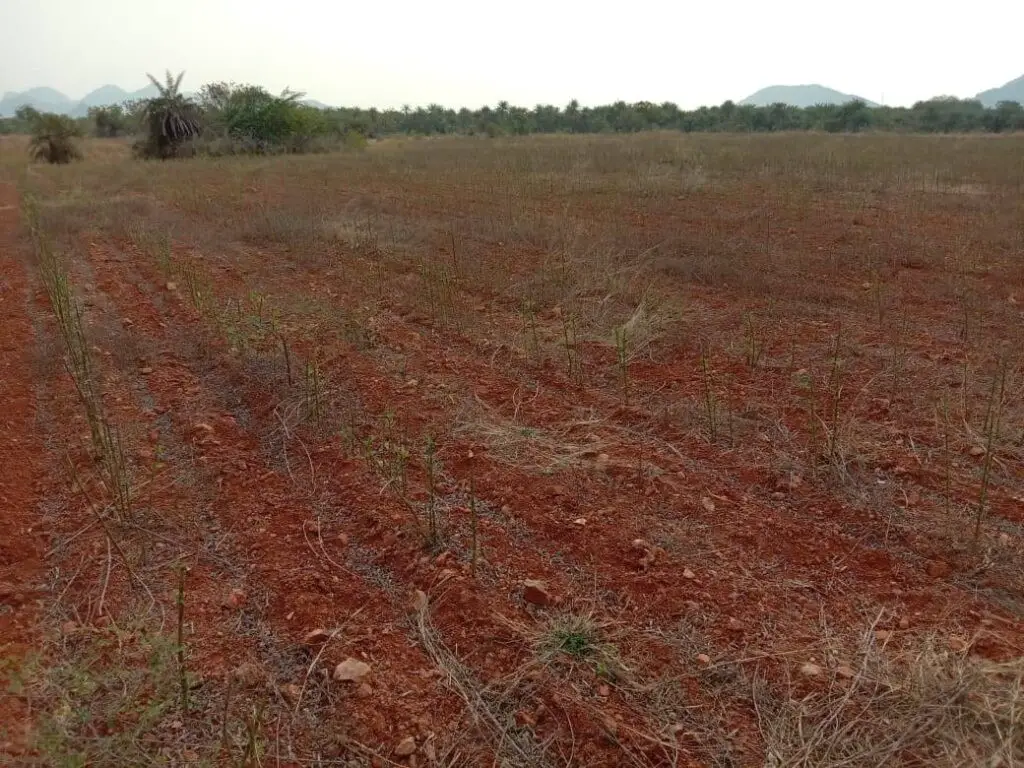 The images shown above are of one month after the harvesting was done. As we can clearly see, the red gram plants in the neighbouring field of Viswamatha farms are completely dead and dry, whereas the same are still alive and healthy in Viswamatha farms even after one month.
Viswamatha Farms is one of our most important users and as quoted by Mr. G.K. Rao of Viswamatha Farms:
"We are bringing awareness on progressive farmers and asking them to use your services for the crop monitoring"
2. Rahua Farms
Rahua Farms is primarily an agricultural company providing services for agricultural equipment used in sowing, development and harvesting. The company provides implementation support during various stages of harvest. Currently Monitoring 760+ Hectares of farmland through Farmonaut.
3. I Support Farming
I Support Farming (ISF) is managing 750+ acres of cultivable land and has generated 6.5 crore of farming value for the last year using a satellite-based crop health monitoring system. ISF's customers harvested a return of 19% in the last season.  I Support Farming is an exclusive corporate partner for Tamil Nadu and Puducherry. I Support Farming along with its on-field team will be monitoring farming fields on behalf of the farmers and will help them take necessary steps to reduce chemical/fertilizer usage, prevent possible impending problems, reduce irrigation water usage, and increase the overall crop yield.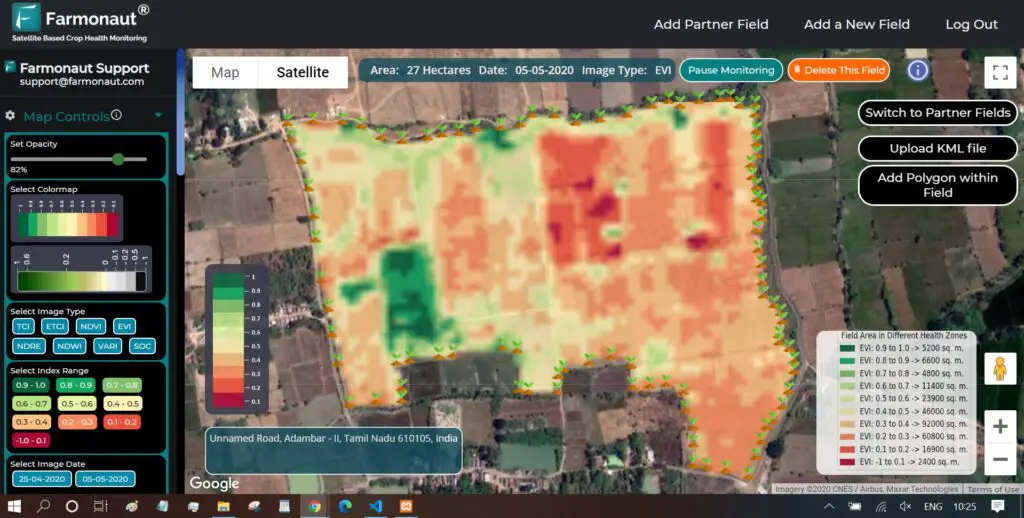 Testimonials from Individual Farmer:
You may be interested in – India Turns to 'Satellite God' for Crop Monitoring