Updated Global Mapper LiDAR Module with Power Line Classification and Extraction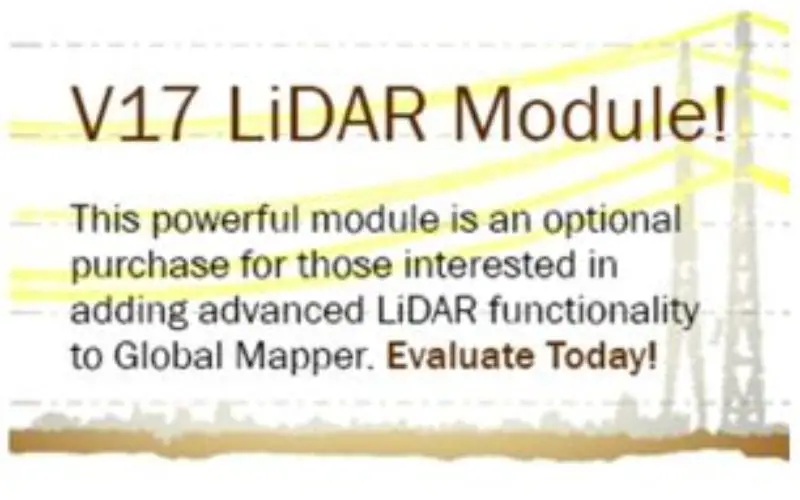 Blue Marble Geographics is pleased to announce the release of Global Mapper LiDAR module version 17.0. Released in conjunction with Version 17.0 of Global Mapper, the latest edition of the module includes numerous functional enhancements and performance improvements that have been designed to improve the quality and utility of LiDAR and other point cloud data.
New and updated functionality includes a tool for automatically detecting and classifying power lines and other above-ground utility cables; a new set of analysis tools for identifying and filtering noise or erroneous points in LiDAR data; and an enhancement to the feature extraction tool that allows vector line features to be created a linear array of points such as a utility cable.
The Global Mapper LiDAR Module is a must-have for anyone working with terrestrial or airborne LiDAR as well as other point cloud datasets. As an optional add-on to the software, it provides numerous advanced data processing tools, including automatic point cloud classification; feature extraction; cross-sectional viewing and editing; significantly faster terrain surface generation; and much more. Read more on the latest changes page of the website:http://www.bluemarblegeo.com/products/global-mapper-lidar-new-features.php
Global Mapper users can activate a trial of the module from the Module/Extension License Manager which can be accessed from the Help menu in the software; no separate download required. For a complete list of new features and enhancements or to download a trial copy of Global Mapper, visit www.bluemarblegeo.com/products/global-mapper.php.
To inquire about upgrade and purchase options, contact sales at sales@bluemarblegeo.com