LiDAR Technology for Monitoring Bridge Structure Defect and Health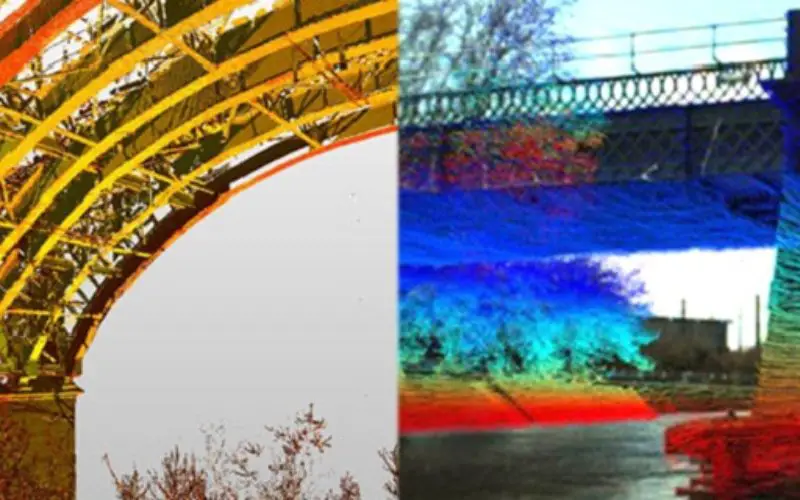 Road infrastructure of a country plays a crucial role in the national economy. Among all road infrastructure, Bridges are one of the vital assets and histories has given us various evidence when bridges play a game-changing role in World War I and World War II.  Conservation, monitoring, and maintenance of bridges are keys to improving a country's economic strength and sustained operation of our society.
Recent incidents of the bridge collapse on Mumbai-Goa highway has brought the need to the attention of authorities of bridge safety, which are facing a crisis of high deterioration rates, and scarcity of maintenance, inspection, and new construction funding.
Successful bridge maintenance should be based on reliable bridge inspection data, accurate bridge performance prediction, and effective maintenance planning. Current inspection systems are mainly based on reports drafted by technicians, who base their findings on the visual inspection of the infrastructures
(experience); although the degree of technical know-how of these individuals is considerable, in most cases, the reports consist merely of the acquisition of digital images and data gathered during visits. The use of these traditional procedures contrasts with the need to have an objective, quantifiable data that will allow the best decisions to be made and the actions proposed to be prioritized. Moreover, the process is costly (due to sheer size of most bridge structures), time taking and requires a lot of expertise to interpret and to investigate information from images.
Evolution of geospatial technology and their integration in bridge structure monitoring has topped the barriers of cost, inertia, and technical expertise.  To generate 2D and 3D structural models of a bridge, geospatial technologies such as global positioning systems (GPS), geographical information systems (GIS), 360-degree panoramic image, UAV and LiDAR technology (3D Laser Scanning) has proven their capabilities.
Across the world, transportation departments of various countries have adopted the applications of the remote bridge inspection technologies using ground-based LiDAR systems. In particular, the application of terrestrial LiDAR for bridge health monitoring well studied and implemented by transportation departments.
The potential to visualize and analyze bridge structure in a 3D environment has made Terrestrial LIDAR Scanner a standard technique in bridge monitoring or bridge health monitoring. High resolution georeferenced colorized point cloud from LiDAR scans with panoramic images can provide detailed geometric information about a bridge.
3D visual inspection and analysis of colorized LiDAR point cloud can easily provide information about physical damages to the bridge structure. Use of computer based simple algorithms can retrieve damage information from the LiDAR point cloud data, which can be associated to possible damage quantification including surface erosions, concrete mass loss due to vehicle collisions etc.. Various advance software for damage detections provide information relevant and useful to bridge managers for their decision-making process.
The 3D surface data cloud can be used to quantify visible damage volumes. Proper bridgestructuresurfacedefectdetectionandquantificationcanhelpidentify potential stability problems.
3D LiDAR for bridge damage evaluation:  Surface damages in concrete members are common as a result of either excessive loading. Using LiDAR scans, four defective areas were identified on two of the four scanned girders and the mass loss areas and volumes for each defective area are quantified (Liu et al. 2010a).
3D LiDAR for the bridge under clearance measurements: LiDAR systems can provide bridge vertical clearance information for the entire bridge with accuracies in the order of millimeters.
Scanning laser for bridge deflection measurements: Bridge under given static load is often measured for displacement, stress, or strain of selected points using contact sensors such as strain gauges and displacement transducers. The 3D LiDAR scanner for static load-deflection measurement shows the deflection measurements for position 1 where deflection below truckload is clearly shown.
Advantages
Provide accurate quantitative bridge assessment currently lacking in bridge inspection procedures
The automated system allows direct bridge evaluation without further analysis: suitable for non-technical personnel, i.e. bridge inspectors.
Easy to develop and apply evaluation standards
LiDAR is a valuable tool for measuring and recording x, y, z data for use in 3D structural mapping/modeling of bridges from point clouds.
Identifying potential bridge subsidence or settling and other deterioration such as cracks, spalling, corrosion and bridge damage.
Reduces risk and potential schedule over traditional survey and inspection method.
By using of LiDAR is that the data can be collected day and night, at any terrain.