Yuktdhara – New Geospatial Planning Portal for MGNREGA
Recently the Minister of Rural Development and Panchayati Raj Giriraj Singh has launched "Yuktdhara" a new geospatial planning portal to facilitate MGNREGA assets mapping using remote sensing and geographic information system (GIS) based system.
Yuktdhara is a geospatial planning portal meant for facilitating Gram Panchayat level planning of MGNREGA activities across India. MGNREGA assets are spread across the country at different densities. To represent them spatially, the Yuktdhara portal will serve a repository of geo-tagged assets that have been created under several national rural development programs such as MGNREGA, Rashtriya Krishi Vikas Yojana, Integrated Watershed Management Programme, Per Drop More Crop, etc along with field photographs.
It integrates several thematic layers and multi-temporal high-resolution earth observation data with the analysis tools. Using these tools, planners will be able to analyze previous assets under schemes and would facilitate in identifying new works using online tools.
Yuktdhara portal is the result of joint efforts between the Ministry of Rural Development and ISRO. The portal is using the services of ISRO's geospatial portal Bhuvan. The current level of integration under Yuktdhara, as part of Bhuvan, incorporates multi-temporal IRS satellite data of better than 3m detail in natural color, digital terrain, thematic layers as well as locations of MGNREGA works and watershed management assets.
Wide-ranging national level legacy spatial datasets prepared by National Remote Sensing Centre (NRSC), such as Land Use Land Cover (LULC), roads, and streams at 1:10, 000 scale. Other data such as groundwater prospecting, geomorphology, wastelands, land degradation are also made available at 1: 50,000 scale.
The exact boundaries of Gram Panchayats as well as related administrative units facilitate and strengthen the planning approach for a specific area.
Currently portal has Gram Panchayat-specific login to address planning as well as approval mechanisms intended to ensure the evaluation and acceptance of proposed activities. This will be enhanced for other levels of users gradually.
Also, a citizen-centric mobile application JANMANREGA has helped the rural population by providing feedback using Bhuvan services.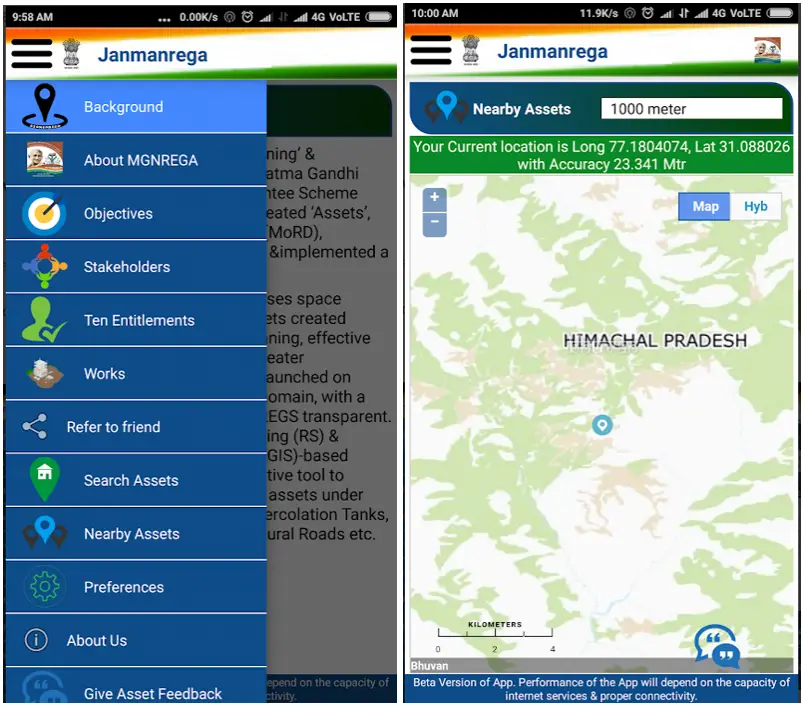 Janmanrega is an instrument for information flow to and from ground level, which will connect citizens with the system. An initiative towards good governance, Janmanrega is an interface to improve the quality of public services.
Also Read –
How Remote Sensing and GIS are Used to Build Check Dams Under MGNREGA?