6 Major Construction Companies Adopt New Bim Monitoring Solution
Construction professionals understand that daily visualization of a job site helps minimize construction delays, prevent clashes between as-built and as design, eliminate the need for rework, facilitate stakeholder communication and align schedules. But how can they achieve this?
Within one complete solution combining hardware and software, the Pix4D Crane Camera enables BIM and Project Managers to tackle some of the most complex and lingering challenges in construction. Designed to monitor any type of construction, the unique crane camera solution has already been endorsed by some of the biggest companies worldwide. Let's take a look at 6 projects from our first Pix4D Crane Camera adopters.
Underground Metro Station
When DodinCampenon Bernard received a commission to build a metro line in western France, they knew it would be a large undertaking. The city's soon-to-be second metro line is a 14-km long project that includes a massive tunnel and underground stations. DodinCampenon Bernard, a branch of the French firm VINCI Construction, was eager to test innovative technologiesonsite and chose to try the Pix4D Crane Camera to monitor one of the work areas. The station chosen was in the heart of the city center and made drone flights, one tech option, impossible.
At 32 meters of digging depth and with massive brace frames to support the excavation, this building site was a challenge. However, through the data collected with the crane camera, DodinCampenon Bernard can follow site evolution day after day.
Pix4D crane camera is being tested by DodinCampenon Bernard, who uses it as an internal tool for monitoring its construction site. This technology could be used in the future to let stakeholders see behind the scenes.
"Projects are complicated – unforeseen circumstances can happen and delay the project. This kind of projects take a few years to achieve, and meanwhile, can highly perturb the neighborhood. It's crucial then to communicate on the construction site progress, and share visual updates from the site to the inhabitants and all stakeholders." – Romain Nicolas, deputy technical director at DodinCampenon Bernard.

Railway Bridge
Hundreds of thousands of people – and more than 550 trains – commute every day in and out of Zurich, Switzerland, and the number is growing. The capacity of the Zurich rail network and surrounding region has reached its limit. This is why PORR Suisse, member of one of the largest Austrian construction groups, has been mandated to expand the railway infrastructure: including the construction of a 200-meter-long bridge and a new track.
Swiss company BSF Swissphoto is in charge of surveying the infrastructure. They use the crane camera to document the as-built situation of the site, capturing data daily. The weekly work progress reports they produce are thus more exhaustive, improving subsequently communication and collaboration between the multiple companies and subcontractors involved.
Super Hospital Complex

Covering over 150,000 square meters, and with 13 cranes erected, the construction site of a large new hospital complex being built in Denmark right now is impressive.
Very well advanced with BIM and digital construction technologies, this project is a perfect example of a connected site. The contractors continually test new technologies, and selected the crane camera to be a part of the hospital project. The results quickly revealed to be a huge time saver for the project team. Although they are based on the work site, going out in the field to check the building status could take a few hours. With a permanent monitoring solution like the crane camera, data is automatically available when they need it. This enables the project team to get information more quickly, and make faster decisions when it comes to confirming or realigning the schedule.
"Outputs are good and fit my expectations of getting a good site representation. Our project managers can see the added value in using it to help their daily work. The camera is installed on the other side of the construction, at a long walking distance from our offices. They can save a lot of time by not having to walk all the way there to see the construction status. They can see it by sitting in the office." – our Danish client.

Office Building in a Historic City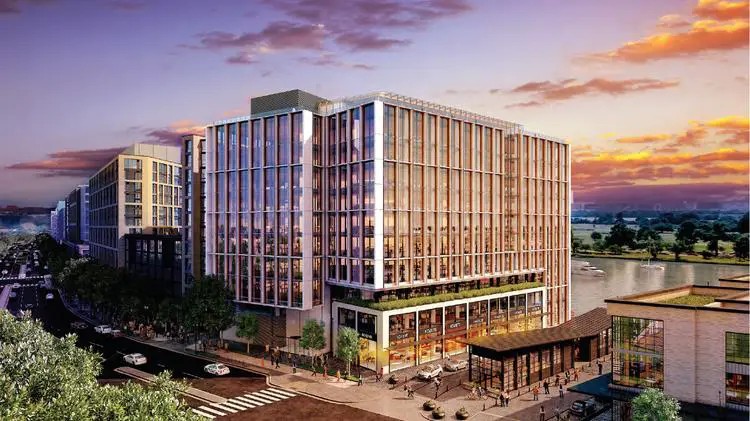 Designed to reestablish the US capital city as a waterfront city and destination, The Wharf is the new "in vogue" district under construction in Washington D.C. This is the biggest neighborhood development project in the history of the city: a $2 billion, mile-long project along the Potomac River that includes high-end restaurants, retailers, residences, and businesses.
Balfour Beatty Construction is taking part in this remarkable development project and has been awarded multiple construction sites. One of them is a 265,000-square-foot, high-class office building. Because of drone flying restrictions in the Washington D.C. area, Balfour Beatty Construction chose the crane camera solution to monitor the site and provide 3D surveys.
"We have chosen the crane camera because of restrictions in the D.C. area, the ability of the speed in how it works, and the accurate results we have seen from the first couple of days." David Metz, chief of surveying at Balfour Beatty Construction.
Kindergarten Building
Combining crane camera use with drones can ensure the complete aerial site overview, from the earliest earthwork stages of a project. Marti, a Swiss construction company, is benefiting from this site monitoring combination in the construction of a nursery in Lausanne, Switzerland.
First, drone mapping technology was used to survey site clearance and earthwork preparation. However, the site is located in a restricted area, which means each flight permission is subject to approval. This can rapidly constrain activities and become time-consuming. This is why, as soon as a crane arrived on site, it was equipped with a crane camera for easier, quicker image capture with automated daily data acquisition and processing: no planning ahead, no human intervention or permission to fly a drone needed. That doesn't mean drone flights were stopped. Only their frequency was reduced, continuing to complement surveys from the crane camera, providing an even more complete site coverage.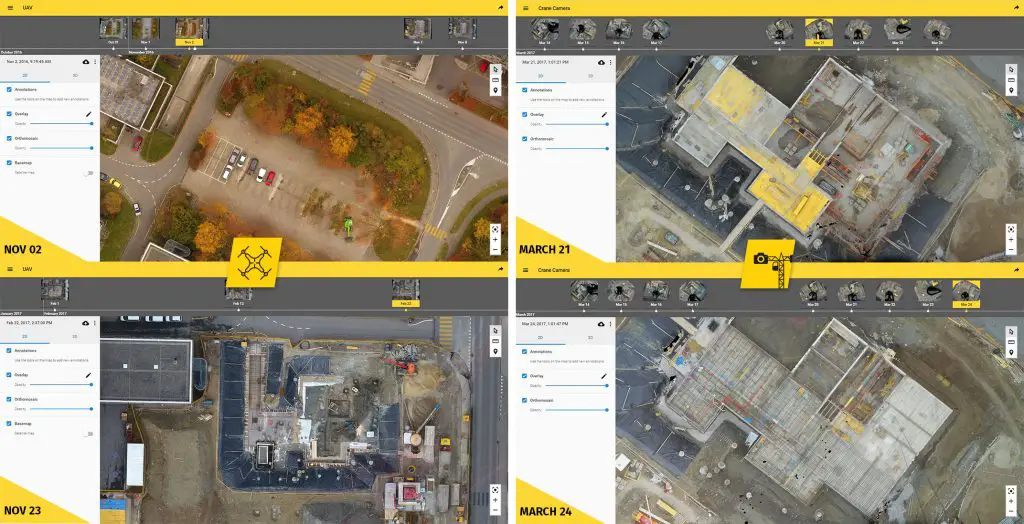 New Liebherr Administration Center
The first crane camera system was deployed on the construction site of Liebherr's new administration building – headquarters for their Tower Crane Division – in Biberach an der Riss, Germany. Pix4D teamed up with Liebherr as part of the crane camera's development.
With the solution, Liebherr team members receive a complete aerial overview of the site on a day-to-day basis and they can analyze results on the Pix4D Cloud in the form of 2D orthographic images, 3D point clouds, and 3D mesh models.
"The lack of communication and feedback in the construction industry is no secret. Having such a solution helps customers keep the schedule on time and control cost. It's a massive advantage not to wait for the site feedback, and get an automatic report of the as-built on a daily basis." – Thorsten Hesselbein, head of tower crane solutions at Liebherr.

For more information: https://pix4d.com/product/crane-camera/