Asian Development Bank and the Govt of Afghanistan Launched "Afghan GeoPortal" to Improve Data Access, Sharing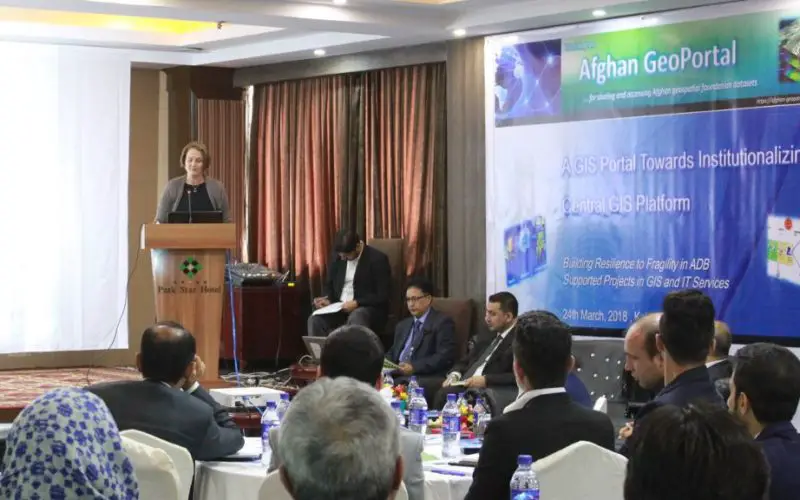 KABUL, AFGHANISTAN (26 March 2018) — The Asian Development Bank (ADB) and the Government of Afghanistan launched the "Afghan GeoPortal" to help increase the Government of Afghanistan's access to accurate and comprehensive geospatial data from a central information system in the country.
"Lack of a high quality, harmonized, and reliable geospatial information remains a challenge to the Government of Afghanistan," said Shanny Campbell, ADB Deputy Country Director for Afghanistan. "The project will help improve efficiency in the government by developing a coordinated platform for geospatial data, leading to better and more sustainable outcomes for the country."
The portal was unveiled at a workshop attended by Mohammad Humayon Qayoumi, Senior Infrastructure Advisor to the President of Afghanistan; Ms. Campbell; Ahmad Javid Rasooli, Director General of Central Statistics Organization; and around 80 participants from various Afghan government entities. The workshop helped build the government's capacity to utilize the new GeoPortal to improve its development planning and decision making.
"We are thankful to ADB for the financial assistance to this important project. The GeoPortal will resolve the government's requirements for accurate geospatial data, and is an important step towards development in Afghanistan," said Mr. Qayoumi.
In 2017, ADB helped the government prepare two foundation Geographic Information System (GIS) policies including the Afghanistan Geospatial Data Classification Policy and the Afghanistan Geospatial Data Standardization Policy. The policies and the geoportal are aligned with Afghanistan's National Peace and Development Framework, and the New Deal for Engagement in Fragile States.
"The two GIS policies and the Afghan GeoPortal are major achievements towards creating, maintaining, and sharing quality geospatial data in Afghanistan," said Mr. Rasooli. "We are grateful to ADB for its financial assistance and ALCIS Holding Ltd (UK) for the technical support in initiating this task for the benefit of the Government of Afghanistan and for the benefit of the Afghan Geographic Information Systems community."
ADB, based in Manila, is dedicated to reducing poverty in Asia and the Pacific through inclusive economic growth, environmentally sustainable growth, and regional integration. Established in 1966, it is owned by 67 members—48 from the region.