DAT/EM Systems International INTERGEO Booth to Feature 3D Building Capture and UAV Technologies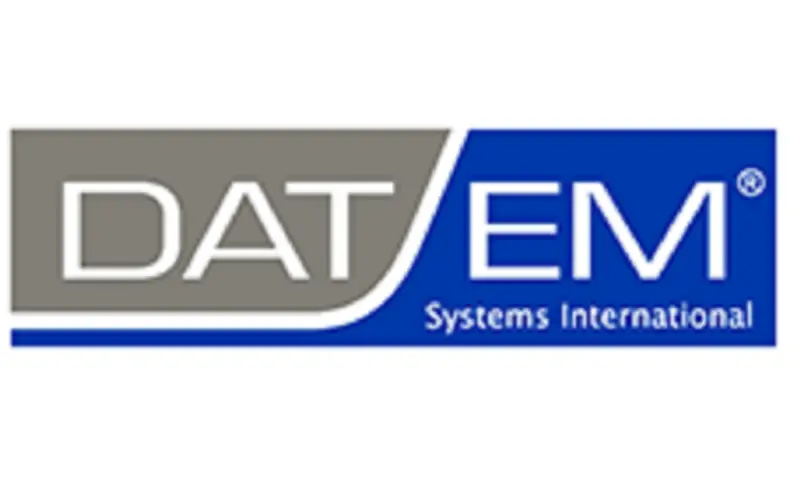 Anchorage, Alaska, USA. October 6, 2016 – DAT/EM Systems International® will exhibit at this year's INTERGEO® Conference in Hamburg, Germany with RhinoTerrain™ SARL, Pulse Aerospace and local partner DAT/EM Systems Europe. DAT/EM Systems and RhinoTerrain will offer software demos, and Pulse Aerospace will display their latest Unmanned Aircraft System (UAS), the Vapor 55.
DAT/EM Systems International develops software for 3D viewing and feature data collection. Its world-renowned Summit Evolution technology allows the user to extract 3D information from stereo data, including UAS stereo imagery, for industries like industrial inspections, forestry, mining and utilities. The entire suite of DAT/EM products, including the LandScape™ 3D point cloud viewing and editing software, will be available for demos.
RhinoTerrain products, including RhinoCapture for DAT/EM Summit Evolution, allow orthophoto and texture mappings on DTMs or buildings. With RhinoTerrain, it is easy to create and manipulate a DTM or calculate volumes. RhinoCity™ is an industrial solution specializing in the generation of 3D cities. With very high efficiency, you can create topological buildings according to the CityGML standard.
Pulse Aerospace will have on display the latest in their Vapor UAS series, the Vapor 55. The Vapor combines the world's most advanced autopilot with an FAA-compliant unmanned helicopter for commercial, research and security applications. Pulse Aerospace's Vapor 55 delivers up to one hour of flight time on a single battery charge and enhanced flight stability over any other electric UAV helicopter on the market.
Visit Booth B3.047 in Halle A3 at INTERGEO Hamburg to see the latest developments in the DAT/EM Photogrammetric Suite, learn more about RhinoTerrain software and to view the Vapor 55 from Pulse Aerospace.
For more information or to schedule your demo, visit www.datem.com/intergeo-2016.
About DAT/EM Systems International. DAT/EM Systems International, located in Anchorage, Alaska, USA, has been developing photogrammetric software since 1987. DAT/EM specializes in 3D stereo viewing and feature data collection software. Its products include the Summit Evolution digital stereoplotter and proprietary Capture interfaces that allow Summit Evolution to digitize directly into MicroStation®, AutoCAD®, ArcGIS® or Global Mapper®. For more information, please visitwww.datem.com or email sales@datem.com.
About RhinoTerrain. RhinoTerrainTM, located in Gerardmer, France, has been developing GIS 3D software for 10 years. In addition to Rhinoceros®, the world's most versatile 3D modeler, its products include RhinoTerrain, dedicated to terrain modeling from huge datasets, and RhinoCity, a smart CityGML 3D modeler with high automatic texturing capabilities. RhinoCapture integrates with DAT/EM Summit Evolution and focuses on capturing 3D building polygons from roof templates, giving the user efficient and comfortable tools. For more information, visit www.rhinoterrain.com.
About DAT/EM Systems Europe. DAT/EM Systems Europe GmbH was formed in February 2014 to represent DAT/EM Systems International in Europe, Africa and the Middle East. It is located in Ammerbuch, Germany just south of the Stuttgart Airport. DAT/EM Systems Europe supports a worldwide business network by providing customers with efficient and professional, state-of-the-art photogrammetric workflows and solutions. For more information, please visit www.datem-systems.comor email sales@datem-systems.com.
About Pulse Aerospace. With over a decade of experience in the development of advanced autonomous flight control systems, Pulse Aerospace's expertise has created the most capable, long-endurance, electric-powered Unmanned Aircraft System (UAS) in its class. Pulse Aerospace's Vapor UAS platforms utilize commercial-grade components and aviation-grade navigation and avionics, delivering their ability to carry ten pounds of payload for as long as one hour on a single battery charge. Near infinite adaptability of the Pulse aircraft allows for integration of most payloads within our weight limits. Our development architecture and system designs provide for easy adaptability for specific use cases while having an airframe that is future proof. This concept allows for a UAS that will be a relevant tool for the end user for many years of operation. Learn more by visiting www.pulseaero.com.