Enhanced User Experience with New Online Map Service
PlanetObserver and Kalisio reveal My Planet Maps, a new subscription-based online map service that delivers immediate streaming access to fresh and global data. It includes performant vector and raster georeferenced basemaps. By accessing data through a reliable web map service, users save the costs of handling, storing and updating their data products internally.
Maximize your GIS projects with reliable and efficient data
My Planet Maps provides a quick and easy streaming access to quality global mapping content, updated regularly. Maps include 10-meter global imagery, 50cm and 20cm orthophoto for France, and global OpenStreetMap basemaps available in different styles.
Premium global imagery basemap, produced by PlanetObserver, is at the core of My Planet Maps. Thanks to enhanced color processing techniques, the global basemap offers a seamless visual experience down to 10-meter resolution. It provides rich and reliable geographical context updated annually. Furthermore, it is combined with the most recent high-resolution aerial photography of whole France recently released by IGN (French National Geographic Institute) that provides highly detailed geographical information.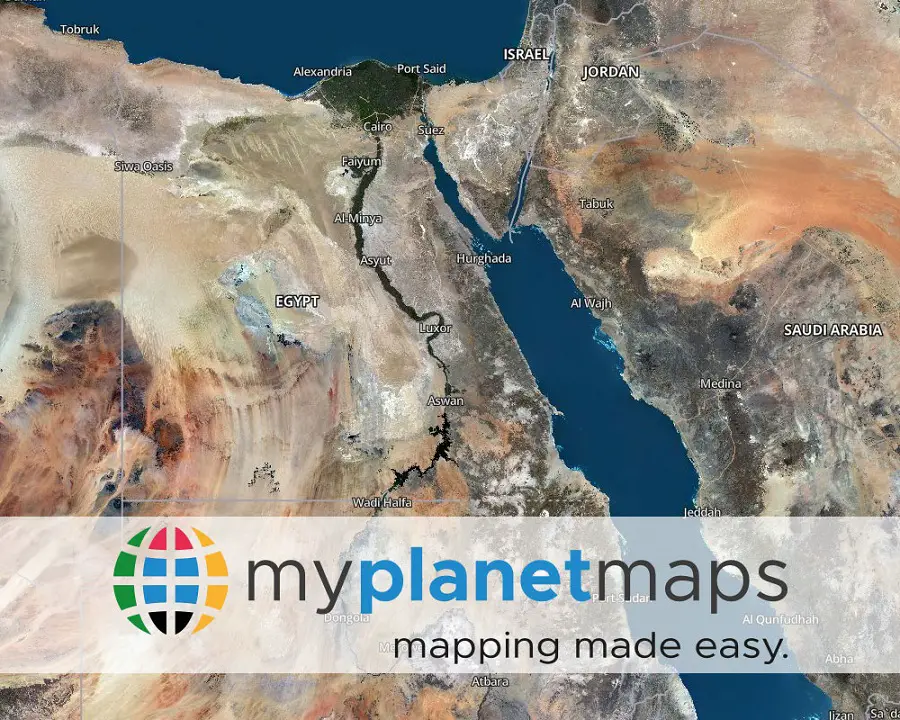 In addition, a set of global vector maps in different styles complements the platform to provide a full user experience. Moreover, a hybrid layer combining imagery and vector data provides a detailed reference map for the world. All layers are perfect to monitor and communicate relevant activity in any location around the globe.
Efficient online map service with easy integration into GIS workflows
My Planet Maps users can easily connect their GIS applications (ArcGIS, QGIS, etc.) and enterprise applications to the platform. Imagery and vector data are accessible through a full suite of OGCstandard web services (WMS, WMTS, TMS). That highly simplifies the discovery and integration of high-quality data. The platform, developed by Kalisio, is already used by Airbus and IRSN (French Radioprotection and Nuclear Safety Institute). Most importantly, users are fully satisfied with their daily access to the service and appreciate its reliability.
With My Planet Maps online map service, users easily combine reliable global imagery and vector basemaps available in the platform with their own authoritative content and analysis environments.
My Planet Maps offers the best value for a wide range of geospatial projects. For example, it is best adapted for supporting mapping, planning missions and operations, managing land, monitoring assets and more. It helps users in their missions across a number of industries from Defense and Intelligence, land administration and mapping, energy to civil engineering and infrastructures.
About PlanetObserver
Based in France and established in 1989, PlanetObserver is specialized in the processing and production of high value-added geospatial data. The company develops innovative products that maximize the visual and technological performances of all clients' projects and solutions in the Defense, Aerospace, Mapping and GIS sectors. With a constant commitment to R&D and innovation, PlanetObserver is positioned as the supplier and partner of leading companies located in Europe, North America and Asia-Pacific.
About Kalisio
Kalisio is a company offering solutions based on geospatial technologies to help you master your environment in real-time. The main use cases are crisis management or field operations efficiency. The company has a broad range of solutions to process, ingest, disseminate and use geospatial data. Kalisio is also a player in the open source world: we contribute, sponsor and develop open source solutions. In addition, these solutions help enhance the value of open government data (Open Data). At Kalisio, we implement a policy of collaborative development with our partners. In a spirit of open innovation, we participate in the digitization of territories and fight against the digital divide.