Geomatics on the Move – A Challenge for Innovators Across the EU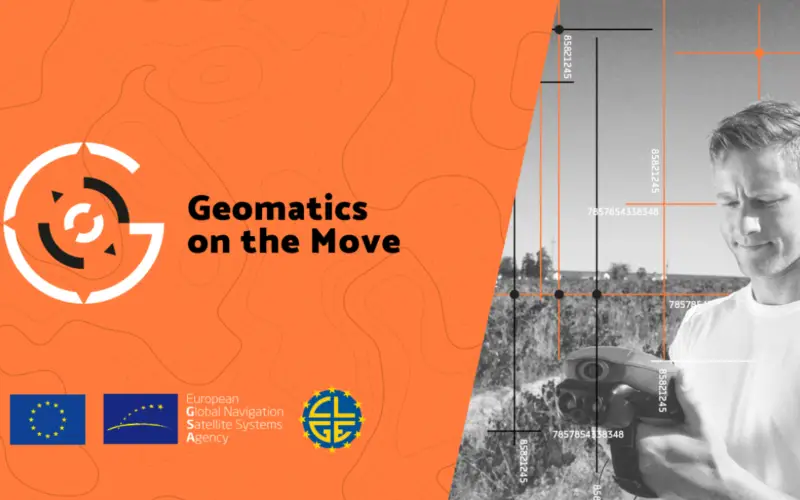 The European GNSS Agency (GSA), the operating agency of the European Commission for Galileo and EGNOS has launched Geomatics on the Move (#GeomaticsOnTheMove) challenge for innovators across the European Union.
The aim of the Geomatics on the Move contest is to create innovative geomatics applications and solutions, using Galileo and EGNOS.
The challenge asks innovators to bring their Geomatics solutions to life using European satellite technologies, shaping the future of data capture and analysis.
Solutions must demonstrate their novel approach to the use of satellite data for the geomatics field while ensuring that their technical feasibility is accurate and will have a maximal practical impact on the sector.
Innovators are also encouraged to integrate the use of additional technologies – using Galileo or EGNOS – such as artificial intelligence, machine learning, augmented reality, and virtual reality, as well as supplementary remote sensing data sources like drones and Copernicus data. Solutions animated through mobile phone applications or other easy-to-use platforms are also welcome.
Disciplines
Land Surveying
Cadastre
Cartography/Mapping
Geodesy
Topography
Geographic Info Systems
Photogrammetry
Remote Sensing
Urban Planning
Construction
Mine Surveying
Infrastructure
Other Applications- Consider apps that are n=based on geomatics but used beyond the sector itself.
Prize
There are several prizes for a total of €30.000. The Prize consists of two categories with five prizes each. Each applicant participating in the Finals will receive a certificate of reaching the final stage.
1st category – Traditional Geomatics: five (5) prizes will be given to solutions whose main innovation is based on the usage of EGNSS, employing traditional equipment such as surveying or GIS grade GNSS Receivers for applications such as cadastral, marine, and mining surveying or GIS mapping. These solutions can be supported or combined with Copernicus satellites data;
1st Prize of the Traditional Geomatics solution: € 5.000 (five thousand Euro)
2nd Prize of the Traditional Geomatics solution: € 4.000 (four thousand Euro)
3rd Prize of the Traditional Geomatics solution: € 3.000 (three thousand Euro)
4th Prize of the Traditional Geomatics solution: € 2.000 (two thousand Euro)
5th Prize of the Traditional Geomatics solution: € 1.000 (one thousand Euro)
2nd category – Integrated Geomatics: five (5) prizes will be given to integrated surveying solutions that use Galileo or EGNOS, leveraging cutting-edge tools and technologies like drones, mobile mapping, laser scanners or Augmented/Mixed Reality that can either be used within geomatics applications or beyond. These solutions can be supported or combined with Copernicus satellites data;
1st Prize of the Integrated Geomatics solution: € 5.000 (five thousand Euro)
2nd Prize of the Integrated Geomatics solution: € 4.000 (four thousand Euro)
3rd Prize of the Integrated Geomatics solution: € 3.000 (three thousand Euro)
4th Prize of the Integrated Geomatics solution: € 2.000 (two thousand Euro)
5th Prize of the Integrated Geomatics solution: € 1.000 (one thousand Euro)
Important Timelines
Submission deadline – 16 Oct. 2020

Announcement of Selected teams to proceed to Finals – 30 Oct. 2020
Live pitch and award ceremony – 7-11 Dec. 2020
Read more information on Geomatics on the Move
Register Now