Geospatial Analysis of Biomass in Lake Region of Kumaun Himalaya, Uttarakhand
Abstract
The present study includes vegetation and forest biomass mapping in the lake region of Kumaun, Uttarakhand, using IRS1C LISSIII satellite data. A total of 11 forest types including forest plantation were mapped, among various forest types analyzed, maximum area exhibited by Banj oak followed by Pine forest. Mean total above-ground biomass values were ranged between 52.1 and 402 t/ha. Mean crown cover and biomass values were computed for selected sites. Biomass values were related to crown cover through allometric equation. The biomass estimated through remote sensing in the present study has shown to be in close agreement with that estimated through conventional methods.
The study was carried out in the lake region of Kumaun Himalaya lying between 79o 24′15.48′′ to 79o 39′ 28.53′′ longitude and 29o 14′ to 29o 24′ 54.12′′N latitude (Figure 1).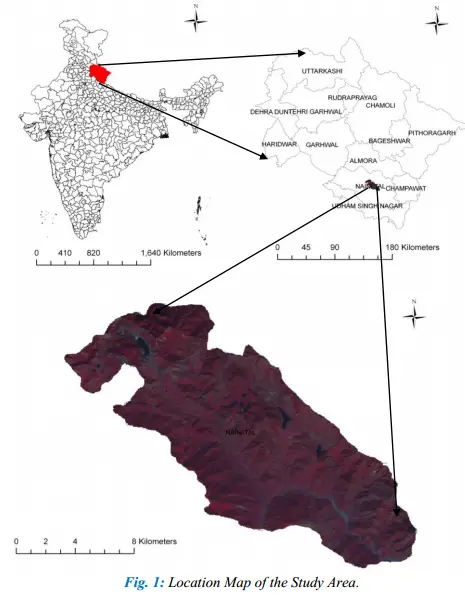 The region falls within administrative boundary of district Nainital. The area includes catchment area and surroundings of major lakes of Kumaun region, viz., Khurpatal, Nainital, Bhimtal, Sattal and Naukuchiatal. The area includes part of Siwalik Hills and Kumaun Lesser Himalaya. Annual rainfall varies from about 1500 to 2250 mm. The amount of rainfall depends on altitude and aspect of the slope. Total geographical area is about 14347 ha.