Get the Hang of latest SuperGIS Desktop 3.2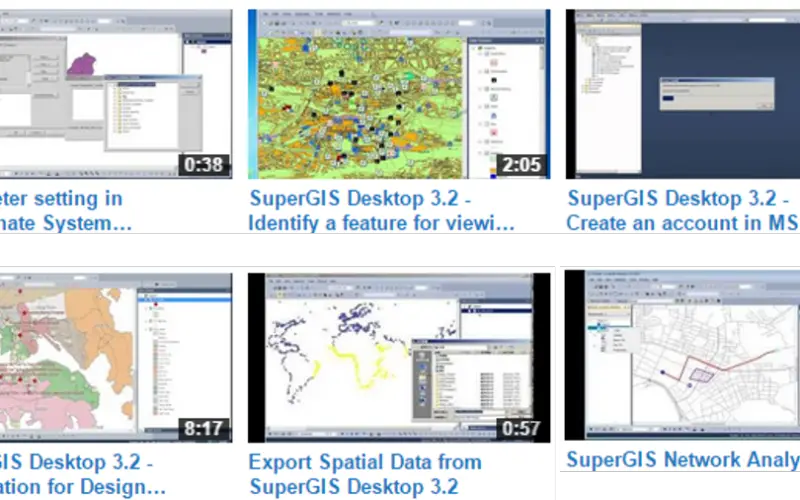 Supergeo Technologies Inc., the global leading GIS software and solution provider, released new Product Demo Videos on Supergeo TV Channel to demonstrate most frequently-used functions in latest SuperGIS Desktop 3.2. GIS users will soon get the hang of SuperGIS by the technical resources.
SuperGIS Desktop 3.2 integrates abundant GIS tools to provide users with a professional GIS platform for editing spatial data even faster and more easily. With SuperGIS Desktop 3.2, you can display, edit, manage, query and analyze GIS data in different data formats, and utilize the spatial information to make better decisions and policies.
To help worldwide GIS users learn more about SuperGIS products, Supergeo has launched large numbers of videos on YouTube website, Supergeo TV Channel. You may access the demo videos that introduce manipulating SuperGIS products, important software features, user experiences, case studies, introduction of Supergeo Technologies and so on.
The latest videos about SuperGIS Desktop 3.2 will show you how to apply useful GIS functions, like the tips to connect to Geodatabase, design your maps, customize coordinate systems, modify feature symbols, select data, etc.
Visit Supergeo TV channel now on https://www.youtube.com/user/supergeotv/featured
# # #
About Supergeo
Supergeo Technologies Inc. is a leading global provider of GIS software and solutions. Since the establishment, Supergeo has been dedicated to providing state-of-the-art geospatial technologies and comprehensive services for customers around the world. It is our vision to help users utilize geospatial technologies to create a better world.
Supergeo software and applications have been spread over the world to be the backbone of the world's mapping and spatial analysis. Supergeo is the professional GIS vendor, providing GIS-related users with complete GIS solutions for desktop, mobile, server, and Internet platforms.
Marketing Contact:
Patty Chen
Supergeo Technologies Inc.
5F, No. 71, Sec. 1, Zhouzi St., Taipei, 114, TAIWAN
TEL:+886-2-2659 1899
Website: http://www.supergeotek.com
Email: patty@supergeotek.com