senseFly and Maptek Sign Agreement Around Data Collection and Analysis Solution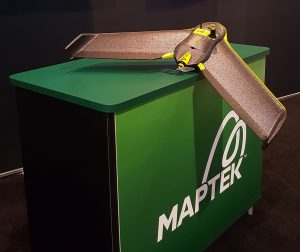 Swiss professional drone maker, senseFly, has recently signed an agreement with Maptek, experts in precision measurement and visualisation for the mining industry, that enables Maptek to offer its customers a full, end-to-end data collection and analysis solution.
Under the terms of the agreement, Maptek will begin providing North American mining and aggregate industry customers with senseFly's professional mapping and inspection drones (eBee, eBee RTK and albris) alongside its popular I-Site Studio 3D modelling software.
By combining a senseFly UAV with our I-Site Studio 3D modelling software, customers in the mining industry now have a powerful solution that is driven by survey requirements, as well as the in-depth modelling, change detection and data output requirements demanded by mining professionals,' said Todd Packebush, Maptek Director of I-Site Sales & Business Development for North America.
'senseFly durable, largely automated mapping drones are already employed by thousands of professionals, such as mining engineers, around the world, who appreciate the productivity and safety boosting benefits of collecting geospatial data from the air,' added Jean-Christophe Zufferey, senseFly CEO.
'By partnering with Maptek we are joining forces with one of the industry's most respected and recognised solution providers, a company that is perfectly positioned to help bring such benefits to even more mining professionals.'
Explore Maptek I-Site Studio & senseFly drone technology at MINExpo Maptek booth 6028.
About senseFly
At senseFly we develop and produce aerial imaging drones for professional applications. Safe, ultra-light and easy to use, these highly automated data collection tools are employed by customers around the world in fields such as surveying, agriculture, GIS, industrial inspection, mining and humanitarian aid. senseFly was founded in 2009 by a team of robotics researchers and quickly became the industry leader in mapping drones. Today we continue to lead the way in developing situationally aware systems that help professionals make better decisions. senseFly is the commercial drone subsidiary of Parrot Group, the world leader in consumer drones.
www.senseFly.com