Impact of the 2014 Conflict in the Gaza Strip – UNOSAT Satellite Derived Geospatial Analysis
Impact of the 2014 Conflict in the Gaza Strip – UNOSAT Satellite Derived Geospatial Analysis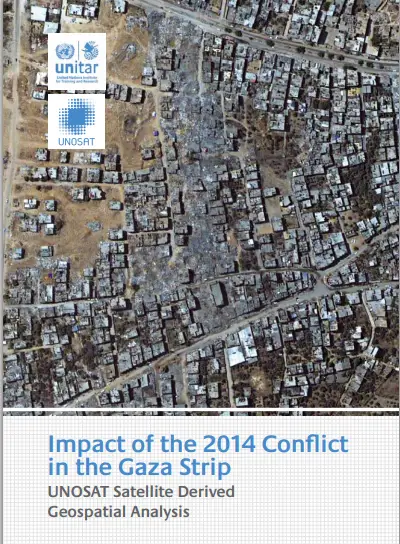 This satellite derived geospatial analysis documents damages over the Gaza Strip following the July-August 2014 conflict. It is based on analysis of commercial satellite imagery and quantifies damage to overall building structures, health facilities, education facilities, agricultural fields and greenhouses. The study also compares damage from the 2014 conflict to that of the 2009 conflict.
During the summer of 2014, a devastating conflict again took place in the Gaza Strip and surrounding Israeli territories. Operation Protective Edge was launched on 8 July by the Israeli Defence Forces in response to rocket fire from the Gaza Strip into Israel. The conflict lasted for 50 days, until 26 August, when an open-ended cease fire came into effect and was respected. The United Nations and Palestinian Authorities were providing humanitarian aid to the affected civilian population in the Gaza Strip, in particular to those whose homes had been destroyed or those wholived in neighbourhoods likely to be affected by attacks from ground or air forces. The United Nations Development Programme (UNDP) contacted UNITAR's Operational Satellite Applications Programme (UNOSAT) to assist with damage assessments during and after the conflict.
UNOSAT's Rapid Mapping service worked closely with the UNDP Crisis Response Unit and the UNDP Programme for Assistance to the Palestinian People (PAPP). Close coordination and collaboration also took place with the UN Relief and Works Agency for Palestine Refugees in the Near East (UNRWA), the UN Office for the Coordination of Humanitarian Affairs (UNOCHA) in Jerusalem and the International Committee of the Red Cross (ICRC). As an example, UNOSAT sent a representative to Jerusalem and Gaza in preparation for the study presented here and to learn how the results can best contribute to the forthcoming reconstruction efforts.
The use of satellite imagery has now become the norm during humanitarian crises. This technology provides information over areas not possible to assess due to security restrictions or simply logistical challenges. This was also the case when UNOSAT's Rapid Mapping service was activated for the Gaza Strip. Our standard damage assessment methodology was applied using commercially available high resolution satellite imagery analysed by a team of experts in Geneva. Analysis results were provided to sister agencies and made available online for download
from our public website as soon as they were ready.
The study published here takes as input the results from our Rapid Mapping service and looks at the geo-spatial distribution of damage, as well as overall statistics for what has been observed using the imagery. The findings are fully objective as they are based solely on scientific imagery analysis and not reports from any of the conflicting sides, nor third party information.
The analysis is supplemented by ground photos following UNOSAT deployment to Gaza in September 2014.
The report is freely available for web viewing as well as in high resolution for printing.
Source: unitar