ISRO Successfully Launches RISAT-2BR1 – A Radar Imaging Earth Observation Satellite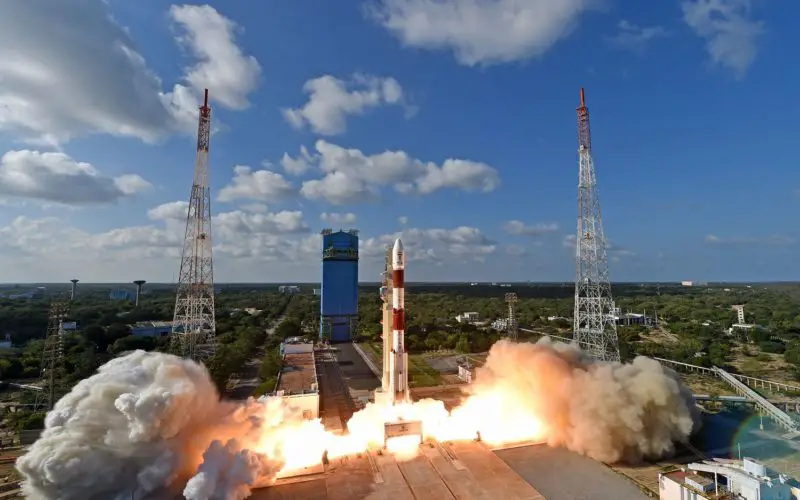 Dec 11, 2019 – ISRO – India's Polar Satellite Launch Vehicle, in its fiftieth flight (PSLV-C48), successfully launched RISAT-2BR1 along with nine commercial satellites from Satish Dhawan Space Centre (SDSC) SHAR, Sriharikota.
PSLV-C48 lifted-off at 1525Hrs (IST) on December 11, 2019 from the First Launch Pad of SDSC SHAR, Sriharikota. PSLV-C48 was the 75th launch vehicle mission from SDSC SHAR, Sriharikota. This is the 2nd flight of PSLV in 'QL' configuration (with 4 solid strap-on motors).
About 16 minutes and 23 seconds after lift-off, RISAT-2BR1 was injected into an orbit of 576 km at an inclination of 37 degree to the equator.
RISAT-2BR1 is a radar imaging earth observation satellite weighing about 628 kg. The satellite will provide services in the field of Agriculture, Forestry and Disaster Management. The mission life of RISAT-2BR1 is 5 years.
The nine customer satellites of Israel, Italy, Japan and USA were precisely injected into their designated orbits. These satellites were launched under a commercial arrangement with NewSpace India Limited (NSIL), the commercial arm of Indian Space Research Organisation (ISRO).