Leica Pegasus TRK Reality Capture Mobile Mapping System with AI and Autonomous Workflows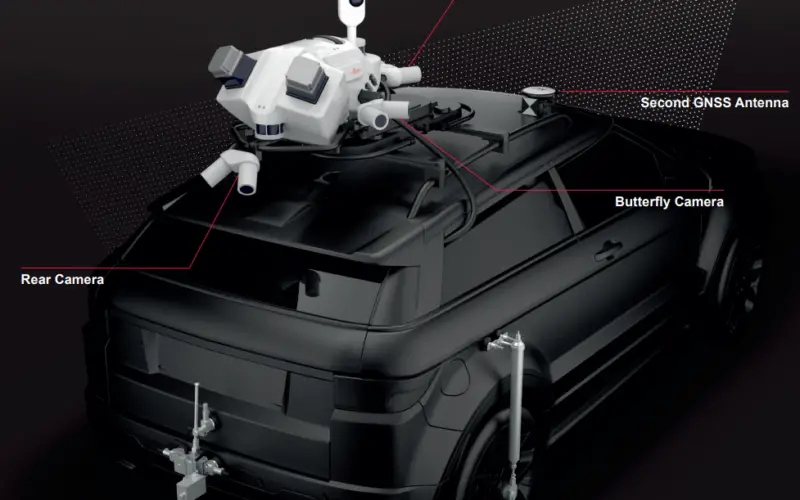 The Leica Pegasus TRK Reality Capture Mobile Mapping System is the latest advancement in reality capture technology. Leica's Pegasus has been on the market for a few years, but this new product offers an unparalleled user experience with its wireless connectivity and fold-up design. The Leica Pegasus TRK is perfect for capturing fast-moving objects or scenes that are too dangerous or difficult to access. It also has multiple sensors, real-time kinematic (RTK) positioning, and cameras to ensure 360° coverage and accuracy.
Leica Pegasus TRK's sensor architecture includes a complex integration of IMU and SLAM technologies that enables georeferencing in GNSS-denied conditions. Leica Precision RTK positioning provides real-time location precision down to the millimeter. When optical DMI accessories are fitted on the back of the vehicle, the journey distance is reliably measured in GNSS demanding settings, avoiding the conventional slip mistake of wheel-based DMI.
The system captures real-time 3D scans of buildings, landscapes, and other physical spaces while moving, enabling users to create high-quality, detailed 3D models and maps. With its unparalleled level of accuracy and detail, the Leica Pegasus TRK is perfect for a wide range of applications, including surveying, land management, engineering, architecture, city planning, and manufacturing.
---
Also Read – RIEGL VZ-i Line Scanners for Permanent Monitoring Applications and Integration Capabilities into Customers Risk Management
---
Product Overview – Leica Pegasus TRK Reality Capture Mobile Mapping System
The Leica Pegasus TRK is easy to use and requires no training, so you can save money without sacrificing performance. Pegasus TRK can be safely set up and operated by one person, weighing only 18kg and featuring a unique rotating-tilt mounting platform and ergonomic design. From project planning to project completion, intuitive software can help you. Leica Geosystem has launched two variants of Leica Pegasus TRK –
Leica Pegasus TRK500 Neo – comes with a data-efficient single scanner option, capturing 500,000 points per second.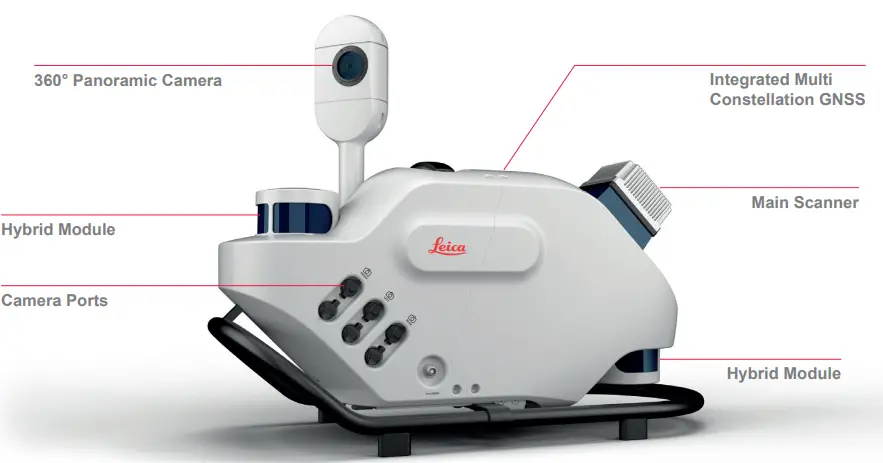 Leica Pegasus TRK700 Neo – comes with dual scanners for when higher point cloud density is required, capturing 1 million points per second.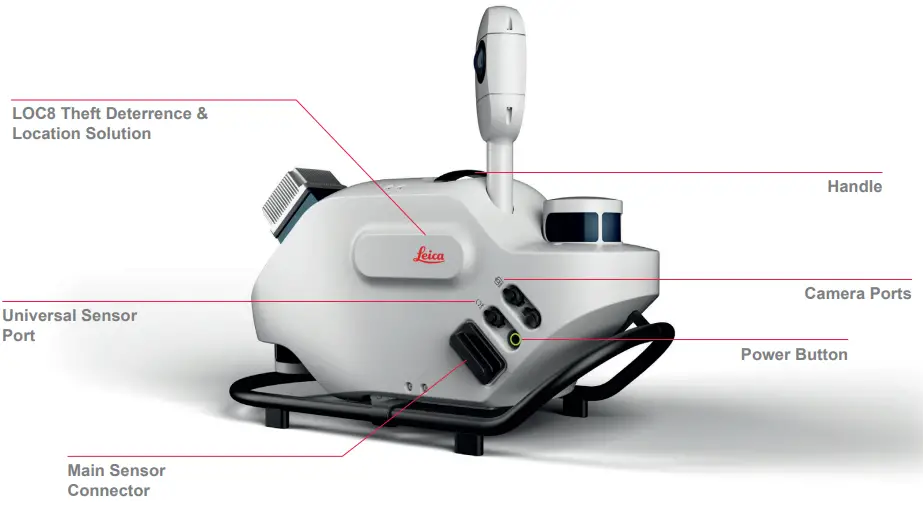 Leica Pegasus TRK700 Neo – comes with dual scanners for when higher point cloud density is required, capturing 1 million points per second.
The ergonomic lightweight carrier platform rotates and tilts to safely mount the Pegasus TRK system on your vehicle. The platform rotates into three positions (-30°/0°/+30°) which allows data collection from the TRK500 on the diagonal and a cross point cloud pattern from multi-pass acquisitions, usually only achievable with a dual scanner.
The camera module have functionality to seamlessly integrate up to four additional 24MP pairs of cameras – to capture front, sides, and pavement angles for texture analysis and intrinsic calibration for seamless panorama imagery.
The butterfly side cameras have a dual position, vertical and horizontal, enabling the capture of vertical arches in high-resolution for texturing and damage analysis or horizontal features like traffic signs or civic numbers.
The setup also has option to have second GNSS antenna. The second GNSS antenna improves the initialisation for rail and marine applications. The lever arm is automatically calculated, improving the overall accuracy results.
---
Also Read – Trimble MX50 LiDAR System Expands Mobile Mapping Portfolio
---
Data Processing Software
Leica Pegasus FIELD and Leica Cyclone Pegasus OFFICE are all-new sophisticated software for a field-to-finish workflow – from data acquisition to processing and final deliverable.
Leica Pegasus FIELD – The all-new Leica Pegasus FIELD software gives data collection more autonomy. From the office or in the field, plan routes and set targets for each project. For automated routing, reliable data collecting takes into account satellite availability and signal coverage. Data is collected and processed in real-time — at the pace of traffic – thanks to edge computing and on-the-fly processing. Whether you're on city streets or railroad tracks, our robust field programme will help you through project setup and planning based on your accuracy requirements and the environment. To achieve the best potential outcomes, use predetermined profiles. Live feedback from auditory and visual guidance eliminates uncertainty, allowing you to confidently plan and obtain data.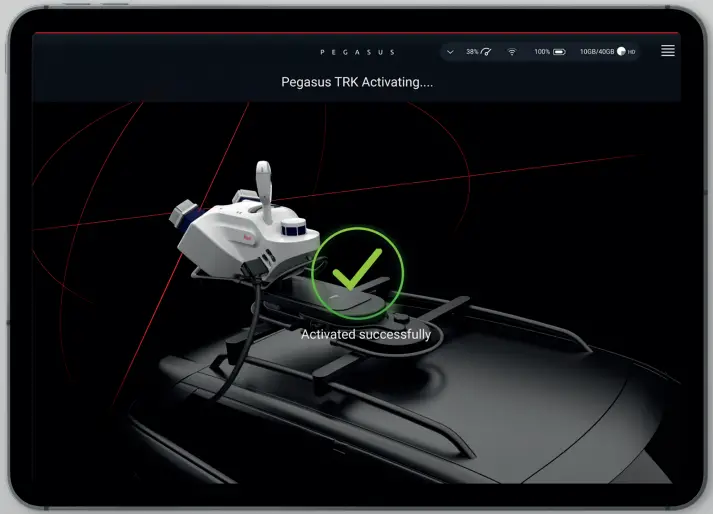 Leica Cyclone Pegasus OFFICE – Leica Cyclone Pegasus OFFICE enables a fluid data flow into post-processing and publishing workflows, with a familiar user experience to the current Cyclone software ecosystem. All of your processing needs can be met with just one solution. Create colorised 3D point cloud data that is automatically privacy-compliant using precise geo-referencing and multi-pass trajectory adjustment.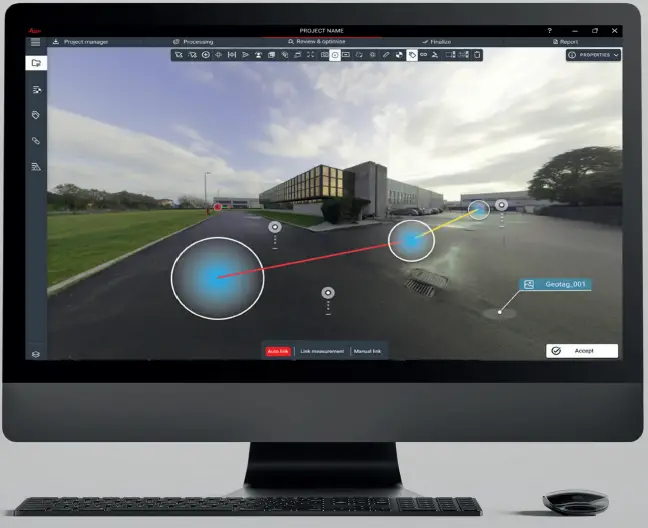 Additional Features
Theft Deterrence – Built-in LOC8 solution for remote tracking, localisation and locking by mobile phone or computer.
Designed To Last – IP67 during operation, fully dust tight and withstands temporary immersion under water.
Accuracy – Post processing [X,Y], [Z]: 11mm, 11mm; RTK [X,Y], [Z]: 12mm, 12mm
While making mobile mapping more accessible and easier than ever before, the Pegasus TRK solution provides flexibility, true-to-life image clarity, and best-in-class accuracy.