National Database for Emergency Management (NDEM) Services in Tackling Disasters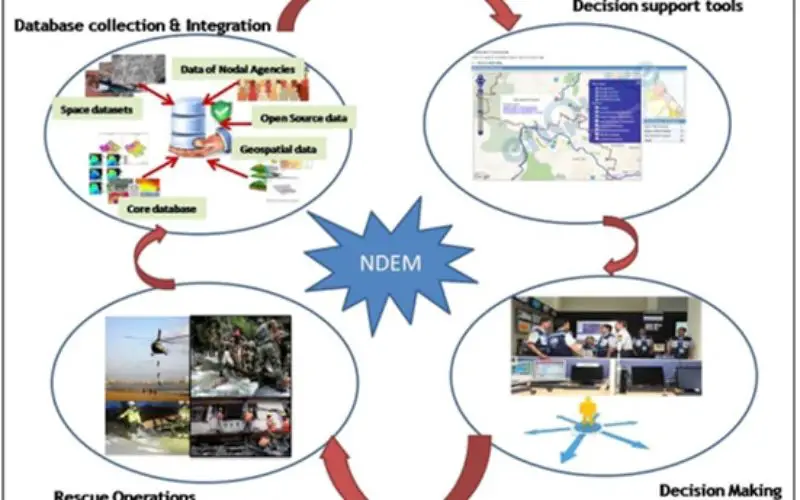 Towards supporting country's efforts in efficient management of natural disasters, ISRO has evolved a comprehensive space-based Disaster Management Support (DMS) Programme and institutionalised the same in association with concerned ministries / agencies. The DMS programme addresses disasters such as flood, cyclone, drought, forest fire, landslide and earthquake. Earth observation satellites together with meteorological and communication satellites and aerial survey system form the base for providing timely support and services for disaster management.
To support the total cycle of disaster/ emergency management for the country, in near real time, the database creation is addressed through National Database for Emergency Management (NDEM), a GIS based repository of data. NDEM is envisaged to have core data, hazard-specific data, and dynamic data in spatial form as well as textual form. The database enables development of decision support system in the form of customised user interfaces with necessary security mechanisms.
Major Highlights of NDEM
Exclusive NDEM facility is established at Shadnagar in a secured environment with necessary computer infrastructure.
NDEM database is organised by bringing the diverse data sets into a common reference framework
Envisaged database at 1:50,000 scale for 36 States/UTs is served through ISRO-DMS VPN secured network
Value-added information/ maps (about 388 disaster-specific products covering 36 States/ UTs) derived from satellite data for the disaster events occurred during 1998-2014 were hosted on NDEM server and enabled download of the products through ISRO-DMS VPN secured network
Decision Support Tools for Spatial, Proximity, Network analysis have been customised and implemented
Appraised all State Govt. officials about NDEM project, products and services besides training on NDEM server operations by conducting six regional training programmes
All mobile applications developed under NDEM are made available for download and also appraised all State Govt. Departments regarding its utilisation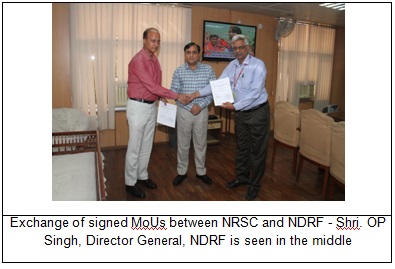 Database available with ISRO, Central and State Departments are integrated and organised into NDEM. A comprehensive database is worked out to meet the objectives at different scales. At 1:50,000 scale, database covering base layers, thematic layers, infrastructure layers along with raster data sets are integrated. The disaster-specific database covering Flood/ Cyclone, Forest Fires, Tsunami, Drought, Landslides, Earthquakes, etc. are also integrated. The database at 1:10,000 scale is organised for 94 districts out of 350 districts.
Information Dissemination is done through secured Satellite based Virtual Private Network (VPN). State-wise value-added information and products derived from Satellite datasets on disasters are organised in NDEM Portal and enabled access to respective State Government Departments through ISRO-DMS-VPN secured network. The open data sets as well as disaster information is also being disseminated through ISRO web portal Bhuvan.
Mobile apps developed for relief management, incident reporting and geo-tagging of emergency management facilities have been demonstrated with hands on sessions. These mobile apps have been shared to all participants along with user manuals.
This systematic approach will help in better Disaster Response for Relief and Rescue; Ensuring satellite-based communication during disasters; Assessment of the damage and Mitigation planning.
Source: ISRO