Top 5 GIS Trends for 2018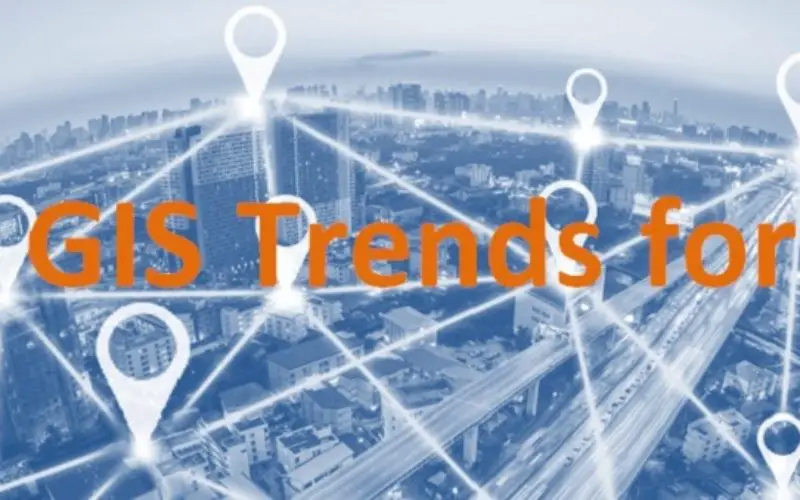 Contributed By:
You're reading this because seamlessly integrating Geographical Information Systems (GIS) into your company's IT infrastructure including SAP is crucial. Challenges you're grappling with probably include absorbing tech upgrades without downtime, getting the edge on competitors through your slick IT businesses processes and keeping compliant with the laws and regulations in your industry or sector. And the last thing you'd want is to be left behind when iOS or Android versions update – leaving your key app(s) in the boondocks.
We'll briefly cover five tech trends we're putting our money on for 2018 and the theme common to them all is accessibility (to data and tech) and simplicity: the user interface, rethinking how GIS works with your systems, the cloud, openness, the power of drones, and the next dimensions (that's a bonus one).
Continued focus on the user interface
Maps are something of the modern Esperanto, but user accessibility on smartphones is where GIS really comes into its own for enterprise mobility. We'll see a continued push towards simple, task-driven apps that are intuitive and require no user-training. That's not just for your customers but across your organisation, too.
Rethinking how the GIS fits into your systems
Increasingly the trend we'll see become more commonplace is putting GIS – the map – into other systems rather than bringing your data from other systems, such as SAP, into GIS.
Dominance of the cloud
This is like a juggernaut we can't stop, and it makes sense, too, to keep data and systems cloud-based as security standards and options increase. It's about embracing cloud-first policies in your IT set up and if it's not already up there, having your workforce management software sit in the cloud.
Keeping those doors open
We reckon 2018 will continue the GIS industry's trend for open source software, open data, and standards. A lot of this is in line with Open Geospatial Consortium (OGS) standards, which have got to be on your company's radar when pitching for tenders. 'Openness' and interaction sits nicely in the Internet of Things (IoT) space which relies on capturing real-time data and, of course, faster computer speed and grunt from your geospatial applications.
Taking to the skies with drones
Hate to drone on about these, but they've become ubiquitous among consumers, business, and industry, particularly the resources sector. Sure, they're simple to use, getting cheaper and super useful and we're seeing more products able to convert their data in nifty ways. Enterprises will need to be mindful of more compliance entering this dimension. In the UK, for example, they're introducing new police powers to curb the illegal and unsafe use of drones, even licenses for using ones over 250 grams. Australia, meanwhile, introduced regulations for drone operations in 2002, and eased them last year so you don't need a license for drones under 2kg. That's good for business as we're seeing the continued miniaturisation of this tech.
Bonus trend: the next dimensions
The GIS industry is continuing its foray into the third and we'll add virtual reality and augmented reality (kind of like data X-ray) into the mix here, too. The market's hunger for 3D data visualisation and VR/AR is unquenched and businesses that can offer this functionality in their consumer and B2B products will have the edge on their competitors. And bring in the time dimension, and whoa, that's a super-powerful, immersive and predictive 4D model you're offering as part of your business' GIS capabilities.
Before you jump on the bandwagon
So, while it's tempting to check out how the trends and tech could integrate with your business and give you a measurable return on investment, we'd advise zero-ing in on your business strategy. Could any of the tech we've outlined above help deliver on your business outcomes? It's a bit chicken and egg. Check out this article for a useful checklist on why we think business outcomes take priority over technology drivers. In short, it paces you through important considerations before you embrace the latest bells and whistles tech. They include offline capability, user interface, enabling the spatial enterprise any to any (we're talking data, server, client, user, and time), back-end extractors/adapters, middle-tier and more. And if you're still ruminating on your next move, check out the US Government's insights into GIS tech – their annual trends report from their National Geospatial Advisory Committee comes out in December.
How we can help
To get a better insight into how your business can successfully integrate SAP with GIS, we can help. We've been doing it since 1995 and have expertise in ERP Mobility Solutions for all industries including global telcos, electricity, gas, water utilities, government-owned enterprise and defence.
More About Author…
Dominic is a freelance writer who has recently been doing some work for We-Do-IT. Technology and related topics are specifically what he enjoys researching and writing about. In his spare time you will find him planning his next adventure getaway or exploring nature trails around Australia.
Email: dominic.rainess@gmail.com