New Horizon Europe Project 'EvoLand' Sets off to Develop New Prototype Services for the Copernicus Land Monitoring Service
A consortium under the lead of VITO officially launched the new Horizon Europe project EvoLand (Evolution of the Copernicus Land Service portfolio) in Leuven (Belgium) on the 17th and 18th of January 2023. EvoLand will develop and test new and innovative methods and algorithms and implement a bundle of candidate Copernicus Land Monitoring Service prototypes. This will be realised by integrating novel EO and in-situ data with latest Machine Learning techniques to continuously monitor the status, dynamics and biomass of the land surfacefocussing on five key thematic domains – agriculture, forest, water, urban and general land cover.
GAF AG is part of this new research and development project that includes 10 key-players of the EU Space industry from 5 EU countries. The project will be running for the next 3 years.
Why EvoLand?
Since 2011, the Copernicus Land Monitoring Service (CLMS) provides core products for the monitoring of status and changes in vegetated and non-vegetated land cover/land use state and characteristics, biophysical variables, water and cryosphere conditions. Currently CLMS needs to advance in phase with the new Copernicus 2.0 programme, the evolving user needs, global challenges and technical capabilities, meanwhile maintaining the existing core Copernicus information products and services. This is a challenge which requires a more efficient workflow enabled by automation, harmonisation, further integration of the products across existing components (at local / pan-European/ Global level), modularity of the software and data products, and the increased use of Artificial Intelligence to provide real and near real time data processing.
EvoLand – Evolution of the Copernicus Land Service portfolio – addresses these needs in a comprehensive way through a well-designed process, developing innovative methods, algorithms and candidate CLMS prototypes to monitor the status and changes of land use/land cover and various land surface characteristics at high spatial and temporal resolution.
How is the project going to achieve its objective?
EvoLand aims to develop eleven next-generation CLMS product candidates by integrating innovative approaches in data fusion, Machine Learning, continuous monitoring and biomass mapping, as well as through the integration of novel EO and in-situ data. In addition, the project will analyse policy, data and infrastructure requirements for the prototype services, interact with the relevant Entrusted Entities (European Environment Agency [EEA], Joint Research Centre [JRC]) and consult other main Copernicus Land stakeholders and users.
Present at the kick-off meeting in Leuven on the 17th and 18th of January 2023, EEA and JRC representatives congratulated the consortium on this project and expressed their great interest in closely following the process and eagerly await the results, collaborating on the evolution of the CLMS.
During the demonstration phase of EvoLand, candidate services will be prototypically implemented over larger regions, focusing on key thematic domains such as agriculture, forest, water, urban and general land cover. They will be regularly analysed to ensure their fit for purpose, policy support potential, technical and innovative excellence, and operational readiness. The ambition of EvoLand is to support the Entrusted Entities by dedicated research, providing tangible proof of the evolution potential of the CLMS in terms of improved information content, quality and timeliness, and enable well-informed and facts-based decision-making on the future of the CLMS. A strategy to transferring these prototypes into operational CLMS services will therefore also be proposed as part of the project outputs.
The following eleven CLMS prototype candidates have been selected:
Forest: continuous forest monitoring, forest disturbance mapping, forest biomass mapping;
Agriculture: cover crop type mapping, cropland/grassland gross primary production monitoring, small landscape features mapping;
Water: improved water bodies mapping;
Urban: automated land use mapping of urban dynamics, continuous imperviousness monitoring;
General land cover: continuous mapping of land surface characteristics, on-demand land cover mapping.
The team behind EvoLand
EvoLand brings together a unique consortium of 10 partners from 5 European countries providing all the professional knowledge required for a successful achievement of the ambitious project goals and objectives. Led by VITO, an independent research organisation from Belgium, it involves also CESBIO (France), CLS (France), CNES (France), DLR (Germany), Evenflow (Belgium), GAF AG (Germany), IIASA (Austria), Joanneum Research (Austria) and Sinergise (Slovenia). In terms of expertise, the EvoLand consortium includes CLMS specialists, key CLMS service providers and leading research institutes in all methodological developments. The team also involves partners experienced in supporting the Copernicus in-situ component, driving innovative in-situ data collection, cloud infrastructure and mass data processing, as well as effectively engaging stakeholders.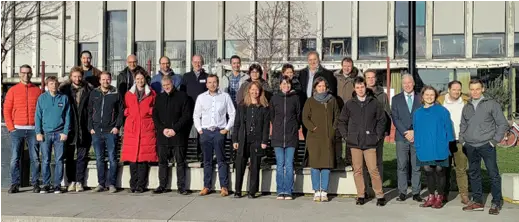 The team met for the first time at the kick-off meeting in Leuven with first discussions and decisions on the immediate steps, approach of certain tasks and further cooperation. "I am very proud of the competencies within the team and look forward to working closely together," said the Scientific coordinator of the project Dr Ruben Van De Kerchove, VITO.
Credits: GAF AG
---
Also Read –
Satellite Data Help to Detect Artisanal Mining – GAF AG Develops the "ASM Alert" Web Platform