PCI Geomatica Webinar Series: Working with Compact Polarimetry Imagery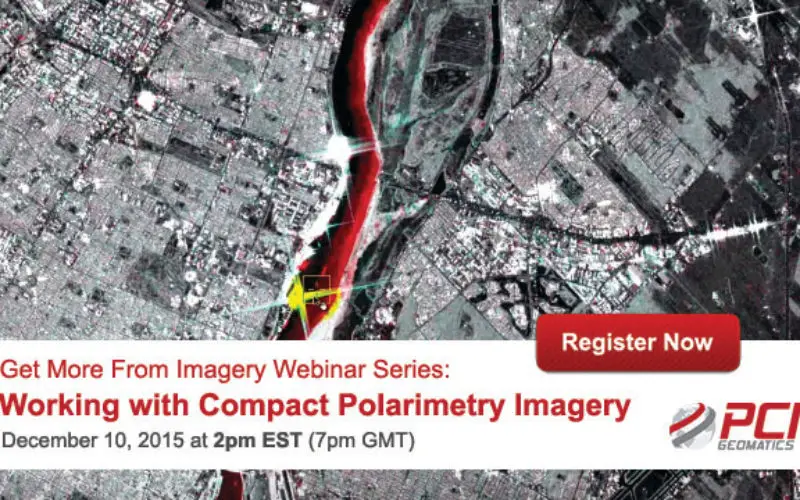 Get More From Imagery Webinar Series: Working with Compact Polarimetry Imagery
Dec. 10, 2015 at 2pm EST (7pm GMT)
Add Geomatica Radar tools to your software suite, and learn how to work with compact polarimetry tools for upcoming sensors such as the RADARSAT Constellation Mission (RCM). Learn about how to use the information that can be extracted from Compact Polarimetry versus fully quad-pol imagery.
Did you know?
Researchers from the University of Lethbridge obtained funding and research grants for including Geomatica in their projects, since they were able to:
Build operational workflows to analyze data through the Geomatica Python API
Use specific Polarimetric algorithms such as the m-chi decomposiion
Process large amounts of SAR imagery
What are the main applications of Compact Polarimetry?
The RADARSAT Constellation is being designed for three main uses:
Maritime Surveillance (ice, surface wind, oil pollution, ship monitoring)
Disaster Management (mitigation, warning, response, recovery)
Ecosystem Monitoring (agriculture, wetlands, forestry, coastal change monitoring)
What You'll Learn:
In this webinar, PCI Geomatics experts will demonstrate:
How Compact Polarimetry data is imported into Geomatica and visualized
Comparison of different compact polarimetry modes with respect to the full polarization for the identification and characterization of the land use classes.
Speaker
Jean-Sebastien Bouffard
PCI Geomatics Technical Solutions Specialist