Webinar Series: Get More from UAV Imagery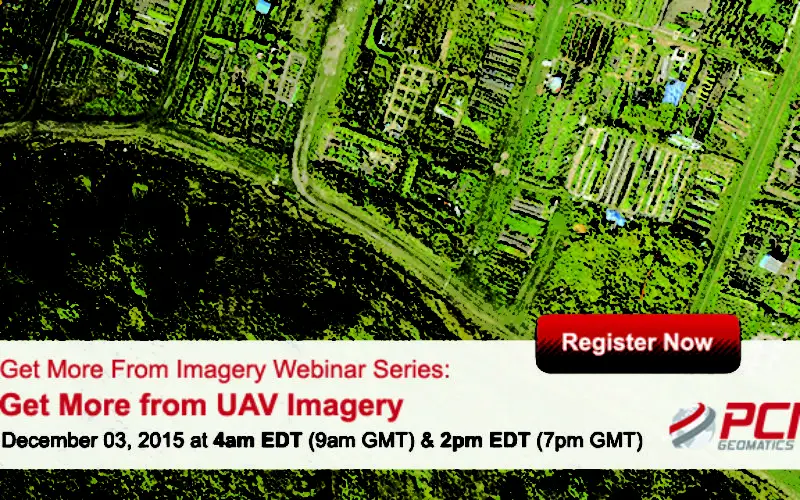 Get More From Imagery Webinar Series: Get More from UAV Imagery
Dec. 03, 2015 at 4am EDT (9am GMT) | Dec. 03, 2015 at 2pm EDT (7pm GMT)
PCI Geomatics is the developer of Geomatica- a complete and integrated desktop software that features tools for remote sensing, digital photogrammetry, geospatial analysis, map production, mosaicking and more. Geomatica software enables users to apply imagery in support of a wide range of applications such as the environment, agriculture, security and intelligence, defense, as well as in the oil and gas industries.
Webinar Description:
Learn about the features available within Geomatica that can help you to derive higher quality information with your UAV Ortho Mosaics, Point Clouds and Digital Surface Models.
What You'll Learn:
In this webinar, PCI Geomatics experts will demonstrate:
High-quality DSM interpolation methods for point clouds
Automatic image to image alignment
Accurate and interactive tools to generate Volumetric Stockpile information
Change detection automation for vegetation analyses
Automation capability with Geomatica Python API
Speaker:
Shawn Melamed
PCI Geomatics Technical Solutions Specialist
When:
Dec. 03, 2015 at4am EDT (9am GMT)
Dec. 03, 2015 at2pm EDT (7pm GMT)