Register Now For Esri MOOC Program: Earth Imagery at Work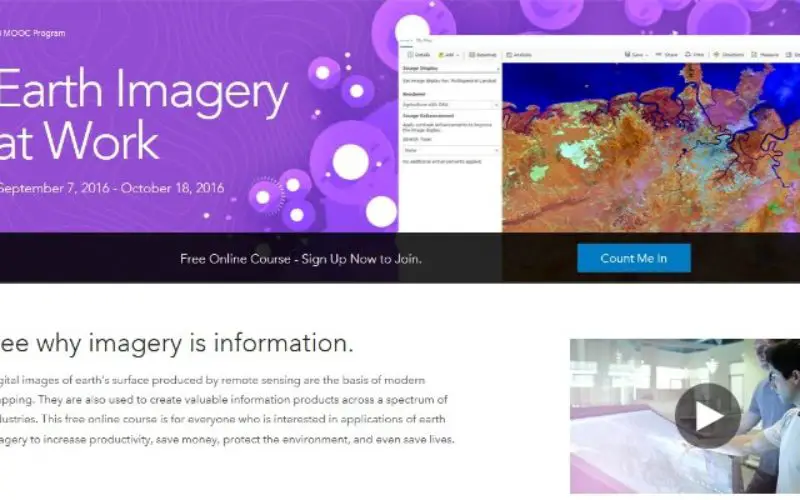 February 1, 2017 – March 14, 2017
Digital images of earth's surface produced by remote sensing are the basis of modern mapping. They are also used to create valuable information products across a spectrum of industries. This free online course is for everyone who is interested in applications of earth imagery to increase productivity, save money, protect the environment, and even save lives.
Benefits/Objectives:
Understand that imagery is more than pretty pictures. Imagery is information that supports decision making and helps save time, money, and resources.
Understand how imagery is used to identify landscape features and detect change over time.
Learn how to interpret and analyze imagery, including imagery collected by satellites and drones.
Gain hands-on experience with authentic imagery analysis workflows using the latest GIS technology.
Highlights:
Hands-on exercises, short video lectures, quizzes, and discussion
Six week course, two–three hours of study per week
Certificate of completion and awards
Syllabus:
Section 1: Overview of the Course and Imagery
Section 2: Imagery in Agriculture: The Crop Doctor is in
Section 3: Imagery in Environmental: Understand the World Around you
Section 4: Imagery in Disaster Management: Plan, Prepare, Act
Section 5: Imagery in Utilities: Keeping the Public Happy
Section 6: Imagery in Commercial: Why Are You Watching Me
Section 7: Imagery in Insurance: Risky Business
Who Should Attend?
Imagery Users
GIS Users
Scientists and Environmentalists
Students and Educators