Reliance Energy Launches App for Complaints on Defective Street Lights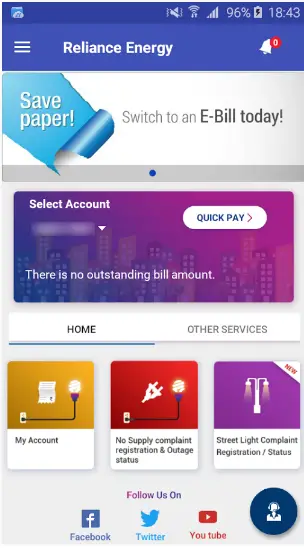 September 28, 2017, Mumbai – (IANS) – In an effort to make Mumbai streets safer after dark, Reliance Energy has launched a new app-based service for lodging complaints on defective street lights, an official said here on Thursday.
The Geographical Information System (GIS)-based technical innovation 'StreetlightComp.Reg' is available on its mobile app to enable Mumbaikars alert Reliance Energy about street light-related issues within the company's supply jurisdiction.
For this, a consumer can simply pin his/her location in the GPS-based feature on the app and select the type of complaint like 'lamp not working' or 'low illumination' that they would like to make.
The street light feature in the app provides instant and accurate registration of complaints without the need to mention details like pole number and hence eliminates any undesired waiting time at call centre.
While Reliance Energy has dedicated teams to inspect about 100,000 street lights in its licensed area and repair any defects in suburban Mumbai, the new feature for complaints would help bring down the response time due to accurate location provided by the GIS and help Reliance Energy keep Mumbai's streets safer for public, particularly for children, women, and senior citizens.
The complaints would be automatically forwarded to the field team concerned for prompt resolution on real-time basis.
Automated workforce management comprising customer relationship management and GIS enables field team to resolve the complaints and update the status, which can be witnessed by the customer(s) on the mobile app.
"Street lights are an important aspect of the city life and supplements safety and security of pedestrians as well as commuters. We are committed to keeping Mumbai's streets and thoroughfares well-illuminated. Using the mobile app, any citizen can now lodge a complaint at their convenience," said a Reliance Energy spokesperson.
The power distribution arm of Reliance Infrastructure Ltd, Reliance Energy is India's leading discom serving over 2.96 million consumers spread across 400 sq.km. in Mumbai suburbs and its surrounding areas.