Geospatial Technologies – Transforming Way of War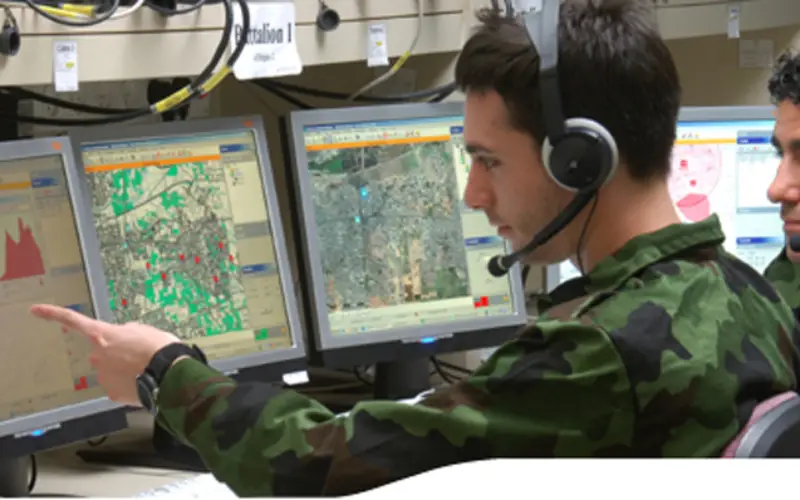 The 8th Land, Naval & Internal Homeland Security System Exhibition end in Delhi on February 09, 2014.  The event was organized by the Ministry of Defence, Government of India and more than 200 exhibitors from 25 countries and delegates from 40 countries around the world to part.
Geospatial technologies such as Geographical Information System (GIS), Remote Sensing, GNSS and etc. plays a pivotal role in Military operations as they are essentially spatial in nature The concept of Command, Control, Communication and Coordination in military operations are largely dependent on the availability of accurate information in order to arrive at quick decisions for operational orders. In the present digital era, GIS is an excellent tool for Military commanders in the operations.
This year many companies showcased their geospatial technology enabled products and solution.
One such solution is 9LAND BMS (Battle Management System) by SAAB. It is digital land tactical command and control battlefield management system. BMS is a complete battlefield management solution that can be integrated with the hardware of your choice. It has a real-time operation support and designed to support all battlefield communication networks.
The architecture of the system is kept in a decentralized manner that enables loss of the system or vehicles without loss of functionality.
Mr. Jones from SAAB in an interview with GIS Resources said:
The architecture of BMS is having a map engine which supports the solution with the capability of map rendering. This map engine is developed together with a Swedish company 'Carmenta'.

Map engine gives access to all the open source maps which are available in the world.  We can also use the secret military map if needed.
This is a tactical solution for at all military levels. The system is standardized in three configurations, from commander down to the individual soldier, which makes the system scalable to the specific need of all military tactical levels.
The system provides key functionalities such as navigation & route management, situational awareness down to the lowest tactical level-the soldier-and offers a seamless flow of information across the battlefield, mission management, decision support, planning support, 3 D view.
The system could cost more than $ 10 billion to the Indian Army for a whole BMS program which is covers 400 battalions. SAAB is teaming up with Mahindra in India, said Jones.
Rolta India Ltd., a world leading company in the domain of geospatial technologies was present with many products and solutions. Some of the geospatial solutions by Rolta that were showcased and described by Mr. Mohan Babu, an official from Rolta in an interview with GIS Resources were as follows:
Rolta Photogrammetry Suite: is a software solution to extract useful information from a stereo-pair of aerial photographs.
Mr. Mohan Babu said:
Rolta Photogrammetry Suite allows identifying terrain or terrain analysis, 3D modeling, elevation estimation, ortho-photo generation. This allows troops to check out what elevation they are and how is there surrounding terrain. Other useful information that can be extracted is enemy post location, the best way to move forward, etc.
Rolta Advanced GIS – Network & Cross Country Analysis: is a versatile solution with inbuilt customized modules for planning and execution of military operation. The network analysis application allows finding out the most efficient route to a destination.
Finding a suitable and best path to move quickly and safely is always a tough task in military operations. This tool takes several input parameters to find out the best way say to cross than alas or river or best location to construct the bridge. This solution also has the capability to do suitable site analysis such as track suitability for vehicle movement across the cross country, said Mr. Mohan Babu.
Minefield Recording System: provides the critical location and terrain information needed for mine laying as well as maintaining theses areas.
This is a GIS and GPS based system. Almost every year 70-80 people killed in mine blast. This system allows military personnel to mine laying and recording mine location during military operations. With exact location on GIS system these mines could be recovered safely, said Mr. Mohan Babu.
Rolta Tactical Decision Support System (RTDSS): is a solution for combat commanders to plan and support well coordinated campaigns. This solution allows armed forces to access, display, analyze and present spatial data. Military commanders can plan offensive and defensive operations and exploit the inbuilt decision-making tool.
This solution provides critical decision making capability for the top tactical level of the military. This solution has the option to analysis through the 2D and 3D GIS and also can generate the flythrough models, said Mr. Mohan Babu.
Other solutions were Enterprise Web based GIS Framework for Higher Level Battlefield Management, Rolta 3D GIS, Rolta Framework for Battlefied Management at the Combat Level and Rolta Framework for Wargaming & Constructive Simulation.
The focus on military efforts continues to be a major force with a heavy reliance on technology. Technology has not only changed the way wars are fought but its employment has become a key factor in attaining dominance in military power. The battle victory is complete only after ground forces occupy the enemy land and take control of the area. To hold and maintain the control of the occupied land, the armed forces need to know the spatial extent upon which they have the control.
In an article published in Electronic Today (November 1996), Major General Gurbaksh Singh VSM, states:
"The lessons gained from military history indicate that the key to military victory lies (regardless of military size of the opposing forces) in remaining ahead of the enemy in time sensitive SCORE loop of C4I2 process.If a defending force or weapon system can with some accuracy and sufficient warning finds out where the attacker is or his future course of action would be, it would be easier to defeat him by occupying position of advantage or by massing a superior force at the point of decision."
This statement reinforces how important spatial information is to field commanders for determining the best decision for military operations.
Read related article GIS for Defense and Intelligence
Tags:
9LAND BMS
,
Battle Management System
,
Battle Management System by SAAB
,
Defexpo 2014
,
Enterprise Web based GIS Framework for Higher Level Battlefield Management
,
Geographical Information System
,
GIS for Defense and Intelligence
,
Rolta
,
Rolta 3D GIS
,
Rolta Advanced GIS – Network & Cross Country Analysis
,
Rolta Framework for Battlefied Management at the Combat Level
,
Rolta Framework for Wargaming & Constructive Simulation
,
Rolta India Ltd
,
Rolta Minefield Recording System
,
Rolta Photogrammetry Suite
,
Rolta Tactical Decision Support System (RTDSS)
,
SAAB
,
spatial information