GIS Resources Magazine (Issue 4 | December 2022): SaaS For Geospatial Applications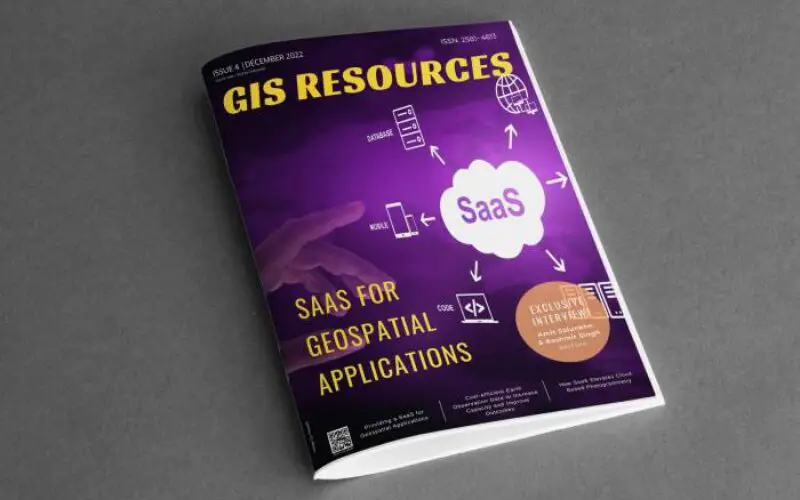 GIS Resources is pleased to announce the publication of its 4th edition (December 2022) of the print and digital magazine. The edition is titled "SaaS For Geospatial Applications."
Digital Geospatial Data visualization, by way of mapping,began in India in the late 1980s and early 1990s. Map data was processed on a personal computer (PC) using a complete suite of software installed on the PC. The software had many capabilities but only a few were used as per the final output required. Dedicated hardware and the limitation of having to use a full software suite was cost-intensive and thus organizations,companies, and individuals who could afford the setup were limited to government organizations or large corporates.
The scenario has changed dramatically today with the availability of cloud storage and cloud computing, network bandwidth, and programming software. The driver of this technology is the sophisticated programming software, a vast amount of data available for free, the many applications that the same dataset can be used by different users as well the software platforms that are now available for a specific set of applications. A typical example is the popular Google Map API the gives distances, directions,best route visualization as per traffic, etc that makes it convenient for a traveler to reach his/her destination.
Dedicated Geospatial applications are available at a fraction of the cost and with greatly enhanced capabilities for all types of users. ArcGIS Online, Carto, and Hexagon Geospatial are some of the Geospatial SaaS platforms that are currently in use with many more being developed with specific capabilities and ease of use.
Powerful mobile technologies will make SaaS applications for Geospatial Technologies more versatile and precise, enhancing the possibilities of data and information processing at any time and at any place to arrive at solutions for decision-making.
Following are the articles published in this edition:
Cost-efficient Earth Observation Data to Increase Capacity and Improve Outcomes –

Satellogic

Using Photogrammetry SaaS for Modern Construction and Surveying –

Pix4D

Providing a SaaS for Geospatial Applications –

Orbify

Scaling Nature Based Solutions: The Role of No-code Geospatial Software in the Fight Against Climate Change –

Earth Blox

Analyzing Mining Influence on Brazilian Amazon Vegetation –

EOSDA Analytics

An Interview with – Amit Salunkhe and Rashmit Singh Sukhmani from

SatSure
---
Also Read-
GNSS Systems in Precision Applications