Superior 3D Map Viewing with SuperGIS 3D Earth Server Front-end Applications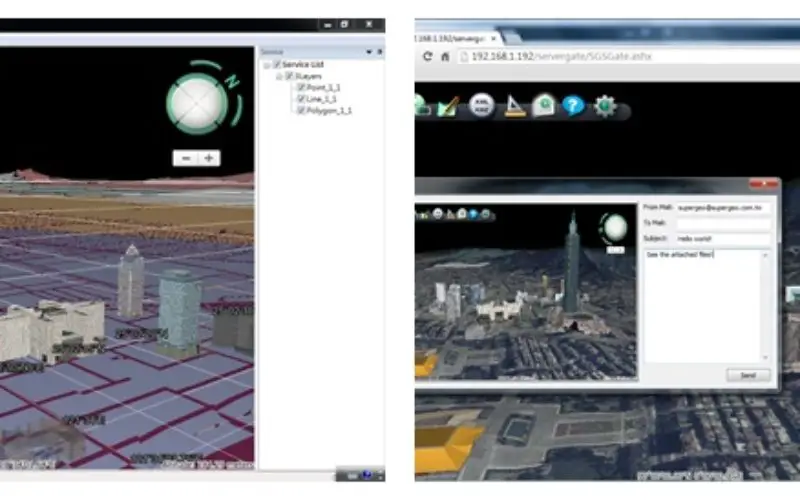 To provide users a superior 3D map experience, Supergeo releases whole new front-end applications, the desktop client application, SuperGIS 3D Earth, and the browser plug-in, SuperGIS 3D Earth Plug-in, for SuperGIS 3D Earth Server 3.2 in enhancing map viewing efficiency. Users may choose the way they like to explore the 3D globe with ease.
SuperGIS3D Earth Server 3.2 is the professional GIS server software designed to publish map data and display the overlaid vector and raster data, terrain data, 3D models in 3D view. The GIS software can help users to easily explore geographic space and deeply understand spatial relation among different features. Through browsers, front-end users can directly view and manipulate the services published by SuperGIS 3D Earth Server in 3D environment, including Query Feature, Position Query Result, Share Screen, etc.
Through SuperGIS 3D Earth and SuperGIS 3D Earth Plug-in, front users can access the published services by SuperGIS 3D Earth Server and enjoy the convenience and innovation of 3D environment. Both newly launched applications are equipped with cache map saving function, which means cache map could be saved in local storage, so that users can greatly save time from loading map tiles every time and have a smoother 3D map viewing on dynamic globe model.
In addition to browsing published 3D map, users can utilize SuperGIS 3D Earth Server and browsers to open kml/kmz files on 3D models instantly, and share 3D-view image via e-mail with others, so that team workers may have the latest information to build up the higher work efficiency.
SuperGIS 3D Earth Server 3.2 is now available to bring enterprises the 3D GIS platform with brand-new visualized experience. To browse the newest product information or download trials, please visit Supergeo website:  http://www.supergeotek.com/ProductPage_3DEarth.aspx
Also, you can watch demo video through Supergeo TV on YouTube:  https://www.youtube.com/watch?v=oCidggbbBpM&list=UUZif2ttCAyr0Z-LUUrd6aKQ
 or visit our demo site with Google Chrome: http://sgs.supergeo.com.tw/SeaLevel/SGSEarth.htm
#  #  #
About Supergeo
Supergeo Technologies Inc. is a leading global provider of GIS software and solutions. Since the establishment, Supergeo has been dedicated to providing state-of-the-art geospatial technologies and comprehensive services for customers around the world. It is our vision to help users utilize geospatial technologies to create a better world.
Supergeo software and applications have been spread over the world to be the backbone of the world's mapping and spatial analysis. Supergeo is the professional GIS vendor, providing GIS-related users with complete GIS solutions for desktop, mobile, server, and Internet platforms.
Marketing Contact:
Sarah Liu
Supergeo Technologies Inc.
5F, No. 71, Sec. 1, Zhouzi Street, Taipei, 114, TAIWAN, R.O.C.
TEL:+886-2-2659 1899
Website: http://www.supergeotek.com
Email: sarahliu@supergeotek.com