Take Your Next Business Presentation Virtual
Virtual business meetings have been on the rise with many people now working from home and away from their usual office settings. Business people are now meeting with their clients online and even doing virtual conferences. With the several postponements and cancellations witnessed during the COVID-19 crisis, professionals realize that virtual meetings are the way forward.
A virtual presentation is where a host and an audience meet remotely to discuss business or other kinds of matters. Virtual meetings are cost-effective as people no longer need to plan for venues and long travels. They also bring in a worldly connection since the distance is no longer an obstacle and there is wider information sharing. This guide will help you to learn how to take your next business presentation virtual.
Plan Your Virtual Presentation
Planning for a virtual presentation requires the facilitator to have a solid meeting plan. Having a precise timeline for all attendees and communicating with them in time goes a long way. Since location is no longer an issue for virtual meetings, they must advise attendees on the webinar software that will be in use.
This is to allow them enough time to download and get acquainted with the software in readiness for the presentation. A good webinar software should be easy to use, have high-quality audio and video, and should have useful analytics. It should also allow the facilitator to seamlessly share files with the attendees to have excellent levels of interaction.
Use a Professional Background
Using a neutral professional background that is less distracting to the audience is best for a virtual presentation. The background should be free from clutter to help the audience focus on the meeting agenda. A person who cannot access a neutral background can instead use a blurred background feature to help the audience focus more on them.
Having a virtual presentation near a bright window can get a participant washed up by the natural lighting. A dark room can also overshadow the presenter. Lighting equipment should be good to invest in. A decent lighting ring can be a good start.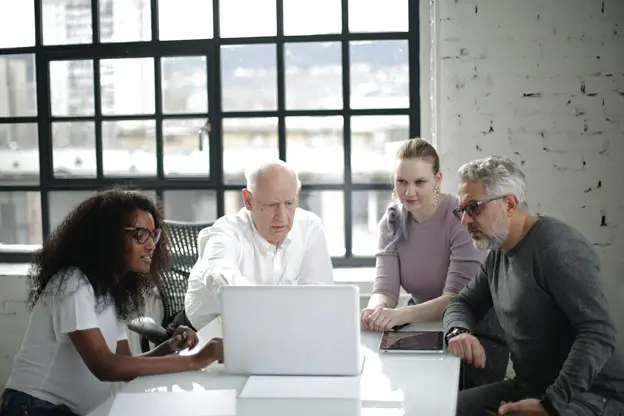 Pay Attention to Your Audio and Video Quality
A virtual presentation needs to have quality audio and video; therefore, using a phone may not be enough for this purpose. Phone audio quality is not enough to wow the audience as it can be glitchy and scratchy at times. A microphone connected to a computer through a USB can be a good start, but a directional mic is a better option.
These items don't have to be expensive, and many fail to notice how clear audio can be of great advantage. It is easier to watch a not-so-clear video with excellent audio quality. This is not to say that video quality is not important either, as both will bring out a better experience for the audience.
Dress Professionally
Presenting virtually from your house is not a license to dress in home clothes. It is best to put on attires that you would in an in-person meeting, such as plain colored pants and shirts. Having striped or patterned clothing will not augur well in a remote meeting set up. It is advisable that the presenter also doesn't wear clothes that match the background as well, like red or white attires.
Remove External Distractions
Facilitators of virtual presentations must ensure that they manage all other forms of distractions such as dogs, cats, or other pets, including family and friends. Despite how little the noise may be, an audience listening through headphones can hear the sounds, making it hard to concentrate on the presentation.
Presenters must also be well acquainted with the webinar software they're using to avoid fumbling. They can incorporate a co-host who can be in charge of ensuring that the technology works well throughout. It is also important they look directly at the camera and not at other participants on the screen during the virtual presentation.
Grow Your Business Virtually
Plan ahead to make sure your presentation goes off without a hitch.  Utilizing technology can make the presentation more impactful and help you grow your business through new connections. Take advantage of the power of virtual presentations.