USGS Increases Public Access to Scientific Research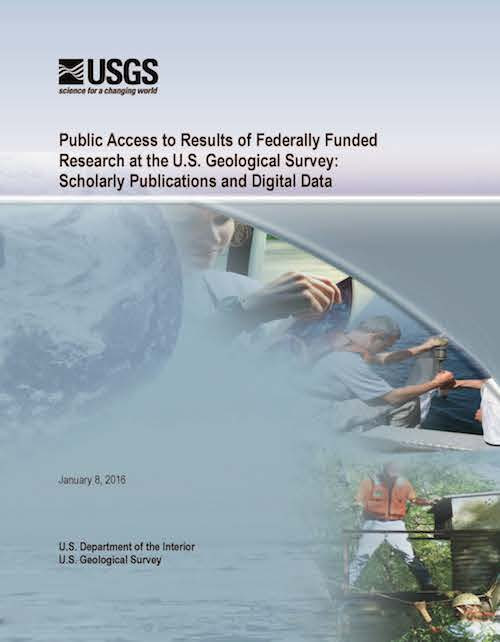 The U.S. Geological Survey is implementing new measures that will improve public access to USGS-funded science as detailed in its new public access plan. The plan enables the USGS to expand  its current on-line gateways to provide free public access to scholarly research and supporting data produced in full or in part with USGS funding, no matter how it is published.
The USGS plan  "Public Access to Results of Federally Funded Research at the U.S. Geological Survey: Scholarly Publications and Digital Data," stipulates that, beginning October 1, the USGS will require that any research it funds be released from the publisher and  available free to the public no later than 12 months after initial publication. The USGS will also require that data used to support the findings be available free to the public when the associated study is published.
The plan applies to research papers and data authored or co-authored by USGS, contract employees, award or grant recipients, partners and other entities. It includes materials published by any non-USGS entity, including scientific journals, professional society volumes, cooperating agency series, and university or commercial publishers.
Exceptions are permitted only if the USGS agrees that a demonstrated circumstance restricts the data from public release, for example in rare cases where access must be restricted because of security, privacy, confidentiality, or other constraints.
The plan responds to a February 2013 Office of Science and Technology Policy memorandum that directed federal agencies with annual research and development budgets above $100 million to increase public access to peer-reviewed scientific publications and digital data resulting from federally funded research. On January 8, OSTP approved the USGS plan.
Specifically, this plan requires that an electronic copy of either the accepted manuscript or the final publication of record is available through the USGS Publications Warehouse. Digital data will be available in machine readable form from the USGS Science Data Catalog. The plan will require the inclusion of data management plans in all new research proposals and grants.
Much of the plan refers to requirements or activities that already exist or are being implemented. The mandate to publish data and findings from USGS science activities dates to the Bureau's creation by the signing of the Sundry Civil Bill on March 3, 1879, establishing the USGS. This bill also defined the requirement to report the results of investigations by the USGS to the public.
The results of USGS research, generally released in the form of publications, maps, data, and models, are used by policymakers at all levels of government and by the private sector to support appropriate decisions about how to respond to natural hazards, manage natural resources, and to spur innovation and economic growth.
This plan builds on existing USGS policy, which requires public access be provided for any scholarly publications and associated data that arise from research conducted directly by USGS or by others using USGS funding, is published by the USGS or externally by USGS scientists or USGS funded scientists. This existing policy requires that data must be made available at the time of publication to support scholarly conclusions.
USGS already has the portals it needs to implement public access. USGS scholarly publications and associated data are discoverable online. Currently, citations for the more than 50,000 USGS series publications are available, and 10,000 of these are also available free to the public as downloadable digital files. In addition, more than 41,000 scholarly publications authored by the USGS but published externally are cataloged in the Publications Warehouse, and links to original published sources are provided.