Vector based Spatial Analysis using TdhGIS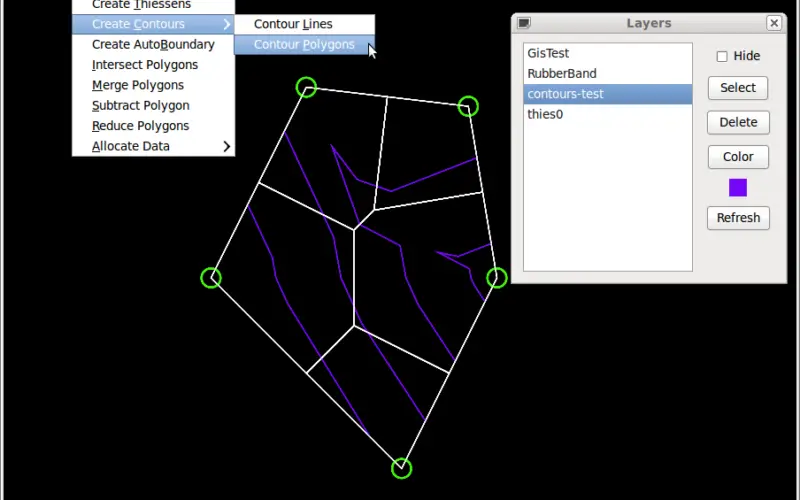 TdhGIS is an open source spatial analysis tool data based on vector geometric data. TdhGIS has an open database structure and the ability to import and export common file formats, including shapefiles, comma separated variable (CSV) files and common graphic formats. TdhGIS is can be useful as Shapefile viewer and editor. TdhGIS now imports OpenStreetMap (OSM) data for Polygons, Multilines and Points based on user selected tags for Ways, Relationships and Nodes.
The purpose of TdhGIS is to perform spatial analysis of data based on vector defined geometric data. This may include:
Graphically create and edit geometric data, similar to the abilities in a CAD program
Import OpenStreetMap data.
Use raster images as background for vector graphics.
Transform coordinates based on the Proj4 library.
Color polygons based on user data values using either Discrete intervals or Gradients.
Allocate point data to user specified buffers for points, polygons and multilines (e.g. find all gas stations within 1 mile of a highway).
Allocate point data to polygons. (e.g. assign structures to hydrological basins).
Allocate polygon data to other polygons. (e.g. allocate population data by census block to political boundaries).
Create thiessen polygons (e.g. for all hospitals within a state, define the areas where a particular hospital is closer than any other).
Create data contours (e.g. create lines of equal ground elevation based on a set of elevation points).
Create contour polygons (e.g. define the area where average rainfall exceeds a selected value based on weather station data).
Calculate the area and perimeter of irregular polygons, including exclusion polygons (i.e. holes).
Data is stored in an open database allowing manipulation by other software.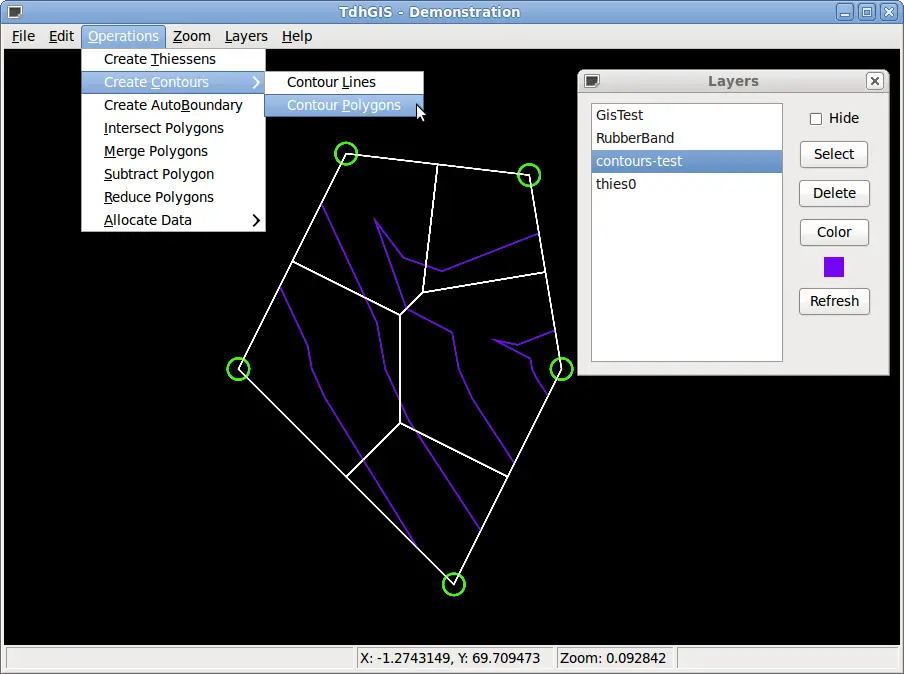 TdhGIS databases can be used within the mobile device location app TdhZones. TdhGIS is also available for  MS Windows and Linux and TdhZones (for Android) are totally free and can be downloaded at tdhgis.com.